Managing healthy cash flow in a business is extremely important. Bill Discounting or Invoice Discounting is one of the ways to do the same. Bill Discounting helps businesses in improving cash flow so that businesses can fulfill other working capital requirements for the business. Looking at the importance of bill discounting in the business today's topic is about online bill discounting platforms. So, let's get started.
What Is Bill Discounting?
Bill discounting is a method to get money from a financial institute or bank by showing an unpaid invoice (business). A lender can offer advance money on behalf of an invoice to the company. The amount would be invoice value, minus a discount fee.
The lender checks risk before lending money. The main thing lender check is the trustworthiness of the company that owes money for the invoices. The lender may demand a purchase order copy. Once the assessment is done lender provides terms and conditions stating how much money can be offered against the invoice and at what fees. On agreement, the process continues. 
In case of immediate cash requirement business, generally opt for a traditional bank to avail a loan. However, the time taken by the bank for approval of a loan is slightly higher. Another popular option to get finance is invoice discounting. In India, you will find many online bill discounting platforms that offer such facilities. I have evaluated various online websites and found out Top 10 Online Bill Discounting platforms and here is a detail.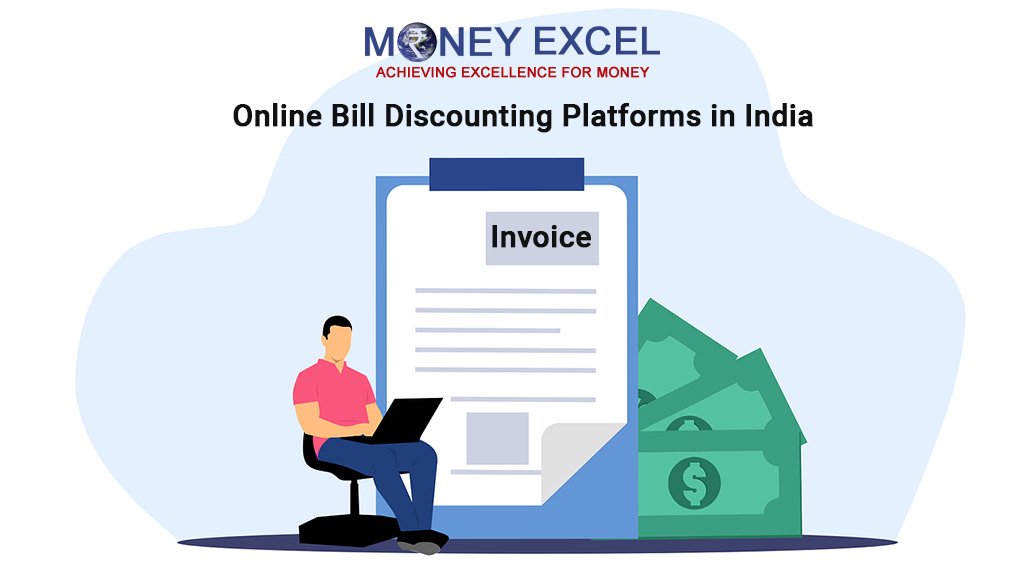 Top 10 Online Bill Discounting Platforms in India
#1 Kredx
Kredx offers multiple services to the business, one of such service is bill discounting. KredX provides a marketplace/platform for business owners to sell and investors to purchase invoices raised on blue chip companies.
To get this service, you need to sign up on Kredx platform and upload essential documents. Once your documents are verified you will be onboarded on Kredx platform. Now you need to upload your invoice and an accredited investor can purchase the invoice. Key features of this platform are given below.
Fund issues from 24 – 72 Hours

Completely paperless process

Real-time online updates

No upper limit on fund sanction

Return of 12-20% annually 
#2 Invoicemart
Invoicemart is an online platform supported by Axis Bank. Invoicemart connects MSME suppliers and corporate buyers to multiple financiers. Invoicemart is projected as Trade Receivables Discounting System platform.
Invoicemart works on an open bidding system where the seller creates an invoice and uploads it to the system. Buyer checks and approves the invoice. Approved invoices are available in the bidding system for the financer to check and place the bid. Once bidding is complete you can choose a financer with the rate. Key features of Invoicemart are given below.
You can get paid within 24 hours of selling the invoice.

Multiple Financers & online bidding system to get competitive rates.

Intuitive and best-in-class UI.

Integration capability with client ERP systems through open API
#3 M1xchange
M1xchange is the leading Trade Receivable discounting platform (TReDS) in India. M1xchange provides easy documentation and quicker approval on the portal. 
The working of M1xchange is simple. On M1xchange seller uploads the invoice. The buyer accepts the invoice. Financers start bidding for invoices. Once the bid is accepted by the seller the fund disbursal takes place. Key features of M1xchange are given below.
Collateral-free finance.

Quick process of funds usually in 24 hours.

Digital process.

 No impact on the balance sheet of the company.
#4 RXIL
RXIL is popular as a receivable exchange in India. RXIL is promoted by SIDBI. RXIL facilitates the financing of trade receivables of MSMEs through multiple financiers. RXIL works on the invoice auction method. Key features of RXIL are given below.
Best discount rate due to the participation of Multiple Financiers in the auction.

Cost & paperwork reduction

Compliance with MSMED Act, 2006.

Access to the wider market.

Reduced operational cost.
#5 Falcon Group
Falcon Group is India's leading P2P invoice discounting platform. Falcon Group aims to increase investor yields by eliminating mediators like commercial banks, depository institutions, etc. The Falcon group works on dynamic auctions to reduce the price. Key features of the platform offered by falcon are given below.
Get Finance up to 90% of the value of the invoice

No collateral or hidden charges

Credit limit upto INR 50 lacs

Hassle-free borrowing process
#6 TradeCred
TradeCred is a marketplace where regular investors can invest in invoice discounting. The mechanism enables businesses to raise short-term financing from investors in a straightforward manner. TradeCred do multiple checks to establish the trustworthiness of the vendor involved. Key features of TradeCred are given below.
Multiple options including Blue chip invoicing, Leasing, AA debt, and sovereign bonds

Start Investing with 1 lakh or less

Easy access via mobile
#7 Flexiloans
Flexiloans offers multiple loan options to the business such as term loans, loan against POS, and Lines of credit. One such option is vendor financing. SMEs can get quick vendor financing within 72 hours on this platform. It is also known as invoice-backed loans. Key features of vendor financing by Flexiloans are given below.
Loan amount from INR 50000 to 1 Cr

No Hidden Cost

Multiple Repayment options

No Collateral required
#8 InvoiceTrades
InoviceTrades is claimed as India's most trusted invoice discounting platform. The process of invoice discounting at InvoiceTrades is simple. You need to register on the platform. After that, you need to e-mail the invoice and PDC. You need to pay the platform registration fee and your funds would get credited in 72 hours. Key features of the InvoiceTrades platform are given below.
Receive working capital within 24-72 hours

No need for Collateral

Easy and Simple process

Zero impact on your balance sheet
Clear Invoice Discounting is the platform by Clear Finance. Clear Invoice Discounting enables suppliers to get paid early on their invoices– rather than wait out the long credit periods. it provides multiple ways to easily fund these early payment requests at a mutually-agreed discount. Key features of the Clear Invoice Discounting Platform are given below.
Avail flexible finance options for early invoice payment

Dynamic Bidding to get the best-discounted rates

Unlimited supply options of Bank, NFBC, etc

Completely online process
#10 UpScale
Upscale offers multiple loan options to the business. You can get working capital loans, sales invoice discounting, and a buy now pay later option at Upscale. You can get loan approval on this platform within 2 days. You can get unsecured business loans from 10+ banks & NBFCs on this platform. Key features of UpScale are given below.
Fast approval and disbursement

No Paperwork required

Competitive interest rates
Over to You
Do you use a bill discounting platform for working capital requirements in your business? Share your experience and story with me at sk@moneyexcel.com.