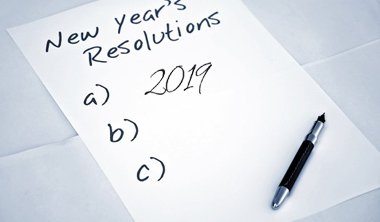 New Year Resolutions are new commitments that we take at the beginning of every year. With a lot of joy and enthusiasm we have entered in the year 2019. All of you must have planned a lot of thing for the New Year 2019. You might have taken new resolutions also. However, if you have not made any plan or if you are planning to take new resolutions for a healthy financial life in 2019. Here is something interesting for you. Here is a list of 19 New Year Resolutions for Healthy Financial Life 2019. These resolutions will surely help you in getting financial success.
Also Read – 20 Best Mutual Funds SIP to invest in India for 2019
19 New Year Resolutions for Healthy Financial Life 2019
About Loan
#1 The first resolution for the New Year is about Loan. Resolution – "I will never borrow money to buy luxuries items. I will opt for the loan for the items which are absolutely necessary. Before taking a loan I will evaluate all loan options carefully."
#2 Next resolution is about clearing debt. Resolution – "I will clear all my debt this year. I will keep the special provision of saving specific amount every month for repayment of debt."
#3 Resolution – Every month I will clear the payment due on my credit card, on or before the due date, without fail. I pledge not to carry forward any outstanding balance for future months.
About Insurance
#4 The third resolution for the New Year is about Insurance. Resolution – "I will assess my life insurance and requirement and increase the coverage as appropriate. I will never buy Moneyback or Endowment Insurance Policies. I will go for a term plan preferably online."
#5 Resolution – "I will cover my entire family under health insurance policy using a family floater plan. I will select the best health insurance policy by comparing various features."
About Emergency Fund
#6 Emergency situation may arise anytime. So next resolution is related to the emergency fund. Resolution – "I will make myself ready to withstand against any emergency situation by making an emergency fund. I will not touch my emergency fund other than an emergency situation."
About Tax Planning
#7 "I will start doing tax planning from the beginning of the financial year. I will select a few best tax planning investment options such as ELSS, PPF for tax planning".
About Investment 
#8 "I will evaluate and understand the financial product before making an investment. I will not get lured by the fake promises of superior returns made by agent or fraudster."
#9 "I will not invest directly in the stock market. I will opt for mutual fund investment via SIP route."
#10 "I will do proper research and invest in the best mutual funds as per my risk profile. I will invest in direct mutual funds only."
#11 "I will monitor returns given by mutual funds at least once in every quarter and make rebalancing and restructuring as appropriate."
#12 "I will not sell my investment unless I am in real need of money either for fulfilling my financial goal or for an emergency."
#13 "I will complete nomination formalities in all my investment as well as saving bank accounts. I will write my will and inform my loved ones about the same."
Others
#14 "I will not buy gold jewellery as an investment.  I will "accumulate" gold via Gold ETF or via Sovereign Gold Bonds for my children's wedding(s).
#15 "I will not make investment in real estate. I will buy only a reasonable size property within reasonable budget"
#16 "I will track each and every expense. I will prepare a monthly budget and track expenses at least for 2-3 months to remove unwanted expenses".
#17 "I will not rely on a single source of income. I will develop the second income that will help me to increase my standard of living."
#18 "I will constantly feed myself with the financial knowledge. I will learn about stocks, mutual funds, bonds and how to save, how to invest and where to invest.
 #19 "In case I find it difficult to handle the financial matter, I will take help from fee-based registered financial planner."
Over to You –
Prepare and write down your financial resolutions for the year 2016 in the piece of paper and paste it at your desk.
To live a wealthy life stick to your financial resolutions.
Discuss with your family member so that they will also support you to keep these resolutions.
Let's start New Year 2019 by taking a realistic financial resolution and live healthy and wealthy financial life.
Happy New Year