New Banking and Insurance rules will be introduced from the new year 2021. Apart from banking and insurance, there are many other rules which are getting applicable from 2021. As all these rules are linked to your pocket you should know all these new rules.
In this post, I will share information about new rules related to banking and insurance applicable from 2021.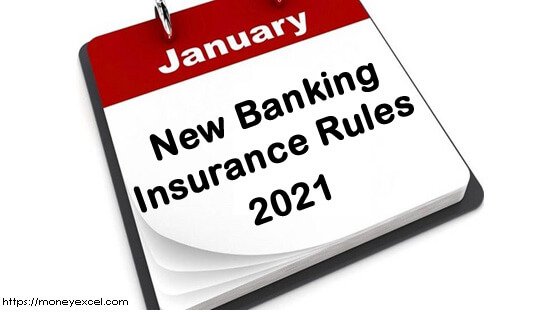 New Banking and Insurance Rules applicable from 2021
#1 Positive Pay – Cheque Payments
The concept of positive pay will be introduced from January 2021. Positive pay means confirming detail about large value transactions. This rule is introduced to reduce frauds taking place via cheque payment. This facility will be applicable for the payment above Rs.50000. The account holder will be given choice to avail this facility. This means this facility will be by choice. The bank may think of introducing this facility for cheques with an amount above 5 Lakh.
In this process issuer of the cheque need to submit certain minimum details via electronic channels such as SMS, mobile app, internet banking, and ATM. The details would be the name of the beneficiary or payee and amount to the drawee bank. In case of any discrepancy is encountered cheuqe can be stopped for payment.
The facility of positive pay will be developed and given to participant banks by the National Payment Corporation of India (NPCI).
#2 Contactless Card Transaction Limit
As of now the limit of the Contactless card is Rs.2000. This means you can use the contactless credit card for making a payment Rs.2000 by just placing the card nearby the point of sale. From 1st January 2021, the limit of contactless card transactions is enhanced. The new limit is Rs.5000. This means up to Rs.5000 you will be able to make payment via contactless card. This step is taken by the government to enhance digital payment especially at the time of COVID-19 pandemic. The facility to enhance the limit will be at customer discretion.
#3 30% Cap for UPI Transactions on Google Pay, PayTm, PhonePe 
From 1st January, 2021, new rule of UPI transaction is applicable. NPCI has placed 30% cap for UPI transactions on every app. This means no single app can do more than 30% of the transaction via UPI. The maximum transaction limit for every application would be 30%. NPCI will monitor transactions taking place via every application once the transaction is crossing 30% limit app will not able to process additional transactions.
You will not able to do payment transactions on your favorite app such as Google Pay, PayTm, PhonePe or other UPI app once these apps have crossed 30% share in a specific month. This step is taken to remove the monopoly of the specific application from the UPI market.
#4 Standard Term Insurance Policy
The IRDAI has mandated all life insurance companies to provide standard term life insurance policy from 1st January 2021. It will be called as Saral Jeevan Bima. The maximum sum assured of term insurance policy would be 25 Lakh. The policy term would be 40 years. The terms and conditions of this policy would be the same across insurance companies.
The standard term insurance policy would be offered to individuals without restrictions on gender, place of residence, travel, occupation or educational background. The purpose of launching a standard term insurance policy is to standardize the term insurance policy for the customers.
#5 Mutual Funds Rules
New Multicap mutual fund is applicable from Jan,2021. SEBI has announced portfolio allocation rules for mutlicap equity mutual funds. As per new rule it is mandatory for these funds to have 75% asset allocation in equity compared to current 65%. The fund will invest 25% of their portfolio each in large-cap, mid-cap and small cap companies.
#6 Mutual Fund Risk-o-Meter tool
SEBI has improved on Risk-o-Meter tool and introduced new category of "very high" risk. This means now Risk-o-Meter contains six different categories (1) Low Risk (2) Low to Moderate Risk (3) Moderate Risk (4) Moderately High Risk (5) High Risk (6) Very High Risk. AMC are required to publish a history of risk-o-meter changes at the end of every year.