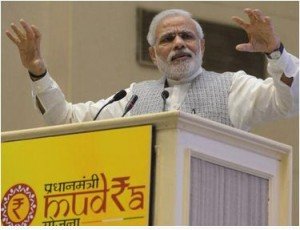 Recently Prime Minister Narendra Modi has launched Mudra Bank. Mudra (Micro Units Development Refinance Agency) will act as refinance agency for small and medium enterprise. Main objective of Mudra Bank is to provide loan to small and medium enterprise. Mudra bank is launched under "Pradhan Mantri Jan Dhan Yojana".
What is Mudra Bank?
Mudra Bank will provide finance up to 10 Lac for small enterprise. This bank will have big corpus of 20,000 crore. This bank will also finance micro finance institutes.
It is very good initiative and will serve following purpose –
Boosting confidence level of entrepreneur and encouraging them to expand their business operation.
Employment generation due to business expansion.
More and more People will be inspired to become entrepreneur.
Entrepreneurs will not be exploited by small money-lender.
Mudra bank will boost economy and will assist poor to work their way out for poverty.
Responsibility of Mudra Bank
Laying down policy and guidelines for financing micro, small and medium enterprise
Registration & Regulation of MFI
Accreditation/rating of MFI units
Providing fair chance to small and medium business for growth
To bring down cost of finance for small businesses
To lay responsible finance practice to ensure proper client protection and method of recovery
Forming Credit Guarantee scheme for providing guarantees to the loans which are being extended to micro enterprises
Provide fair chance to SC/ST and backward class people
Product Offering by MUDRA Bank
Main product of MUDRA will be refinance for lending to micro businesses/units. This refinance will be done in three stages based on growth and funding needs.
SISHU – Providing Loan up to 50,000 Rs/-
KISHOR – Providing Loan from 50,000 Rs/- to 5 Lakh
TARUN – Providing Loan from 5 Lakh to 10 Lakh
Following Businesses/Enterprise will be covered for this product offerings.
Small Business Proprietorship/Partnership, Small Manufacturing units, Shop Keepers, Fruit/Vegetable seller, Hair Cutting Saloon, Beauty parlor, Transporter, food services, hawkers, repair ship, machine shop, food processor, professional and service provider.
This lending scheme is further divided based on business types and will be named as –
Micro Credit Scheme (MCS)
Refinance Scheme for Regional Rural Banks (RRBs)
Mahila Uddyami Scheme
Business Loan for Traders and Shopkeepers
Missing Middle Credit Scheme
Equipment Finance for Micro Units
MUDRA Card
Portfolio Credit Guarantee
As per me establishment of MUDRA bank is welcome step. Mudra will give multifold benefits to us. It will not only help aspiring entrepreneur, it will also boost economy with overall business growth.
Going forward we need to see that how effectively MUDRA concept is jellying up and helping entrepreneurs.
Source of Information:-  Preess Release Finance Ministry