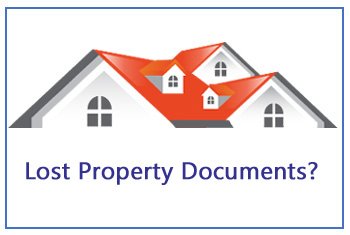 Lost Property Documents – What happens if your property documents are lost or misplaced? How you will prove ownership on the property? Well, recently I got a case of lost property document. My friend wanted to purchase a property. He selected one property at prime location and reasonably priced. He was about to buy the property. However, before finalizing the deal he asked for the original paper from the owner. The owner was unable to produce all property documents. The owner expressed that the old sale deed is misplaced by his banker due to negligence. Now my friend is in confusion about what to do next? He has taken advice from the advocate and decided to proceed further.
Misplacement or loss of property documents such as sales deed, property registration documents, and the title deed is a serious matter. You should not take it lightly. If any of your property documents are missing or lost you may face problems at the time of selling a property.
Here is complete information about what you should do to get a duplicate copy of documents, in case your property documents are missing.
Also Read – How to get Encumbrance Certificate of Property?
How to get Duplicate Copy of property documents?
To get a duplicate copy of property documents you need to follow the following steps.
File police complaint immediately
The first thing to do once you realize that property documents are missing you need to file a police complaint about missing papers. The police will file FIR (First information report). The FIR copy contains details about missing, misplace or stolen documents. The FIR copy is to be filed by the owner of the house. Once FIR is registered keep a copy of FIR with you. Sometimes a buyer of a property may ask for FIR copy.
Publish information on Local News Paper
The second important and mandatory step if you lost your property document is to publish an advertisement in a regional or local newspaper. The advertisement should clearly state information about missing documents. The advertisement is generally given by the advocate. Once an advertisement is published you need to wait for 15 days to see if anyone finds the document and returns in the time frame.
Register Undertaking with Notary
Now you need to prepare an undertaking about the loss of property documents with the help of an advocate. This undertaking is based on the advertisement published in the local newspaper and police complaint (FIR) document. Once the undertaking is prepared it should be notarized by the advocate. Once notary of an undertaking is done it will be a legal document.
File an Application for the Share Certificate
If you are living in a flat, you must have a share certificate of the society. To obtain a duplicate share certificate copy, you need to apply to a housing society office. The application should contain attachments of FIR, advertisement copy and undertaking copy. The society representative may call society meeting and verifies past records as well as produced documents. If everything found to be ok the housing society will charge a fee and issue duplicate share certificate. You should also ask for the NOC (No Objection Certificate) from the society.
Get Duplicate Sale Deed
The final step is to get a duplicate copy of the sale deed. To get a sale deed duplicate copy, you need to apply at sub-registrar office. The application should contain attachments such as police complaints, newspaper advertisement copy, and notarized undertaking.
The sub-registrar office verifies the correctness of records and issue duplicate sale deed. You need to pay fees for getting duplicate sale deed. It generally takes 15 to 20 days to issue duplicate documents. 
Over to you 
Although the process described above is easy, you need to spend a lot of money and time to complete the process given above. You will surely get a duplicate legal copy of the sale deed and other relevant documents. 
Please note that it is difficult to get a home loan when property documents are lost. Especially when sales deed or share certificates are not available. The approval of loan in such cases take time and up to sole discretion of the bank.