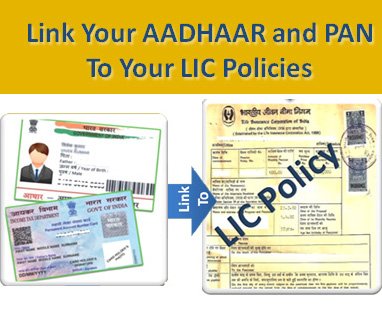 As per IRDA (Insurance Regulatory & Development Authority of India), it is mandatory to Link Aadhaar with Insurance Policies. As per new mandate all existing Insurance policies to be linked to Aadhaar. In addition to that, it is mandatory to mention Aadhaar Number while buying a new insurance policy (Life or Non-Life).  As per deadline one should complete this mandatory task by 31st December 2017. In order to facilitate this requirement most of the insurance company has started a campaign or online portal. LIC of India has also started online services to link Aadhaar with LIC Policies.
If you have purchased LIC Policies you can link your Aadhaar with all LIC Policies at single go from LIC of India website.  You need not to login to LIC e-services portal to update your Aadhaar Number. Follow the simple steps given below for linking Aadhaar with existing LIC Policies Online.
Check out – How to Check Aadhaar Authentication History?
How to Link Aadhaar to LIC Policies Online?
First, visit LIC of India portal. On the homepage, you will find a new section to Link Aadhaar and PAN Policy.
Once click on the given link you will be taken to the page where it will display general instruction. Kindly keep your Aadhaar Card, PAN Card and List of policy numbers.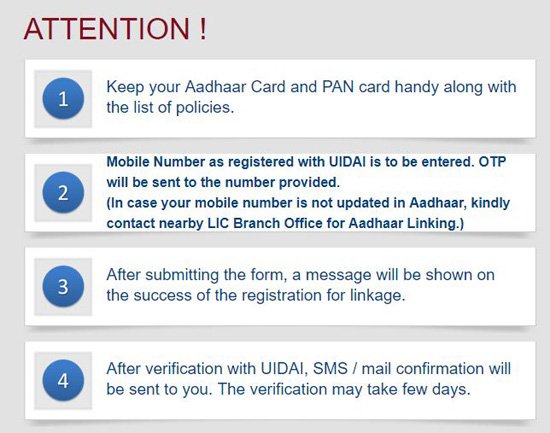 Click on the "PROCEED" given below the instruction.
You will be taken to the new page asking details like Full Name, Date of Birth, Aadhaar Number, Gender, E-mail ID, PAN card number, Mobile Number and Policy Number.
If you have multiple LIC Policies you can click on Add Policy button for adding other policy numbers. You can add multiple policy numbers at single go for linking.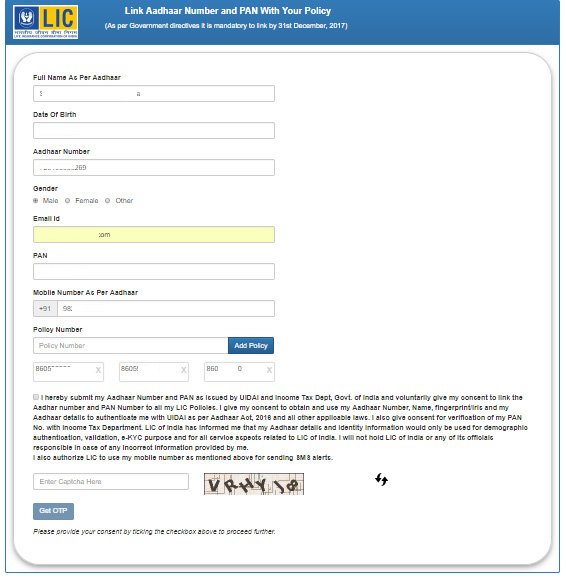 Once you are done with adding policy number give your consent for Linking Aadhaar detail and PAN detail by selecting the checkbox given on the page.
Next is entering Captcha Text. After entering captcha text click on "Get OTP" button.
OTP (one time password) shall be generated and sent to the specified mobile number. You will be now taken to detail verification page. After verifying information submitted by you can enter OTP and click on Submit button.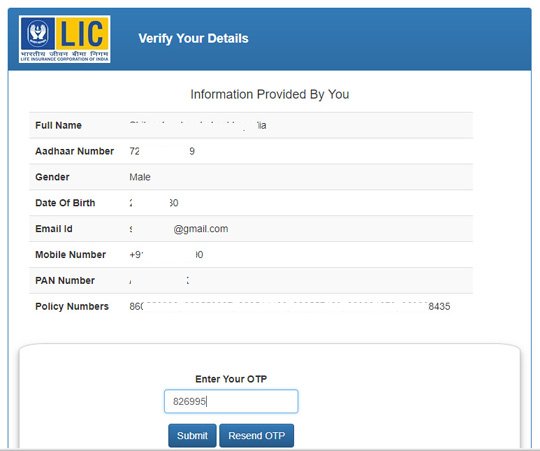 It will display success message that Aadhaar detail for linking LIC Policies is received. After verification with UIDAI, SMS and E-mail will be sent to you.

Now actual process of verification with UIDAI starts. The actual verification may take several days.
Please note that all details submitted by you should match with Aadhaar Information. In case of mismatch Linking of Aadhaar can be refused.
So, what are you waiting for gather required information for linking Aadhaar with LIC Policy and Link it now.
Please post your queries in case you are facing any issue in Linking Aadhaar with LIC Policies.