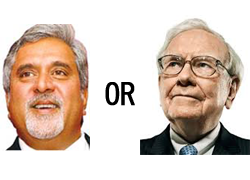 Vijay Mallya & Warren Buffet need no introduction. Vijay Mallya is Famous Indian Industrialist. He is flashy in lifestyle, he has a private plane. He owns KingFisher and lives life King size. At other end Warren Buffet is second richest person in world. Warren buffet is famous Investor and Stock Guru. Both are millionaire but both lives different lifestyle.
Similar to them today we see two types of people, one who believes in rich lifestyle like Vijay Mallya, they "live life king size". They do not bother about tomorrow. They believes that whatever money they have they should spend that.
Another types of people believes in simple lifestyle like Warren Buffet they have money but they have conservative approach and they believes in "Simple Living High Thinking". They always think to save & invest their money.
Let's draw a comparison between the two of them, their money and their lifestyles, habits, social responsibilities.
Comparison Vijay Mallya & Warren Buffet:-
Vijay Mallya owns Kingfisher, and many private jets, on which he takes his friends and models to Wimbledon, or the World cup in South Africa. He flies in his private jet most of the time, wherever he goes.
Warren Buffet too owns an airlines, but does not travel in it. He travels Business Class. He does not have private jet, but with his money he can buy number of airlines not only private jet.
Vijay Mallya owns number of homes all over world. All this are decorated with most precious art work and furniture.

Warren Buffet has a 45 year old house, and he is comfortable living in it.
Vijay Mallya loves to party all night. He says I work hard, and I party hard. He like company of big celebrities' actresses, and young models.
Warren Buffet likes to go home, make some popcorn for himself, and watch TV, a big flat one, which he has recently bought.
Vijay Mallya loves to wear the most expensive Watches, chains, rings and designer clothes.
Warren Buffet wears simple specs, no jewellery.
Vijay Mallya does not belives in charity,he will not donate any money unless he gets a tax rebate or some publicity.
Warren Buffet donated around 30 billion dollars to charity or close to 1,25,000 crores of rupees.
Current situation of Vijay Maliya:- 
King of Good Times Vijay Mallya in Bad situation now. His airline KingFisher is closed. He is unable to pay debt.
Current situation of Warren Buffet:- 
Warren Buffet is still one of the richest person in world.  Warren Buffet has accumulated so much of wealth, he can buy off anything he wants, yet he is living simple life.
Question I would like to ask you here is:-
"If you have been given a choice which lifestyle you would like to live? Flashy life style of Mallya or Simple lifestyle of Buffet?"
I know 80 out 100 people still prefer flashy lifestyle of Vijay Mallya. Let's Speak your Mind:-