Jupiter Money is an online bank especially designed for generation Z and millennials to help them in tracking their expenses. Jupiter Money is intended to provide a complete digital banking experience with zero balance account, no hidden charges, free debit card, spend analysis, and a lot of other benefits. Let's discuss more Jupiter Money to find out – Is it worth opening an account with it or not?
What is Jupiter Money?
Jupiter Money is a Neo Bank backed by Federal Bank. Neo Bank means a bank without any physical presence (virtual bank). Neo Bank is somewhat new in India, but in the USA neo bank is an old concept.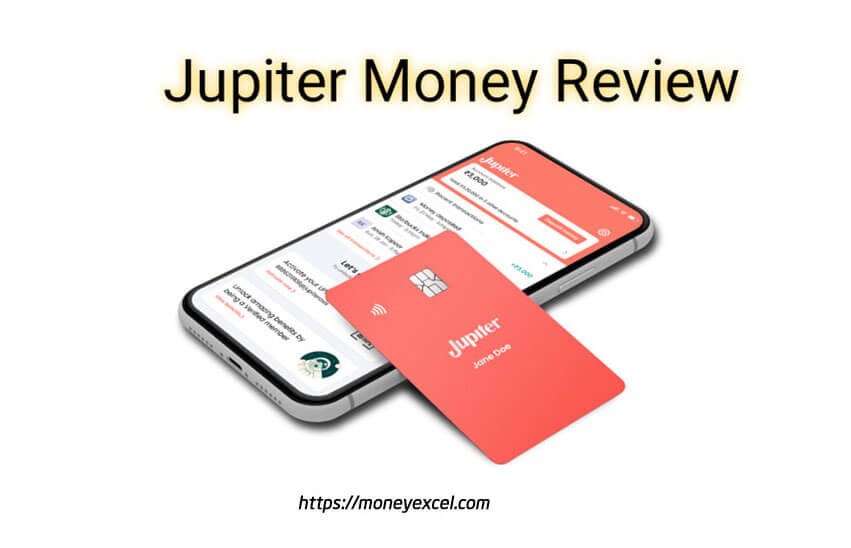 Neo Bank means no paperwork, no physical verification, and no cash transactions. The basic idea is to boost digital transactions.
Jupiter Money works on the same concept. You can open your account online in minutes using Jupiter App. You need not to do any paperwork. You will get a sleek VISA Debit Card that can be controlled from the app. You can transfer money easily online via Bank transfers or UPI. You can even scan and pay at shops. Get rewarded for your spending, get insights on your purchases in real-time, and hit all your saving goals. Easily. It's the smart new way to manage your money, without ever visiting a physical branch. Because why step out when you can do it all from your phone? 🙂
Jupier Money Features & Products 
Zero Balance Saving Bank Account
You can open a Zero Balance Saving bank account at Jupiter.
No need to maintain a minimum average balance.
Get up to 2.5% interest per year on the deposited amount.
Online payment facility using IMPS, RTGS and NEFT.
Physical debit card facility with no annual charges.
Cheque book and Demand Draft facility.
Intelligent Piggy Bank – Pots
You can create a piggy bank (pot) for your financial goal and put money whenever you want. You can also opt for the autosave feature for multiple goals and track processes in one place.
You can withdraw money from pot any time without any restriction. You can also delete pot.
Jupiter Money Pro Salary Account
Jupiter Money Pro Salary Account is a game-changing banking solution that offers numerous benefits to working professionals. With this account, users can enjoy on-demand salary, which means they can access their salary before the actual payday. Additionally, the account comes with a free health insurance cover of ₹2 lakh or extended cover of Rs. 20 Lakh, making it a comprehensive financial product that caters to the needs of individuals in the modern world. Apart from this, the account offers rewards on spends, zero forex charges, no minimum balance requirement, and UPI rewards, making it a one-stop-shop for all banking needs. With Jupiter Money Pro Salary Account, users can experience hassle-free banking and make the most of their hard-earned money.
Spend Insights
You can quickly check money moves with the spend insights facility. You can track balances across multiple bank accounts from a single screen. You can control your spending with categorization. You can also get a notification for your spending.
You can also track your mutual funds, loans, and credit score at Jupiter money. 
Earn Rewards
You will get a 1% reward on all UPI and debit card purchases using Jupiter Money. You can track your reward earnings in real-time. The rewards are credited instantly and never get expired. You can redeem all your rewards with a single tap. 
Debit Card
Jupiter Debit card is issued with a saving bank account at Jupiter. It is issued with no annual charges. You can earn a 1% reward on all purchases using this debit card. This debit card is controlled via App. You can secure your card with control like "Sleep" and "Freeze". 
Bullet UPI Now and Pay Later
Bullet UPI is an optional service by Jupiter money. You need to download an additional app and apply for credit over UPI. You can get credit on your UPI id based on your credit score with no extra charges.
You can use this credit limit to pay online or offline vendors accepting UPI payments. You can pay your bullet bills in 15 days. As it is a separate facility we will review it in the upcoming article. 
How to open an account at Jupiter Money?
It is very easy to open an account at Jupiter Money. You can get an invite from an existing user or sign up for a waitlist to get early access. Follow the step given below to request an invite/access.
Download & install Jupiter App from Play Store
Enter your mobile number and click on verify button.
The system will check automatically if an invite is available on your mobile number or not.
If invite is not available, you can click on request invite.
You will get an instant invite.
Enter your PAN card and complete the KYC process to open an account at Jupiter money.
Once your account is opened you will get a debit card at your Aadhaar linked address. 
Charges
Online Payments NEFT/RTGS/UPI – Free
IMPS – No charges for 5 IMPS Transactions per month. From 6th transaction Rs.1000 to 1 Lakh – Rs.5 per transaction, 1 Lakh to 2 Lakhs – Rs.15 per transaction, Above 2 Lakhs – Rs.17 per transaction.
Transaction Fee for using ATM other than Federal bank – Free for first 5 transactions per month after 5 transactions Rs.21 for cash withdrawal and Rs.10 for balance check & mini statement.
Account closure charges -Rs.100 (within 6 months). Rs.300 (from 6 months to 12 months). No charges after 12 months.
Pros
Zero Balance account without any hidden charges and maintenance fees.
Earn 1% rewards on your debit card and selected UPI transactions.
Spend analysis feature with real-time tracking.
Backed by RBI-Licensed (Federal Bank) with industry-grade security.
Control of debit cards from the app. Freeze or Unfreeze with a tap.
Dedicated customer support (24×7). App and Telephonic support.
Cons
No Multi-currency support.
Account Closure charges.
Final Words
Jupiter Money is probably India's first neo bank that provides a mobile-first banking experience with a click of a button. If you have still not opened the account with Jupiter Money you should open it now. If you have a query about Jupiter Money feel free to ask us in the comment section. I will try to answer it as early as possible.
That's all for now. Thanks for reading. Do share this post with your friends and help them in onboarding with Jupiter Bank. I will be back soon with another interesting story. Keep Visiting Moneyexcel. Stay connected by subscribing to our blog.