Home Insurance – Home loan has become an essential element, whenever you buy or construct your dream home. This is mainly due to the ever-increasing property price. You can easily get a home loan at an affordable interest rate from a bank or finance institute.
You may come across an incident where a bank or financial institution from where you are taking a home loan forces you to get home insurance as well. They may even refuse to process home loan cheques unless you buy a home insurance (property insurance) policy from them.
Recently, I have come across a similar incident.
My friend has recently applied for a home loan at ICICI bank. His loan was processed and a sanction letter is issued. Now, he has been a force to purchase property insurance along with a home loan. He is totally confused and he has posed two questions in front of me – Do I need to purchase home insurance? Is it mandatory to Buy Home Insurance with a Home Loan? What to do If I don't want to buy home insurance with a home loan? 
Let's try to find out.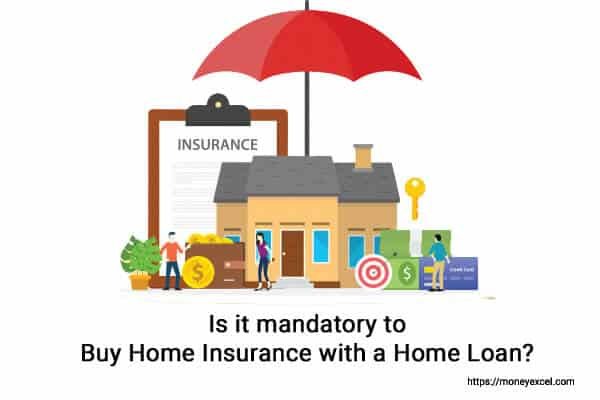 Should you buy Home Insurance?
Home insurance policies are offered by general insurance companies. These policies provide coverage against financial losses, which might occur due to damage caused to the property by natural calamities, theft, fire, etc.
You will be spending your entire life-long savings while buying property. So, you have to ask yourself that do you want to protect your entire lifelong saving by insurance or not. If your answer is yes, you should go for a home insurance policy that will cover your property from unforeseen events.
What are the catch points in buying home insurance policy along with a home loan? 
(1) Home insurance policies, that are sold along with home loans are term home loan insurance or home loan protection plan, which covers debt in case of the untimely death of a borrower. The premium amount need not pay up front but need to be added in EMI. Thus your EMI amount increases marginally. You may not even consider it but if you calculate, it will be significant. 
E.g – For 30 to 50 Lakh coverage your will be paying Rs.35000 to Rs.40000 for your loan tenure. 
(2) The insurance policy you purchase with a home loan is not portable. This means if you want to transfer your home loan to another bank this policy could create a hurdle. 
(3) In case you want to close your home loan prematurely, you may lose the entire or part of the premium paid on insurance. 
(4) You cannot surrender this policy as it is a clubbed policy and you cannot claim even tax benefits.
From above, it is clear that home insurance policy sold like this are expensive, does not offer tax benefits, and create a problem for you. Now is it mandatory to purchase?
Is it mandatory to Buy Home Insurance with a Home Loan?
First of all, it is not mandatory to get property insurance but some lenders insist on it as they are distributors of such policies and get commission on the same. In most of the cases, home loan agents ask for such policies. Another reason for asking for insurance cover is the bank wants to protect their self-interest in case you fail to repay the loan.
As a home loan borrower, it is entirely your discretion to buy the insurance policy and it can not be forced upon you. There is no regulation or requirement to have property insurance. It is a bank or financial institution's internal guideline. RBI or IRDA has never issued any mandate on this.
Secondly, if the bank shows their internal guideline and asks customers to purchase a home insurance policy for a home loan they can't make it mandatory to buy a policy from them only.
Now if you have applied for a home loan and the bank is asking you to purchase home insurance and you don't want to go for it what you should do?
What to do if you will be forced to buy home insurance with home loan?
In case the bank force you to buy home insurance from them you can take the following steps.
Understand from bank officials that it is a basic home structure cover policy or home loan protection plan. Also, check if the premium is to be paid separately or clubbed with a home loan EMI.

Compare premium with other similar policies available in the market and premium is low compared to what is offered you can ask bank officials.

You can also ask a bank executive or agent to produce guidelines from RBI or IRDA mentioning that it is compulsory to buy home insurance with a home loan.

If bank officials still force you to go for a home insurance policy with the home loan you can make compliant with a bank manager.

In case the bank manager does not listen to you, you can threaten them by saying that you will file a complaint with the banking ombudsman regarding this compulsory clause.
If you don't want to change your bank as your loan is approved and you have paid processing fees you can purchase a home insurance policy and return the policy within the first 15 days of free-look period.
Final words
Do not blindly purchase a home insurance policy from the bank where you have taken a home loan due to trust. Try to understand the positives and negatives of the product before making a final call. Also, compare policy premium with other available policies in the market.  
Note – The purpose of this post is not to write against any bank or financial institution. It is to prevent malpractices and cross-selling that currently taking place in the market by using an existing channel to fool the customer by packaging two or more products.