Paytm a digital wallet company has entered into mutual fund space by launching new app Paytm Money. You can invest in mutual funds and track your portfolio on the move by using this app. The best part is Paytm Money offers investment in direct plans of mutual fund schemes with no hidden commissions. This platform allows investment plans SIPs starting at Rs.100 per month. How to invest in Mutual Funds via Paytm Money? What are the benefits of using Paytm Money? Let's try to explore.
How to Invest in Mutual Funds via Paytm Money?
First download the Paytm Money app from the Google Play store. Once an app is installed, open the app. On the tapping home screen, you will be able to see some benefit details of an app such as zero commission, 1% higher return, investment tracking etc. This details will be displayed only once.
In the next screen, it will ask you to log in via Paytm account. If you don't have Paytm account you need to signup, by clicking on signup button.
You will be asked for basic information such as mobile number, name, date of birth etc. Once you register login using your username and password. On login, you will be asked PAN number for KYC verification.
Once you submit PAN number system will find out your KYC status and ask for personal details and email id.
Upon successful KYC verification, you can start investing. On the top of the screen, you will be able to see Invest now button.
To start investing in Mutual Funds, you need to click on "Invest Now" button. You will be taken to quick filter where you can select fund category, fund type, minimum investment amount and rating. Tap on search and you will be able to see results. Go through fund details and click on Invest Now.
You will be asked to select a SIP or Lump sum option. Enter the amount and the day of investment. Once you are done click on proceed to payment. It will display various payment options such as autopay, Net banking, and debit card. Select the appropriate option and proceed. That's it, you are done with Mutual Fund Investment.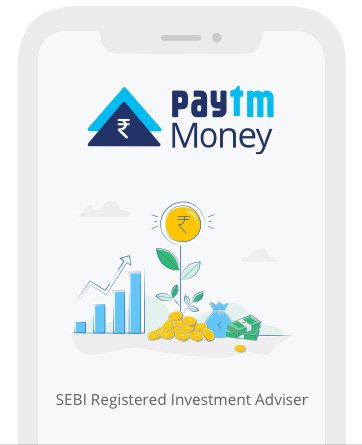 You can use Paytm Money on the move anytime, anywhere. Key features and benefit details of Paytm Money are given below.
Also Read – Direct Mutual Funds Platforms for Online Investment in India
Key Features and Beneftis of Paytm Money
You can perform unlimited buying and selling. No transaction fee on investments & withdrawals.
Access all investment statement free of cost anytime anywhere.
You can check your risk profile by doing a risk assessment.
Mutual fund details such as scheme performance, riskometer, holding summary on a single page.
The platform allows selection of schemes from 25 leading mutual fund houses.
Approved investment platform by SEBI.
You can invest in direct mutual funds from this platform.
Portfolio tracking on the move.
Investment via Paytm Money is free without a transaction fee.
You can avail quick and free digital KYC benefit on mobile without sending documents.
Two-factor authentication and fingerprint-based protection for accessing the app.
Multiple payment options such as net banking, auto pay with eMandtes
Seamless Payment Experience
Should you invest via Paytm Money?
Paytm Money eliminates a needs of visiting multiple websites for investing in direct mutual funds. It makes mutual fund investments simple, transparent and accessible. No hidden commission and no extra charge of investment is plus point.
If you are a registered user of Paytm, you should use Paytm Money Mobile app for investing in a Mutual fund.