INDmoney Review – INDmoney App is a platform to invest in US stocks from India at Zero commission. Yes, you can invest in Google, Facebook, Microsoft, Apple in INR anytime, anywhere with a click of a button. Not only that you can track and manage your entire finance like FD, Stocks, Mutual Funds, Crypto, EPF, PPF, NPS, Bonds, Insurance, and other investment using this app.
It is a long-awaited app that consolidates all assets and liabilities and shows actual net worth in a single place. I am super excited to share complete detail about INDmoney with you.
I recently downloaded and used the INDmoney app. It is superfast, intuitive, easy to use, all in one free finance app. Onboarding process on the app is very easy. The best thing about INDmoney is all services offered by them are free. You need not pay money for account opening, investing, tracking, and availing any service.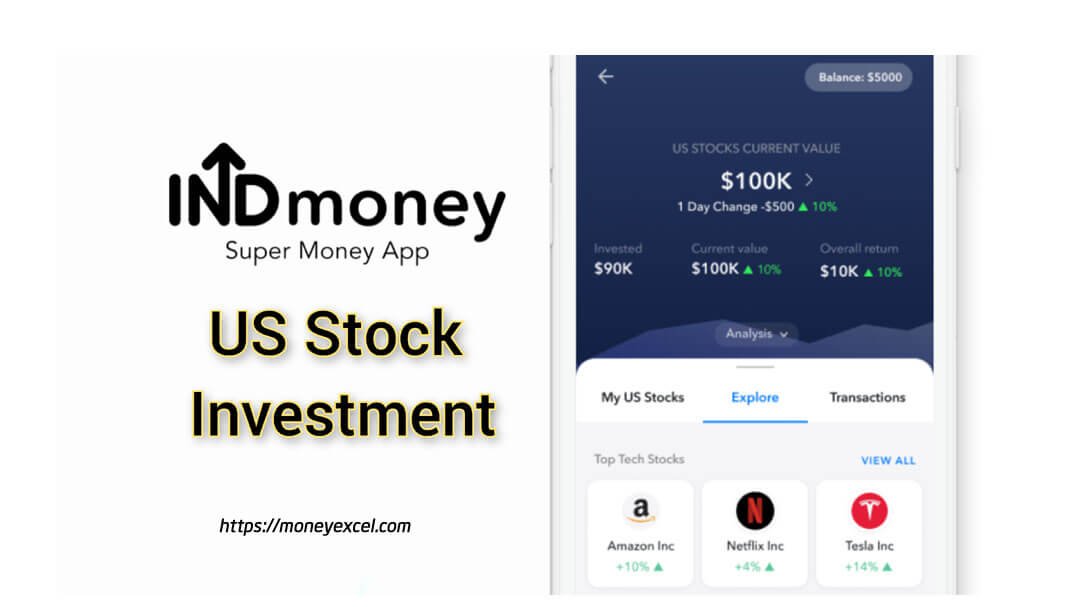 So, here is a complete review of INDmoney.
INDmoney Review – Key Features
INDmoney key features are broadly classified into three categories Investment, tracking, and Free earning & rewards.
Investment
INDmoney provides options for investing in US stocks, Indian Mutual funds, and Fixed deposits.
US Stocks  
You can open US stocks account and start investing zero cost. Zero brokerage is applicable for buying and selling US Stocks listed on S&P500, Dow Jones & NASDAQ.
Investment is also allowed in fractional shares starting at $1. You can get daily & weekly portfolio analysis & recommendations on US markets at your fingertips.
Mutual Funds  
It is easy to use Indmoney for investing and redeeming mutual funds. You can do it with a single click. It allows you to auto-import mutual fund details from brokers, banks & leading apps such as Groww, Zerodha, Paytm money, Karvy, CAMS etc.
You can combine your mutual fund account statement and generate a single statement for mutual funds. Investment in all mutual funds via this platform is commission-free.  
Fixed Deposit
It is easy to Open FDs across banks & NBFCs. No commission or charges are applicable for opening a fixed deposit. It is claimed by Indmoney that you can earn higher interest compared to regular FD.
Indmoney also allows you to invest in corporate FD with detailed information like credit rating & risk analysis. You can also track your all FD in a single place.
Tracking
You can build and track all your financial assets and net worth in one place. It also gives the option to add your family investment details for tracking.
Indmoney fetches portfolios from all top brokers and Demat accounts like Zerodha, Upstox, HDFC securities, Angle Broking, ICICIdirect, etc. You can also get stock advisory and recommendations with real-time alerts on your portfolio.
Additionally, you can also track your all other investments such as mutual funds, EPF, NPS, fixed deposits etc.
You can manage your loans, taxes, and credit card expense in this application.
Free Earning & Rewards
If you love to spend money on US brands using credit cards, you can earn free US stocks using Indmoney application. You can also earn crypto for good financial actions. This app also gives rewards for referrals.
Premium Services
You can become a premium member and avail following premium services.
Personalized advisory services.
Robo advisory for automatic goal setting and asset allocation.
AI based investment advice based on data points.
Tax planning services to reduce your tax liabilities.
Advance report services for your entire family portfolio.
Risk management of the portfolio.
Monthly Audit services.
Premium services are chargeable and information about fees are given in upcoming sections.
Indmoney Login 
You can download & install INDmoney app from Google Play or App Store. On pressing the open button, you will be taken to the Get started tab. Enter your mobile number and press the continue button. OTP will be generated for verification.
Now enter your First name, Last name, and Email address and click on create an account. Your free account will be opened. The next step is to secure your account. You will be prompted to enable screen lock. Press on enable button and your phone screen lock will be applied to this app.
On the application dashboard, you will be able to see investment options such as FD, Mutual funds, US stocks, Crypto, EPF, etc. You can add or fetch your investments.
Indmoney KYC & Account Opening 
Click on US stocks for investing in US stock market. Accept terms and conditions and enter PAN details, enter your personal details and upload your Aadhaar to verify your address. Now sign-on screen and take a selfie picture. You need to record the video and enter the number displayed on the screen. Now enter your bank account number from which you wish to invest. Submit the details. Profile verification and KYC will be done within 48 hours. Your IND Super saving account will be opened. INDmoney has tied up with SBM bank for banking account. Additionally, your virtual account will be opened at USA.
Now your investment and tracking journey begins at INDmoney. You can quickly add your all investment to this app. You can also invest in US stocks and mutual funds.
To make US stock investment you need to add INR in IND Super saving account you can use IMPS, RTGS and NEFT for fund transfer.  You can make use of IND Super Account fund and transfer the money to your USA stock account for free you only need to pay conversion charges.
Transferred amount will be visible on Indmoney dashboard and transactions in US stock market can be done.
How to Add money in Indmoney for US stocks?
Click on Add money
Select bank account via which you want to transfer the amount & press continue. You can use IND Super saving account for money transfer.
Please note that if you use other bank account you need to pay currency conversion fees and a fixed fee per transaction for money transfer.
Enter the amount and perform the transaction. It generally takes 4-5 days for amount transfer.
Indmoney Charges
Account Opening – Free
Brokerage & commission – Zero
US Stock investment charges – Zero
Fund withdrawal charges – $5
Mutual Fund Brokerage & Commission – Zero
FD Investment charges – Zero
Premium Service Charges
INDmoney offers various premium services and charges are based on investment portfolio size. Details are given below.

Pros
Investment in US stock market with a click of a button.
2-in-1 account US-based trading and zero fees saving bank account.
Tracking all your investment at single place.
Net worth and family portfolio analysis in the single app.
Zero commission investing in mutual funds and US stocks.
Free Rewards on doing financial transactions.
Secure Data encryption audited by Bishop Fox a Google Partner.
SEBI registered Investment Advisor
Cons
Investment in the indian stock market is yet not available.
Crypto trading is yet not available.
Application hangs for some time which can be improved.
FAQ
Is Investing in US stocks regulated? Are Indian allowed to invest in US stocks?
Yes, investing in US stocks is regulated by RBI and as an Indian national, you are allowed to invest and remit up to $250000 a year.
Which are other methods to invest in US stocks from India?
You can invest in US stocks using following three methods.
Investment through App using Indmoney.
Through Indian broker who has tied up with foreign banker.
Using an acount with a foreign banker.
Is Indmoney safe to use?
Indmoney is a finance tracking app and ask for e-mail access as well as access to a lot of other data for gathering information. Managing and tracking everything at a single place is but privacy is a big concern as per me. Any data security breach leads to disaster. However, we need to trust if we want to invest and track everything at one place.
Indmoney is registered at SEBI?
Yes, Indmoney is registered at SEBI and classified as SEBI registered Investment advisor.
How to reach Indmoney Customercare?
You can ask us questions and clarify your doubts at support@indwealth.in or support@indmoney.com.
Final Take Away
As per me, Indmoney is an amazing app and one-stop solution for fulfilling all your financial needs – investment, tracking, and insurance. Additionally, it takes away all hesitation to invest in US stock market due to higher remittance fees and lengthy process of Investment.
In case you are using this app for investing in US stock market make sure to ask for digital advice or confirmation receipt for transaction at US virtual account. Also, make sure to ask for proof of holding.
If you have yet not tried this app, you can use INDmoney app and yes, don't forget to share your experience in the comment section given below.