Indian post has recently launched new mobile app for saving bank customers. Post office customer with saving bank at post office can download this app and perform various transactions. You need to activate mobile banking to use this facility. This app eliminate need of visiting post office for doing various transactions. To avail this facility a customer is also required to have a valid login ID and internet banking credentials. The steps to activate the India Post mobile banking app and key features are given below.
Features of India Post Mobile App
Login security via MPIN. Username and MPIN is mandatory for activation.
Dashboard view for viewing account, transfers, payments, cheques and requests.
Management of Saving account, PPF account, Recurring deposit, Term deposit & NSC.
Get mini statement of saving and PPF account.
Check account balance of saving, RD, PPF and other account.
Bill payment including registration of biller.
Stop cheque payment request.
Cheque book request online.
Account statement and transaction search on mobile.
Opening term deposit account using Mobile App.
Transfer of fund online to other users post office saving bank using mobile app.
Secure transaction using transaction password, user id and OTP.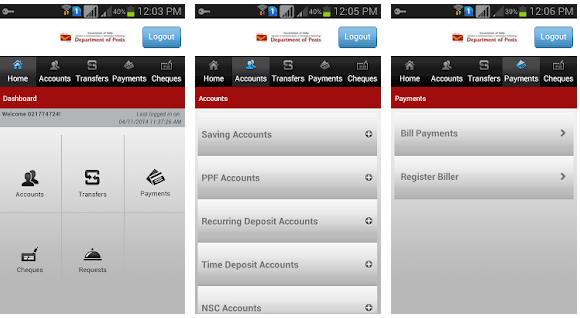 How to activate and use India Post Mobile App?
If you have account in post office you must be excited to use this app. Here are steps to activate and use Indian Post Mobile App.
First of all you need to activate mobile banking app by filling a mobile/internet banking request form. If proper KYC is not maintained you need to submit fresh KYC document along with service request form.
You can download India Post Mobile app from Google Play Store. Download and install it in your mobile. Please don't download it from any other website.
Open Mobile app on your smart phone and click on the Activate Mobile Banking Button.
Enter the Security Credentials and mobile number which was given by at Department of Post.
One time password will be delivered on your registered mobile device. Enter the OTP on the screen and proceed further. OTP delivery is not chargeable.
On successful validation of your account you will be asked to enter 4 digit MPIN. Enter 4 digit MPIN of your choice. This will be used for the activation of mobile banking application. You need to enter your User ID and MPIN for login to India Post Mobile App.
For security reasons, the application cannot be run from a rooted device.
If you face any difficulty or you have any queries, please contact customer care 18004252440.
Also Read – Indian Post Payment Bank Account – IPPB Mobile App
India Post Mobile App – Review
Launching of India Post Mobile App is welcome step by Indian Post office. In general post office services are average or poor. This new app will help post office customer to perform transactions on the move. It will save lot of time.
I have not used this app personally. Looking at app it seems to be offering only basic functionality to the customers. Lot more features are required in this app.
As per initial feedback available on the Google Play this app is not yet stabilize and giving lot of troubles to the end users.
Do share your experience and views about India Post Mobile App in the comment section given below.