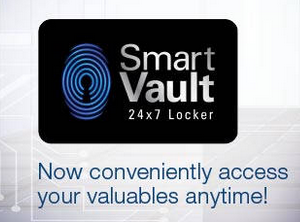 ICICI bank has recently launched first robotic locker of India called as "Smart Vault". Smart Vault offers additional safety and security to the lockers. Let me explain currently traditional method is used in order to protect locker. In this traditional method, one locker key is kept with the bank and one is given to the customer. Locker can be opened by using both these keys. If this key is compromised, locker security will be at stake. Answer of this is ICICI Smart Vault.
What is ICICI Locker – Smart Vault?
ICICI Locker – Smart Vault is smart locker powered by robotic technology. Smart Vault locker minimize the need of human intervention while operating the locker.
Customer who wants to access locker needs to swipe ATM card at the kiosk. After that customer need to pass biometric authentication. After verification of PIN and biometric, the screen will be displayed for locker selection.
On a selection of Locker number Robotic Arm brings your locker from the locker room. In order to identify locker, robotic arm uses radio frequency identification technique (RFID).
The robot brings locker to the kiosk. The steel lid on the kiosk slides back to reveal your locker.
You can open the locker with the unique key provided by the bank.
You will get complete privacy at the secure lounge to complete your locker transaction.
Once your work is done you need to simply press "Exit" button and robotic arm will take back locker and place it at the original location.
Check out Smart Vault Video Explaining how it will function.
Key Features of Smart Vault
Smart Vault offers Multi-Factor security features like ATM card, PIN, unbreakable locking system and option to use the additional personal lock.
State of art robotic Technology
CCTV surveillance and monitoring system.
Customer can access this locker anytime (24×7,7 days)
No human intervention required. Everything is automatic including bringing locker.
Privacy at the Secure lounge for doing the transaction at Locker.
Smart Vault has new dimple key technique, which makes replication almost impossible.
Smart Vault has a biometric alert system. In case, someone try to access locker in unauthorized way automatic trigger will be generated informing central security team.
Every time locker is access intimation is given to customer via SMS.
If you want to allow access to your family member you can ask the bank to issue the additional debit card.
Smart Vault Lockers are available in four different sizes.  Rent details applicable for this locker is not known, however it is expected that Smart Vault locker will come with the additional premium cost.
More information about ICICI Locker – Smart Vault can be found on official website of ICICI.
If you like this article, do share this on your Facebook or Twitter. This would be a special gift which you would be giving to our blog.