How to Open Zerodha Account for Demat & Trading? – Opening a demat and trading account is one of the mandatory requirements for investing in the stock market. When I started investing in the stock market, I selected ICICIdirect for opening a demat account. As I was holding a saving account at ICICI Bank, it was very easy and convenient to open a demat account at ICICIdirect. 
After a few years, I realized that ICICIdirect is charging more money for brokerage and there are many discount brokers available in the market that offers demat and trading accounts at a very low rate. After evaluating various options, I was convinced that Zerodha is Best when it comes to trading and demat accounts. Zerodha uses state of art latest technologies and offers services at the lowest cost. I decided to open a Zerodha Demat and Trading account. Using the online service of Zerodha I could able to open an account in less than 30 min without doing any paperwork. I am amazed by Zerodha technology and customer support. I thought to share my experience with you.
So, I am here with a complete guide on – How to Open Zerodha Trading & Demat Account?
Opening an account with Zerodha is quick and easy. You just need KRA enabled Aadhaar Card, few documents and a facility to make an online payment. That's it you are good to go! No manual process No paperwork everything is online with a click of a button. 
Also Read – Best Demat & Trading Accounts in India 2020 – Review
Well, before looking at an actual process of opening the Zerodha account online let's take a look at why you should consider Zerodha. 
Why you should Open Zerodha Demat & Trading Account?
One of the Best Stock Brokers in India in terms of active clients

Free Delivery trade without any brokerage

Per trade transaction charges – 0.01% of trade value maximum Rs.20 per executed trade.

Fast and intuitive Trading Platform

Good Customer service and support

Reputed Brand name with more than 2 million customers

Web-based trading platform Kite

Free and Open market education Varsity

You can invest in future & option, direct mutual funds, IPO & commodity via this platform
Documents Required to Open Zerodha Account
You require soft copies of the following documents to open an account at Zerodha. It is recommended to keep a scanned copy of the documents for uploading.
PAN Card 

Aadhaar Card Copy

Cancel Cheque 

Passport size photo

Your Signature copy
Additionally, you need to keep your income proof ready. You can use form 16, your income tax return or last six-month account statement as income proof. Income proof is required if you want to deal in future, derivatives or currency. Income proof is not required for dealing with stocks.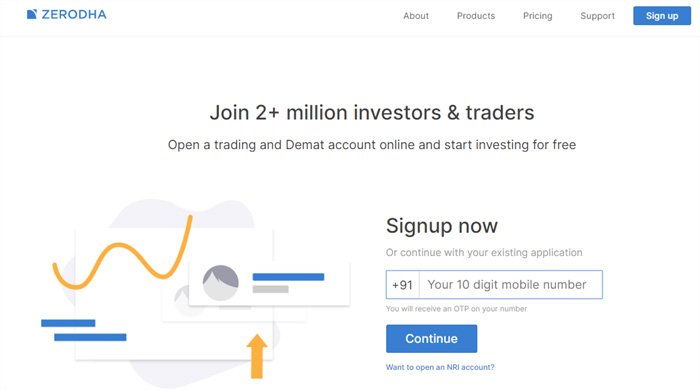 How to Open Zerodha Account Online Online?
Step 1 – Sign Up
The first step is visiting Zerodha website and clicking on the 'Sign Up' button given at the top navigation bar. It will open the page for the new account opening.
In the Sign Up now provide your 10 digit mobile number and click on the continue button. You will receive 6 digit OTP on the given mobile number.
Enter the OTP number and click on the confirm button.
Step 2 – Enter E-mail Details for Verification 
In the second step enter your Full name and e-mail address. You will receive OTP on the given e-mail address. Enter the received OTP and click on the continue button. to proceed to the next step.
Step 3 – PAN Card Detail
PAN Card is a mandatory document for opening a Demat account. In this step, you need to provide your PAN number along with DOB (Date of Birth) as mentioned on your PAN card.
You need to make sure that you are entering the correct PAN card. Invalid PAN card is not allowed and you will not able to move to the next step.
Step 4 – Payment
Now you need to make a payment for account opening. The payment amount depends upon the type of account you are opening. Two types of accounts are offered by Zerodha.
Equity,F&O, Currency & Commodity BSE, NSE – ₹200

Commodity at MCX – ₹300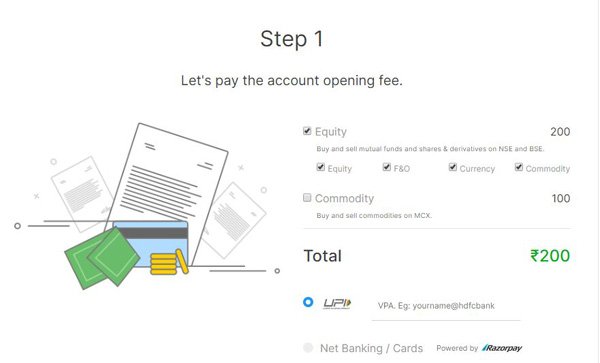 If you want to deal with Equity, F&O, Currency, and Commodity at BSE & NSE you need to make payment of ₹200. If you want to deal with commodity at MCX also you need to make payment of ₹200+₹300 = ₹500.
You can pay via credit card, online net banking or via UPI.
Once you make payment online you can move to the next step. If you are facing any issue related to a payment you can contact Customer support of your bank or at Zerodha. The customer care number is 080 4913 2020. In some cases, it takes time to get payment confirmation. In such cases, you need to wait for a while. 
Step 5 – Aadhaar Details
After making payment for account opening you need to provide your Aadhaar details. You need to use DigiLocker for linking your Aadhaar with an account. 
Click on connect to DigiLocker. It will open a new page where you need to sign in by using your phone number. In case you don't have DigiLocker ID you need to create and link your Aaddhar with DigiLocker.
Step 6
 – 
Link DigiLocker with Zerodha
Login to DigiLocker and Connect with a newly created account. The system will send OTP on your registered mobile number for verification. 
Step 7
 – 
Provide
Bank Details
In the next screen, you need to finish the process by entering your bank account number, bank name, and IFSC code. You will be also prompted to input your annual income, trading experience, political, social and professional backgrounds. After entering this you need to press 'Continue' button to move forward.
Step 8 – In-Person Verification over Webcam
In-person verification is a mandatory process. In this process documents and identity are verified as per SEBI law. The process is very easy.  
The system will ask you to write down specific code on the piece of paper and give pose in front of a webcam. Once you are ready you need to press the capture button. You can Save IPV photo or redo the process again. If you Save IPV system will display the message – Thank You. IPV done.
Step 8 – eSign Option Selection 
Now you have two options. You can either print the application and courier it or you can make use of Aadhaar mobile OTP to digitally sign the application form online instantly. 
Step 9 – Upload Documents
The last step of opening a Zerodha Demat account online is uploading documents. You need to upload the following documents.
Bank Proof – Bank statement or canceled cheque or the first page of your pass-book.

PAN card copy

Your Signature Copy

Income Proof – Income tax returns or last 6 months of bank statements.
In case you don't want to trade in F&O, you need not submit income proof. 
Step 10
 – 
eSign Google or Email Verification 
Now you need to eSign form with Aadhaar and Email Verification. You can make use of Gmail or any other E-mail Account for OTP verification. Next is proceed with eSign using Aadhaar. You will be prompted with Aadhar Number. You will receive OTP on your Mobile number. Enter OTP and click submit. 
Step 11 – Demat PoA & other document For Courrier
You need to submit three documents via courrier.
Demat POA
Commodity ECN
Nomination Form
On the next screen, you will get Demat Power of Attorney (PoA). You need to download PoA and physically sign on the given boxes at the document. Download Nomination form duly signed with nominee name and relation detail.
Courrier all these documents at Zerodha address.
Zerodha, #153/154 4th Cross Dollars Colony,
Opp. Clarence Public School,
J.P Nagar 4th Phase,
Bangalore – 560078
Once your application is approved you will get a Zerodha login ID and Password via E-mail.
Over to you –
I hope you got complete information about opening Demat and Trading Account at Zerodha. If you have any questions about the account opening process you can post it in the comment section given below.