When it comes to investing money in the mutual fund, the first thing investors look for is its return. It is like checking the average of a car before buying.
The performance of a mutual fund is important. However, mostly people are not aware of how to compare mutual fund returns? They just visit the mutual fund website and look at the return and invest in the mutual fund. Once the money is invested they forget about tracking its performance.
One should track mutual fund performance and check for return at regular intervals. This exercise needs to be done at least half-yearly. Here are various ways of comparing mutual fund return and tracking its performance.
How to compare Mutual Fund Return with other Mutual Funds?
Benchmark Returns
 A benchmark is a reference defined by a fund house to compare fund performance. As per SEBI, fund houses must declare a benchmark index for each of their mutual fund schemes. The index serves as a standard for the return. It is a parameter to compare fund performance with a broader market.
If a fund is able to cross the benchmark level it is done well. Whereas if a fund is unable to cross the benchmark level it has not performed well.
The fund houses select benchmark index based on market capitalization and theme or strategy of investment. For example, if a fund is from large-cap category it would follow indices, such as BSE 100, Nifty 50 or Nifty 100. If fund is from mid-cap category it would follow Nifty Midcap 100 or Nifty Midcap 150 as benchmark indices. If fund is from health care sector it would follow S&P BSE health care index. These are few examples. To find out the actual detail of benchmark index, you need to refer to the fund fact sheet.
You should compare a benchmark return with the return of a mutual fund to evaluate its performance.
Make sure you are comparing two different mutual funds in the same category.
Lump sum Return Vs SIP Return
There are two ways to invest in mutual funds. You can either invest full amount (lump sum) at single go or you can divide the amount in multiple parts and invest over a period of time. Suppose you have Rs.10000 for investment. You can either invest entire amount as lump sum or you can divide this amount and invest Rs.1000 every month over a period of 10 months. Under SIP route, purchase is made at different NAV.
This clearly means that if you are investing lump sum money you need to compare with historic return of lump sum investing method. If you are planning to invest via SIP you need to compare with SIP investing method. Both returns are different. You can calculate this return manually or you can get this return information from moneycontrol website.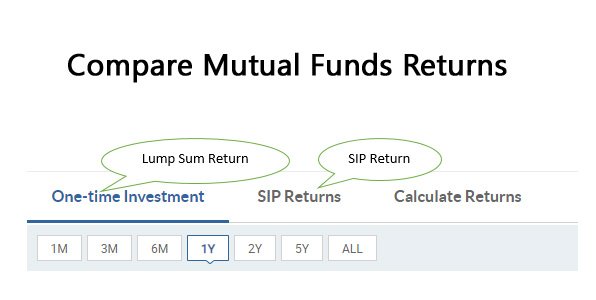 Type of Return
The mutual fund returns is measured in two different ways. Absolute return and annualized return. Annualized returns is also known as CAGR returns. The mutual fund fact sheet shows return for 1 month, 3 months, 6 months, 1 year, 3 years and 5 years. The return shown less than year is absolute return.  Absolute returns are point to point returns. Annualized return is yearly return.
You should check annualized return before making investment in mutual fund. It is advisable to check last five years annualized return before investing.
Things to keep in mind while comparing Mutual Funds
Compare mutual funds in the same category. If you are comparing large cap fund you should compare is against other fund in large cap category. There is no point in comparing apple with orange.
Market condition is crucial while comparing returns. The fund should be able to withstand bearish market condition. It is advisable to check performance history of fund in declining market conditions.
Check for benchmark index when you are comparing mutual fund with other.
When you are comparing return, make sure that time period is same. This means you should not compare three year return with one year.
You can compare mutual fund online as well as offline. However, online tools are more powerful and give you more insight about fund. You can make use of Moneycontrol online tool for comparing fund side by side.
Over to you –
Do you use any of the tracking methods given above for comparing mutual fund returns?
Do share your method of comparing return in the comment section given below.