Home based jobs are jobs where you can work from home. You can earn nearly Rs.25000 per month via WFH (Work From Home) home-based jobs.
WFH has become part of our life. Many people across the world have adopted work from home. WFH offers flexibility and work-life balance. It also cut down commuting costs and offers freedom to work in a comfortable environment.
There are two types of work from home or home-based jobs (1) Online and (2) Offline. Online jobs are preferable compared to offline jobs. To start home-based online job you just need an internet connection and information about genuine websites.
If you are ready to do Home Based Jobs and looking for online and offline job options, here are 15 Home based jobs that can be started without investing.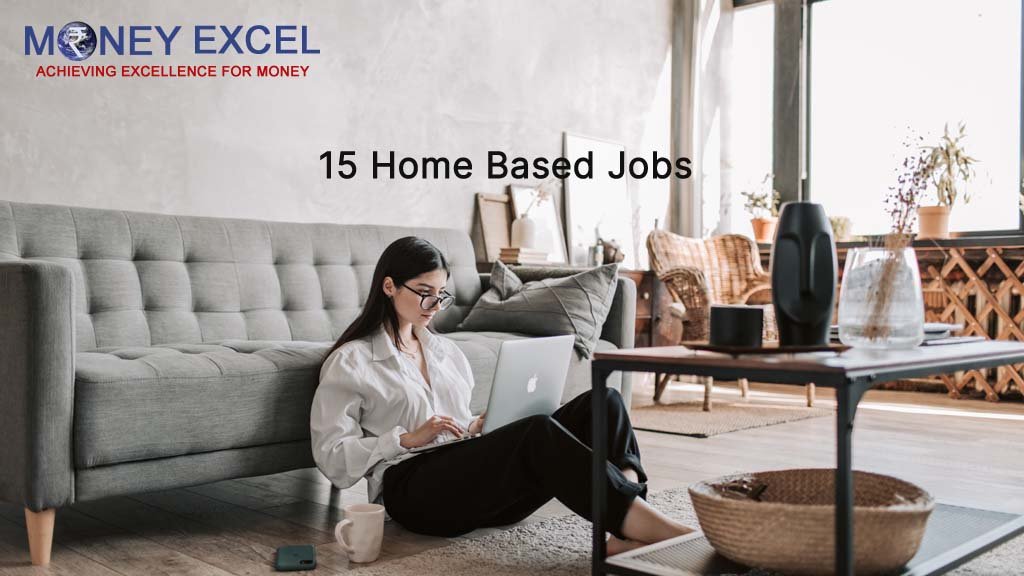 15 Home Based Jobs – Work From Home
Home Based Jobs Online
#1 GPT Jobs & PTC form Home
The first best home based jobs are GPT jobs. GPT means Get Paid to click. In these types of jobs, you will be paid money for clicking on ads.
Although many sites claim to pay money for clicking on ads but all sites are not genuine you have to be careful in making a selection on site. You can earn a lot of money from GTP jobs.
All GPT and PTC sites are free and you need not invest at all. The payout for this type of job is low. You need to invest a lot of time to get better earnings.
Few genuine GPT or PTC sites are YSense, Neobux, and Paidverts.
#2 Captcha Solver
Captcha Solver is among one of the easiest home-based jobs. In this job, you need to solve the captcha and you will be paid money.
Captcha is a combination of image, text, and extra character. You need to type the text given on-screen as a captcha solver.
You need to be very fast to solve the captcha. Few genuine home-based captcha solver sites are Mega Typers, Pro Typers etc. You can earn approximately $2 for solving 1000 captchas.
#3 Online Survey Based jobs from Home
If you love to give your opinion about products and services online survey-based jobs are for you. In this job, you need to complete an online survey. You will be paid money for every survey.
You can earn $1 to $10 based on the length of the survey. The few best survey-based sites are YSense, Swagbucks, Neobux, etc.
#4 Blogging
Blogging is among one of the best home based jobs or business ideas. It is among one of my favorite ideas. In blogging, you need to make a blog and share information about various topics.
Once your blog gets popular you can apply for the Google Adsense program for advertising. You will be paid for keeping advertisements on your blog. You can earn a lot of money via blogging.
It is recommended to use WordPress and a good hosting platform for your blog. You can earn more than $1000-$2000 every month from blogging.
40 Part Time Jobs from Home Online & Offline – No Investment
#5 Youtube Channel
My next home-based job or business idea is starting a Youtube Channel. In this job, you need to start your channel on youtube. You need to post unique videos on your channel. You can apply for the youtube channel program once your channel cross popularity and the minimum requirement for applying. This program allows you to monetize your videos.
You can earn more than $500 per month using Vlogging or Youtube Channel.
#6 Affiliate Marketing
If you are hardworking and serious about earning money online affiliate marketing is for you. You can earn big money using affiliate marketing. However, you need to spend a lot of time on the internet to earn big money.
There are hundreds of online merchants like Amazon, Flipkart, eBay, Clickbank, CJ, etc. where you can signup & promote their products.
In affiliate marketing, you are simply helping customers to buy the right product by creating a simple website & in return, you can earn 4% to 10% commission.
#7 Working as Virtual Assistant from Home
A Virtual Assistant is like a personal assistant that completes the jobs online without physical presence. Few tasks that are expected from virtual assistants are taking care of websites, checking emails, writing & proofreading, publishing content, marketing, coding, website & app development, and research.
Many genuine websites offer virtual assistant jobs online. A few examples are HireMyMom, MyTasker, uAssistMe, etc.
#8 Freelancer
Freelancer is the next best home-based job after blogging and affiliate marketing. You can earn lot of money as a freelancer. You can work with small and big companies temporarily for the completion of projects.
Freelancer jobs are like designing websites, providing SEO services, data entry services, content writing, graphics designing, etc.
You can earn $500 to $800 per month as a freelancer. As per me, the best freelancer sites are UpWork, Freelancer.in, WorkNHire, etc.
Home Based Jobs Offline
#9 Data Entry Jobs – Online and Offline
Data Entry jobs can be done online or offline. In this job, you need to perform data entry online. You need to spend a lot of time doing data entry work. You can find data entry jobs online on indeed, Naukri and shine site.
Data entry is an easy job but earning in a data entry job is very low.
#10 Insurance Agent
One of the best offline home-based job is as an insurance agent. You can become an insurance agent without any investment. In this job/business you need to sell insurance policies. You will get a commission on every policy sale.
It is difficult to sell insurance policies. If you have the skills and expertise to convince people you can opt for becoming an insurance agent. If you are a beginner, I would advise you to become an LIC agent.
#11 Home Tuition
If you are educated and looking for good part-time offline home-based jobs you can think of starting home tuition. You need small space and small investment to start tuition. You need to spend a lot of time and money on marketing for home tuition.
#12 Real Estate Agent 
My next home based job is as a real estate agent. In this job or business, you need to help buyers and sellers with selling and renting properties. As a real estate agent, you can earn a lot of money. This job does not require any investment. You just information about properties available for sale and rent.
#13 Beauty Parlour Job
If you are a woman and looking for home-based job you can think of starting your beauty parlor. Ladies are fond of beauty parlors and hence your chance of getting success in a beauty parlor is very high. You need to take special training or do a course before starting a beauty parlor.
#14 Home Networker 
Home Networker or MLM is next home-based job. In MLM job/business you can earn lot of money. You need good communication skills and convincing power for this job. You need to be careful in selecting an MLM Company for network marketing.
#15 Food Delivery Service 
Food Delivery Service is last in the list of 15 Home-based jobs. In this business, you need to deliver food at doorstep of the customer. You can either start an online portal for taking food delivery orders or you can make home-based food and deliver it. This job requires a lot of dedication and hard work.
Over to you
I hope these home-based jobs will help you in earning a good income.