Gold Loan or loan against gold is one of the most popular option for borrowing money. Gold loans are offered with lower interest rate compared to personal loan. Gold loan disbursement is faster and payment terms is flexible. You can avail gold loan from the bank as well as NBFC (non-banking finance company).
Gold loan is any purpose loan you can opt for this loan for any purpose. However, it is advisable to opt for this loan in financial emergency only. Gold loan is secured loan and you need to pledge your gold article, gold ornaments as collateral to get the loan. If you are planning to take gold loan (or loan against gold) you should evaluate various gold loan options. Here is complete information about Gold Loan including key features and document requirement.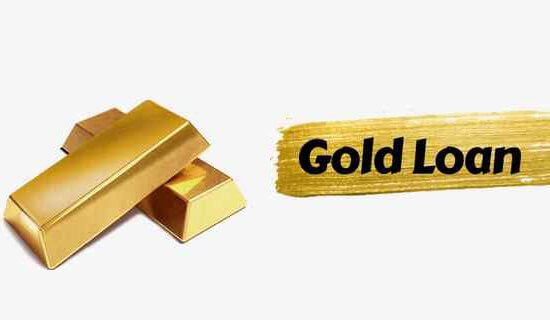 What is Gold Loan?
Gold loan is loan that is offered against gold as collateral. You need to deposit your gold ornaments and articles in order to get gold loan. It is a secured loan as gold is taken as collateral. The loan amount is certain percentage of gold. Usually it is up to 80% of current market value of the gold. You need to pay interest on the gold loan amount.
Key Features of Gold Loan
Flexibility of Use – The gold loan amount can be used for any purpose. You can use it for medical expense, travel, marriage or any other purpose.
Quick Disbursal – The processing time of gold loan is very fast. You can expect disbursal of this loan in two-three days.
Secured Loan – You are not required to submit any other collateral to the lender. The only thing you need to submit your gold ornaments or article.
Interest rate – The interest rate applicable on the gold loan is low compared to personal loan. You can get gold loan with interest rate of 7-24%.
Use of idle asset – Gold placed at your home is usually not used for generating money. You can make use of gold (idle asset) in order to raise capital via Gold Loan.
Gold Loan Options in India
Gold loan can be taken from bank and from the non-banking finance organization. Most popular banks to avail gold loan are SBI, ICICI Bank, HDFC bank etc. The non-banking finance organizations that offers gold loan are Muthoot Finance, Mannappuram Finance etc. The interest rate detail charged by various banks and NBFC are given below.
Bank
Gold Loan Interest Rate
Maximum Loan
SBI
7.30% to 7.50%
50 Lakh
Bank of India
7.40%
10 Lakh
Canara Bank
7.65%
20 Lakh
Bank of Maharashtra
7.50%
20 Lakh
Lakshmi Vilas Bank
8.80%
30 Lakh
Punjab National Bank
8.60% to 9.15%
10 Lakh
Central Bank of India
9.05%
20 Lakh
Punjab & Sind Bank
8.10% to 9.35%
30 Lakh
Federal Bank
8.50% onwards
1.50 Cr
United Bank
9.35%
10 Lakh
Dhanlaxmi Bank
9.65%
Karur Vysya Bank
10.10%
Indusind Bank
10.5% to 16%
Kotak Mahindra Bank
10.5% to 17%
HDFC Bank
9.90% to 17.90%
ICICI Bank
10% to 19.76%
1 Cr
South Indian Bank
11.90% to 12.40%
10 Cr
Axis Bank
13.00%
25 Lakh
Muthoot Finance
12% to 27%
Manappuram Finance
Max 29%
IIFL
9.24-24%
Bajaj
12%
Documents required for Gold Loan
The documents required for availing of the gold loan are –
Two passport size photographs
Identity proof such as PAN card, passport/, Aadhaar card, voter id card
Address proof (Electricity bill/ telephone bill/ bank statement
Things to consider to before applying for Gold Loan
You need to consider following things before applying for gold loan.
Loan Amount
The loan amount for gold loan is limited and it is up to 70-90% of current market value of gold. Remember no bank or organization offer loan of 100% against the worth of gold.
Interest Rate
You must consider the applicable interest rate on the loan amount. The rate of interest should be lower. Gold loan is offered as fixed interest rate and floating interest rate. In the fixed interest scheme the EMI remains same during repayment schedule. Under the floating interest rate option, the EMI of gold loan can increase or decrease.
Loan Tenure
The tenure of loan is short. The loan is offered for the duration of 1 year. The loan can be extended to 2 years. You should be sure that you will be able to repay the loan in the short period before taking this loan.
Repayment Structure
Repayment structure is next thing to consider when you avail gold loan. There are multiple loan repayment options which are given below.
Standard EMI – Standard EMI is option where you need to payback loan with interest amount on monthly basis.
Upfront Interest – Under upfront interest option you need to pay interest amount at the beginning of the loan the principal amount to paid at the end.
Bullet Payment – The bullet payment means borrower need not to pay principal amount over the life of the loan but payment needs to be made at the maturity.
Processing Fees
You also need to consider processing fees applicable on the gold loan. Processing fee is fee which you need to pay for processing the loan. The fee is different for every bank and NBFC.