PPO Number – A pension payment order (PPO) number is a 12-digit unique number assigned to pensioner/family pensioner. This number serves as a reference number whenever any communication is done with the central processing accounting officer (CPAO).
Pensioners can check pension status and file grievances by using PPO number. CPAO database only recognizes 12 digit PPO numbers whenever pension filling is done. PPO number is also required whenever life certificate or Jeevan Praman is submitted every year to CPAO. If you are a pensioner or family pensioner PPO number is extremely important for you.
How to read PPO Number?
As per CPAO (central pension accounting office), in each PPO, the first five-digit contains code number of the PPO issuing authority, the next two digits are the year of issue, and after that four digits indicate the sequential number of the PPO. The last digit is a check digit for the purpose of computer.
For Example –
PPO Number – 709650601302
PPO has been issued by AG Madhya Pradesh, in the year 2006 and is the 130th PPO issued by that PPO issuing authority, and is allotted computer code-2.
Know your PPO Status?
Pensioners can easily check the status of any PPO by using the link "PPO status" given on CPAO website – https://cpao.nic.in/Pensioner/pensioners.php. Pensioners need to input 12 digit PPO number to know that status.  
The PPO copy and subsequent amendment issued by CPAO can be downloaded at CPAO by using user name and password after getting registration at https://cpao.nic.in/
If you have forgotten your PPO number, you can easily get using your bank account number or member ID at the EPFO portal.
Step by step process of getting PPO at the EPFO portal is given below.
How to get PPO Number at EPFO Portal?  
#1 Visit EPFO website – www.epfindia.gov.in
#2 Now click on the Pensioners Portal link given under the "Online Services" section
#3 You will be taken to the new page. On the left side, you will find various links where the second link is Know your PPO number.
#4 Now you will get two options you can either search using your bank account number or PF member ID.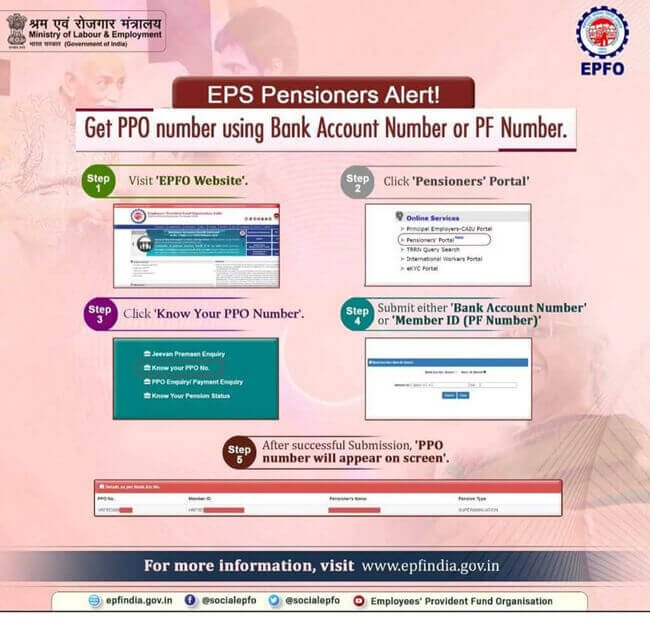 On the next screen after submitting either bank account number of PF member ID, you can get the PPO number.
Additionally, you will also get the following facility at the EPFO portal about your pension.
Jeevan Praman Enquiry

PPO Enquiry / Payment Enquiry

Know your Pension Status
Over to you
Have you ever used the facility of getting PPO at the EPFO portal using a bank account number or PF number? Share your experience in the comment section given below.
To get notification of new articles please subscribe to our mailing list.