Trading in foreign currency is known as Forex Trading. You might have noticed that the value of the dollar is going up every day. Dollar exchange rate was Rs. 62 before few days and now it is Rs.78. Investors willing to take advantage of this appreciation in short and medium term can participate in currency trading.
Yes, it is legally allowed to trade Forex within Indian Exchanges like BSE, NSE, MCX-SX. As per RBI guideline, all Indian resident including banks and financial institutions can do forex trading in currency pairs. The main currency pairs are USDINR, EURINR, GBPINR and JPYINR. So, if you are trading with brokers who have membership in mention exchange it is absolutely legal.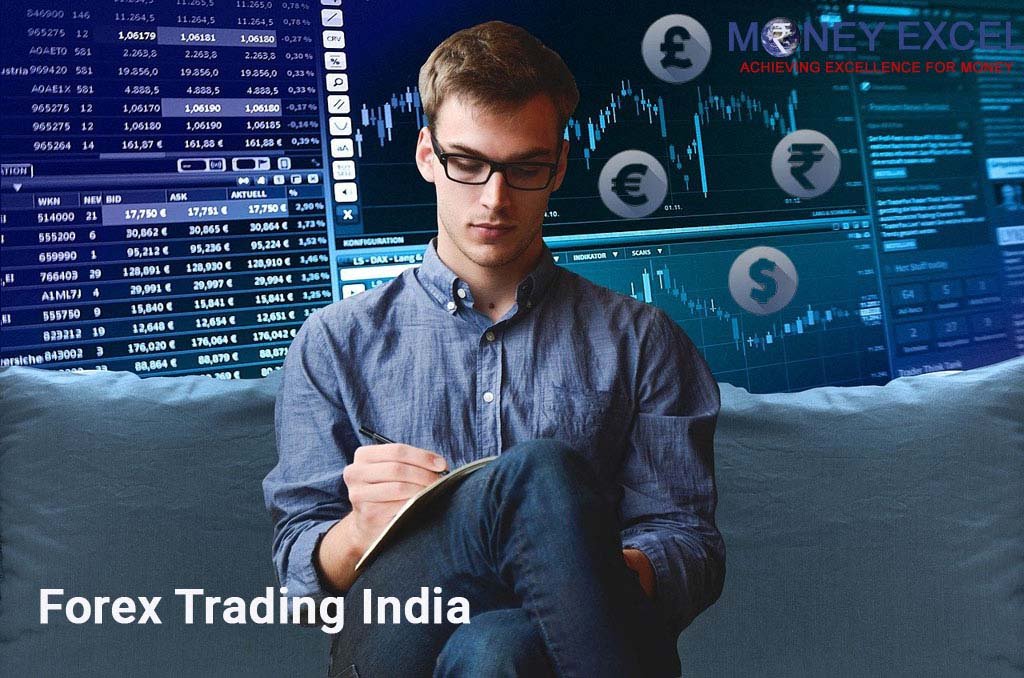 Suppose you are a beginner and planning to start Forex Trading in India, here is a complete article explaining – How to do Forex Trading in India? & Benefit and drawbacks of doing forex trading. 
How Forex Trading Works?
The act of buying and selling foreign currency for making money is known as forex trading. The process of forex trading is completely online. Forex Trading is same as that of equity trading. In equity trading rate of share matters while in forex trading exchange rate matters. You can buy or sell currency pair as per your expectation of movement in currencies. Please refer to the example given below for better understanding.
Example –
Suppose you want to take advantage of growing price of a dollar. The dollar is trading at Rs 77, you feel that price is going to appreciate and expected to reach at Rs 80 in few months you can enter into a long position by buying USDINR contract on the exchange. If the price goes to Rs 80, you get the profit of Rs.3 per dollar. So in the single contract of 1000$ you can earn Rs.3000.
After entering into the contract if you see that Rupee is appreciating and dollar price is expected at Rs 73, you can 'short close' your position by selling currency future contract. If dollar price goes to Rs 73 you can gain Rs 1 per dollar by squaring off your position. Total gain on a 1000$ contract will be Rs.1000. However, if a dollar moves up and reach Rs 77, you lose Rs 4 per dollar. An investor can square off position anytime during the period of the contract.
You can take similar long and short position in EURINR, GBPINR or JYPINR.
Brokers for Forex Trading
Forex Trading can be done with register Indian brokers. Most commonly used exchanges are MCX-SX – Multi Commodity Exchange and NSE – National Stock Exchange. At the international level exchange, COMEX is used as regulators. The currency market is regulated by RBI and SEBI. See HFM which also trades in India.
Best Brokers offering Forex Trading services in India are –
The step to be followed for doing Forex Trading are given below. 
(1) First of all, decide the currency in which you will be doing trading. The currency could be dollar, Euro etc. Trading will be done in pair. USD/INR, EURO/INR, GBP/INR and JPY/INR is permitted by Regulatory authorities SEBI and RBI. 
(2) The second step is deciding the deal size. The deal size is based on the investment amount. If you are beginner start with smaller amount.
(3) Next step is to decide forex broker. Make sure to select broker with competitive brokerage rates & secure robust online platform. 
(4) Decide buy or sell action. The action will be decided based on the trend. Suppose you decide to trade in USD/INR and you expect that dollar price will be rising in future you can opt for buying dollars.
Things to consider before starting Forex Trading  
Risk – You must know that forex trading is risky in nature. You may likely to lose money while doing currency trading. Avoid trading with borrowed capital.
Broker – Select your broker carefully. There are multiple fake or unreliable online brokers. Scrutinize broker with require details such as service support, trading platform, trustworthiness and brokerage charges.
Currency Pair – You should focus on single currency pair at initial stage. Once you gain experience and knowledge you can expand your wing and try with multiple currency pair.
Trade Amount – Start with small amount and increase size of your trade once you get greater profit.
Benefits of Forex Trading
One can do forex trading online 24×7 anytime anywhere with internet connectivity.
The liquidity in case of forex trading is high. You can sell your investment at any time.
A stock market is volatile in nature. However, foreign currency usually follow one type trend which is easy to predict.
Entire trade is transparent and in your control.
You have multiple currency options for trading.
You can earn lot of profit by means of doing currency trading.
Drawbacks of Forex Trading 
The currency trading is risky in nature. You are likely to lose money.
You need to pay brokerage cost for doing currency trading.
There are multiple online fake brokers. You need to be careful while selecting broker.
Conclusion
Forex trading is one of the best career option which can help you in earning lot of profit. However, you need to be careful and mentally strong while starting a forex trading.