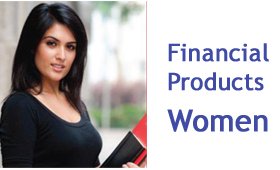 Women's are becoming self-sufficient today. Women prefer to make their own financial decision parenting to financial planning and investment. Keeping specific needs of women's in mind many financial products are available in market. These products are meant to bring financial independence for women's. Let's take a look at financial products available for women's in India.
Saving Accounts of Women
Banks are offering special saving accounts for women's. These accounts come with extra benefits like lower average minimum balance, personal accident insurance, rewards and discount schemes. Various bank accounts and benefit offered by bank are given below.
Advantage Women Saving Account – ICICI Bank
Main features of this saving account are:
Unlimited cash withdrawals at any bank's ATM – Free
Specialized Women Debit card with high withdrawal limits
Zero Balance Facility with recurring deposit of 2000 Rs/- per month for six months
Money Multiplier facility for earning higher interest on ideal money
Free multi city cheque book facility
Internet Banking facility
Super Shakti Account – IDBI Bank
Main features of this saving account are:
Zero Balance Facility
Two free accounts for their children's age below 18 years
Auto sweep out & sweep in facility
Women's International ATM card
50% discount on Demat AMC
25% discount on Locker Services
Silk – The saving Program for women – Kotak Bank
Main features of this saving account are:
The non-maintenance charge on the child's account has been waived off
35% Discount on Locker Rental for first year
Higher Debit card withdrawal limit -75,000 Rs/- per day
Enjoy 5 Free movie ticket per month – Total 60 Free movie ticket per year
Up to 4500 Rs/- cash back on silk debit card on purchasing of grocery, health beauty product, apparel, hotel dining etc.
ATM Cards for Women
Keeping women's need in mind several banks are offering special types of ATM cum debit card let's take a quick look on the same.
Women's Advantage Debit Card – HDFC Bank
Main features of this ATM Card are:
5% Cash back on all shopping at merchant outlets and online
Free Insurance cover of 2 lac
Fuel charge reversal facility on BPCL petrol outlets
Ladies First Debit Card – Axis Bank
Main features of this ATM Card are:
Discount Benefits on Spa & Salons like Lakeme, VLCC etc.
Loyalty Rewards program on purchase of grocery & apparels
Lost Card Liability & Purchase Protection of up to Rs. 40,000
Insurance Products for Women
Special Insurance policies are available in market for women's.  These products are designed to cater specific need of women such as complication of pregnancy, critical illness benefit including cervical cancer. Let's take a look at insurance products for women.
Jeevan Bharti – LIC
LIC Jeevan Bharati is exclusive money back plan for women. This plan provides accident benefit & critical Illness benefit for pregnancy. This plan also provides survival benefits.
Woman First- Birla Sun life
Woman First plan from Birla Sun life provide covers for critical illness like heart attack, stroke and cancer. This policy also covers pregnancy of women and related diseases. This plan also provides 3% guaranteed return.
Loans for Women
Various banks and lenders also provide lucrative loan offers to women. Home loan, Education loan, Marriage loan are offered to women at lower interest rates.
Star Mahila Gold Loan – BOI
Star Mahila Gold Loan is offered to women for purchasing gold or gold ornaments. This loan is offered at 13% interest rate. 80% loan is provided on gold or jwellery value.
Dena Shakti – Dena Bank
Dena Shakti is loan provide finance to women entrepreneurs for conducting small business – manufacturing or service, retail trade, agriculture & allied activities. Maximum loan offered under this scheme is 20 lac. Interest rate is as per RBI guideline 0.25% concession is given to women based on certain guidelines.
SBI Home Loan
SBI is offering home loan to women at reduced interest rates. To avail this loan women should be sole applicant or should be first owner in case of joint ownership.
Purpose of this article is to provide information about financial products of women. We request to understand product in detail before making any investments.
Hope you enjoyed reading this article. Do share your views on above.