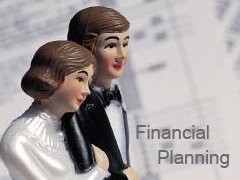 Every individual has own principle towards finance. Sometime these financial matters become biggest source of conflict between married couples. This may be due to communication gap or may be due to difference in financial priorities. Sometime this money matters lead to extreme situation like divorce.
This conflict can be easily resolved among couple itself; by developing little understanding and working together to secure financial future.
Here are some financial planning tips for couples:-
For Unmarried:-
(1) Most of the people match horoscope before marriage but forgot to match dreams, aspiration & priorities with future partner. Don't forget that you will need money at each and every step of life. Make sure to check compatibility of your partner's dreams, aspiration & priorities with you.
(2) Try to check out your partner's financial habits & capability towards financial matters.
(3) Save enough money before starting marriage life. Marriage is new responsibility and you should be prepared financially to take care of all pre and post marriage requirement.
(4) If you are the person who will be responsible for the expense on your own marriage, try to manage cost within budget (don't overspend) avoid situation by which you will be force to take loan.
For Just married:-
(1) If you receive money as gifts on your wedding, don't spend them. Better idea is to deposit them in new Joint saving bank account or to invest them for your future dreams like dream home or child.
(2) Discuss about your current investments. Evaluate if any change in your investment can help you in achieving your goals earlier.
(3) Discuss & share responsibility of your financial life. E.g who will be responsible for paying bill, keeping track of expense or for bank related transactions.
 For managing finance & household:-
(1) Discuss with your partner about household expenses and make proper budget. Don't spend money beyond budget. Discuss & concern your partner before you take any financial decision.
(2) Try to find out quality of your partner and act accordingly E.g Your partner is good at bargaining put him as in charge of spending part of budget and If you are good at understanding investment etc you hold saving/investing part of budget.
(3) List down your goals & priorities and steps to achieve the same. Whenever you find conflict instead of fighting try to find way out.
(4) If you are the only earning member and your wife is home maker, most important thing you should do is to take enough life insurance.
(5) Keep arrangement to move certain amount of money aside every month to generate corpus of Emergency Fund. Certain needs are unexpected and you must plan for them.
(6) Everything is good if your health is good. Take family health insurance policy so you need not to run around when there is a health issues.
(7) Never hide anything from your partner; keeping financial problem with you is not good. Discuss your financial worry with your partner and ask her support and suggestions.
(8) Make list of everything you own and keep your partner aware about your every financial matters/ transactions.
(9) Evaluate your financial situation, dreams & goals every quarter. Checkout whether you can meet your goal or not. If not take necessary action in right direction.
(10) Work with your partner not against him/her, As a human being it may happen that you have different mindsets; One can take financial decision immediately other may take some time for thinking.
(11) Don't overlook your partner's need. It is most important point for your partnership. Treat your partner as associates. Hear your partner, consider his/her need and respond.
(12) If you are weak at financial planning management, subscribe to good monthly investment magazine or take advice from fee based financial planner.
Remember "Together you can achieve more".