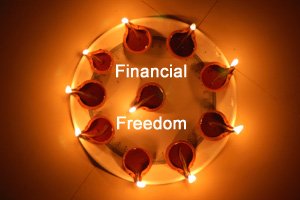 Diwali or Deepavali is popularly known as the "festival of lights," is a five day festival which starts on Dhanteras, this is the time when everyone wants to buy new cloths, gold, electronics, sweets and other items. In this festival with lots of joys and happiness we decorate house, light lamps and fire crackers.
Essence of lighting lamp/diyas on diwali is illuminations of this lighted diyas bring the supernatural brightness and joy with the hope of finding light in darkness, achieving knowledge where there is ignorance, and spreading love.
This diwali let us try to light the lamp of financial freedom which will bring real light and happiness in your life for years to come. We at moneyexcel.com advise you to start working on at least following four personal finance essentials from this Diwali in order to step forwards towards financial freedom.
Insurance of life and all other assets:-
Each of us is driven by a common goal, providing a safe and secure future for our loved ones. It starts with giving them the necessities and luxuries of life and protecting them from any financial losses. Insurance helps us do that. It's a medium to protect us from the risk of any uncertain loss that may occur. It does not protect us from the damage but will help recover the financial loss faced by us. It works in a fairly simple way wherein we pay a premium to the insurance company in return of a promise by them to recover losses faced by us if any.
There are two types of insurances, Life insurance and general insurance. Life insurance is meant to protect and provide for the family members in case of untimely death of the earning member of the family. Life Insurance is a must for anyone with dependents and must be high on the priority list. General insurance is meant for homes, vehicles and other assets wherein any loss to the asset will be compensated for by the insurance company. Hence anyone with dependents they want to protect or assets which they have bought with their hard earned money must ensure that insurance is on the top of their list of priorities.
Investing for Life Goals:-
The life of each individual is marked with specific times for specific events like marriage, purchase of a house or vehicle, children's education and their marriage and finally retirement. Each of these is goals which have to be planned for well in advance. Every individual decides upon a certain amount to be invested into the event. So to achieve our goals we invest. However each of our investments must be directed keeping in mind a certain goal and its time horizon. This enables us to ensure that we have adequate amounts of funds in times of need.
Debt Reduction & Management:-
Nowadays, debt isn't a dirty word. But like the earlier times it still brings unimaginable burden to the family. Debt allows people to buy items that they couldn't have otherwise been able to afford. However sometimes repayment of unsecured debt may become a problem. In such cases debt management schemes can be employed where a third party organization assists the debtor to repay his debts by re-negotiating the interest rates with the creditors.  It proposes re-negotiated interest rates after taking into account all the priority payments. A debt consolidation method can also be used in order to manage debt wherein, one can take a secured loan in order to pay several other unsecured loans. In case of this method, a reduced or stable interest rate provides the debtor with relief.
Estate Planning:-
Over the years one saves and accumulates funds to own assets, namely property, cars, jewelry and even retirement investments. Each one would want the assets to be properly given off after their death. Hence an estate plan should be in order. It ensures the accumulated wealth from over the years goes to the intended person and is not wasted away. It also ensures the family has less bad blood amongst them as assets are shared as per wishes of the deceased person. However it does not mean that only wealthy people should have an estate plan in place. Anyone who has a family must make sure he has a will, an attorney who will take care of the affairs and also appoints a guardian for his children as lack of it will pass over the custody of your children in the hands of the court. An estate plan will ensure your life earnings are not wasted and will be passed over to your family to help them feel protected and secure.
So do work on these four financial plan essentials to make sure you move forward to financial freedom and bring upon our families the happiness they deserve.
Remember financially secure life is a happy life.