Diwali Stock Picks – Diwali is auspicious festival of light. Many investor prefer investing in stock market during Diwali Muhurat Trading. Samvat 2074 has not been very kind for investors. Sensex is losing its shine continuously. Nifty has just grown by 3% since past Diwali.
The rise in crude oil prices, weakening INR against USD, fear of subsequent interest rate hikes by the RBI, US Fed are factors that affecting stock market.
Investors are worried and wondering whether the market will recover at all or bear run will continue? Whatever, be the case one thing is sure that the current correction in the stock market is very good opportunity for investors to invest in good quality stocks.
If you are equity investor and looking for good Diwali muhurat stock picks here are 12 Diwali Stock Picks 2018 by Sharekhan.
Although stock market is not performing well, Sharekhan Diwali Picks of last year turns out to be good stock for the investor. Out of 10 stocks, 6 stocks has given positive returns. Two stocks Bata India and Sundram Fasteners have given sparkling returns to the investors.
For 2075, Sharekhan has selected 12 quality stocks for Investment. Details of these stocks are given below.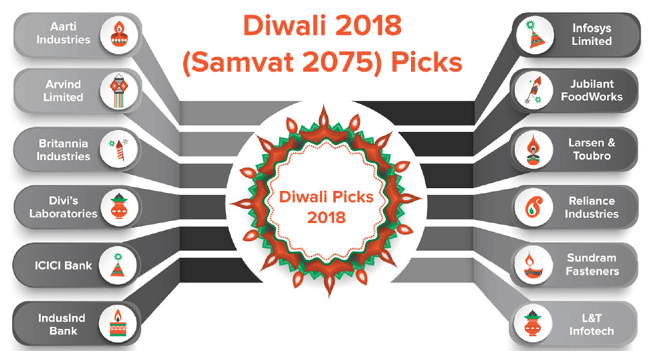 12 Diwali Stock Picks 2018 by Sharekhan
Aarti Industries
Aarti Industries is first Diwali Stock Pick. Aarti Industries is a leading Indian manufacturer of speciality chemicals and pharmaceuticals. Aarti Industries holds special chemical product portfolio. The company is holding large order book. The company has big expansion plan. This stock is likely to generate good returns.
Arvind Limited
Arvind Limited is well known textile manufacturer. Apart from textile manufacturing Arvind is also dealing in branded retail apparel. The company is planning to demerge manufacturing and retail business. This will surely boost the value of these businesses. It is expected that company's revenue and profit is likely to grow in the future.
Britannia Industries
Britannia is one of the largest biscuit & snack manufacturers in the domestic market with very good turnover. Britannia is one of the recommended Diwali Pick for 2018. Britannia is likely to launch new products with high gross margins. You can expect very good profitability from Britannia Industries.
Divi's Laboratories
Divi's Laboratories is an Indian pharmaceutical company. Divi's Laboratories operates in the exports market by selling products to USA & Europe. Dollar value appreciation will surely benefit company like Divi's Laboratories in terms of better sales realisation and profitability. Capacity expansion and growth are positive sides of Divi's Laboratories.
ICICI Bank
ICICI Bank is next Diwali Stock Pick. ICICI Bank is one of India's largest private sector bank. ICICI Bank is well capitalized. Uncertainty problem about leadership is already addressed. It is anticipated that bank will give positive returns in the future.
IndusInd Bank
Next Banking sector stock recommended by Sharekhan is IndusInd bank. IndusInd Bank is one of the best performing private sector bank in last four years. The bank is well capitalized. A recent merger with Bharat Financial will be beneficial to IndusInd bank.
Infosys Limited
Infosys is next recommended Diwali Stock by Sharekhan. Infosys is India's second‐largest IT services company in terms of export revenue. The company has acquired many companies to build up its digital capabilities. Infosys is likely to deliver strong revenue in the future.
Jubilant FoodWorks
Jubilant FoodWorks is India's largest food sector company. JFL is focusing on offering superior, value-for money products and improve the customer experience. JFL would be one of the key beneficiaries of improvement in the discretionary environment in the domestic market.
Larsen & Toubro
Larsen & Toubro is next Diwali stocks by Sharekhan. Larsen & Toubro is proxy of Indian economy. L&T has strong order flow in the infrastructure, hydrocarbon and heavy engineering businesses. A strong earnings performance of the company is backed by growth in order inflows.
Larsen & Toubro Infotech
Larsen & Toubro Infotech is next Diwali stocks by Sharekhan. Larsen & Toubro Infotech is India's sixth‐largest IT services company in terms of revenue. Strong order book and focus on digital business will surely help LTI to grow.
Reliance Industries
RIL is a diversified conglomerate with business interests spanning from refineries, petrochemicals, exploration & production, retail and digital services. New Jio business and growth in petrochemical will give lot of benefits to RIL in terms of earnings.
Sundram Fasteners
Sundram Fasteners is next Diwali Stock Pick. Sundram Fasteners deals in fasteners. Capacity Expansion and a rise in export business will help Sundram Fasteners. Strong return ratios and robust growth make it an attractive investment bet.
Download Sharekhan Research Report on Diwali Picks from Here.
Sharekhan has done an excellent job of recommending quality stocks for the investment. These stocks will surely give a better return in the future.
Over to You –
Do you think above stocks are the best stocks to buy on Diwali ?
Do share your views in the comment section.
Wishing you all a Happy Diwali and Prosperous New Year
May this auspicious festival bring you Crackers of Joy, Chants of Bliss, Light of Success & Colour of Prosperity.
Note – The stocks recommendations given in section above are of various brokerage houses and do not represent those of Moneyexcel.com. Please consult your financial advisor before taking any position in above stocks.