This year Diwali is on 14th Nov, 2020. Muhurat Trading is planned on the Diwali day. Diwali is festival of light and it seems stock market is sparkling with lights before Diwali 2020. Stock market has nearly reached pre Covid-19 levels.  It is indication of recovery in the market and economy. The supply and demand is gradually increasing. The market is likely to sparkle further and reach new heights this Diwali.
ICICI Securities has selected Top 5 Muhurat Picks for Diwali 2020. As per them, investor should stay invested and select quality stocks for long term wealth generation. The identification of quality stock should be done based on fundamental, earning growth, stable cash flow and future business potential.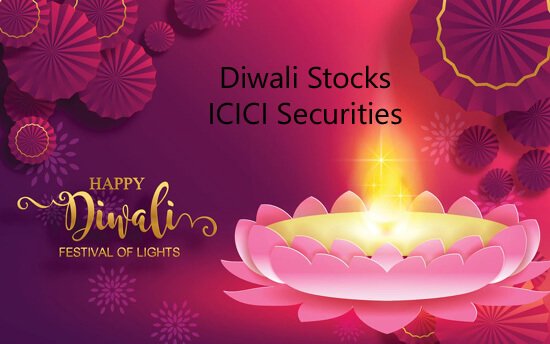 Diwali 2020 – Top 5 Muhurat Picks by ICICI Securities
Zydus Wellness
Zydus Wellness is first Diwali 2020 stock by ICICI Securities. Zydus Wellness deals in wellness and health related products. Zydus Wellness have diversified and popular product range such as Nutralite, Everyuth, Sugar Free etc. The company has acquired Heinz India last year in January 2019. The new acquisition has expanded business portfolio of Zydus Wellness. This company is least impacted from COVID-19. As per ICICI Securities, this stock has potential upside of 30%. The target price set for this stock is Rs.2300.
SBI Life Insurance  
SBI Life Insurance is one of the largest and most popular life insurance company of India. The impact to life insurance business during Covid times is very low. In fact, people have increased life insurance policies. SBI Life Insurance enjoy unique products and good market share after LIC of India. The market share of SBI Life Insurance is likely to increase in the days to come. This stock has potential upside of 27%. The target price set for this stock si Rs.1000.
Ramco Cements  
Ramco Cements is one of the largest cement producer in the south India. In addition to cement, Ramco Cement also produces ready mix concrete and dry mortar products. The company has strong business profile and good market share. Due to recovery in the economy and real estate the cement sector stocks are likely to outperform in the days to come. The potential upside of this stock is 21%. The target price set for Ramco Cement is Rs.1000.
Mahindra Logistics
Mahindra Logistic is third party logistics solution provider. Mahindra Logistic provide customized and scalable solutions to the customers. Mahindra Logistic operates business with asset light model. The entire investment in the business is done by business partners. The business of logistic company is likely to grow. Most of the company will prefer third party logistic companies for logistic arrangement. The growth in logistic business will surely benefit Mahindra Logistic. The potential upside set for Mahindra Logistic is 18%. The target price of Mahindra Logistics is Rs.430.
Cipla Ltd  
Cipla Limited is last Diwali 2020 stock by ICICI Securities. Cipla is in pharmaceutical business. Cipla manufacture medicine that treat respiratory, cardiovascular, diabetes and other medical conditions. Cipla have presence in domestic and global market. The business of Cipla is growing and likely to grow in the future. The potential upside of Cipla is 16%. The target price set for Cipla is Rs.900.
(The views content and recommendations expressed in this post are of  leading stock market experts and do not represent those of Moneyexcel.com. Please consult your financial adviser before taking any position in the stocks mentioned)