Samvat 2074 was an average year for the stock market investors. Sensex has grown by 3% with respect to last year Diwali. The rise in crude oil prices, weakening INR against USD, fear of subsequent interest rate hikes by the RBI are affecting stock market negatively.
This year, Diwali falls on 7th November 2018 (Wednesday). Muhurat Trading session will be held on the same day from 5 PM to 6:30 PM. Muhurat Trading is an auspicious time to buy stocks for the investment.  If you are planning to buy stocks on Muhurat trading I have something interesting for you. I am here with 32 Best stocks to buy in Muhurat trading. These stocks are recommended by leading brokerage house HDFC Securities, Motilal Oswal & Axis Direct.
Also Read – 12 Diwali Stock Picks 2018 by Sharekhan
Diwali 2018 Large Cap, Mid Cap & Small Cap Stocks  
The summary of Diwali Stocks recommended for investment in 2018 are given below.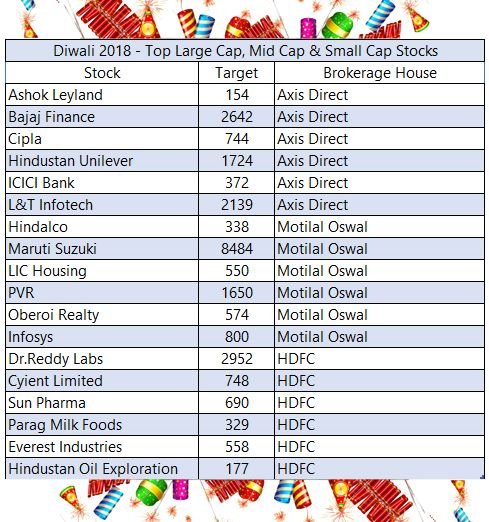 Diwali Muhurat Trading Stocks by Axis Direct
Axis Direct has recommended 12 Diwali Picks. The detail of stocks recommended by Axis Direct is given below.
Ashok Leyland
Ashok Leyland is first Diwali stock pick for 2018 by Axis Direct. Ashok Leyland is dealing in commercial vehicle segment. Axis Direct is betting on factors such as growth in commercial vehicles, increase in margin, capacity expansion etc. The target price set for Ashok Leyland is Rs.154.
Bajaj Finance
Bajaj Finance is next Diwali stock pick for 2018 by Axis Direct. Bajaj Finance is leading NBFC in India. Brokerage house is bullish on Bajaj Finance and expecting that stock will give a steady performance and shows improvement in return on asset. The target price set for Bajaj Finance is Rs.2642.
Cipla
Cipla is another best buying bet for Diwali 2018 as per Axis Direct. Cipla is pharmaceutical company dealing in multiple drugs. The rationale behind selecting Cipla is increased in US sales number, sustained operating margins and an increase in presence via partnership.
Hindustan Unilever
Hindustan Unilever is one of the biggest FMCG company in India. The brokerage house is bullish and expecting double-digit volume growth as per guidance. The step taken towards cost optimization will surely help the firm going forward.
ICICI Bank
The only bank on which Axis Direct is bullish is ICICI Bank. ICICI Bank is one of the largest private sector banks in India. The recent change in management and improvement in asset quality front are positive factors about ICICI Bank.
L&T Infotech
L&T Infotech is next Diwali stock for the investment in 2018 as per Axis Direct. L&T Infotech is IT Sector Company. L&T Infotech has shown good upside potential this year. A strong order book and increasing profit margin are positive sides of this stock.
Minda Industries
Minda Industries is engaged in the manufacturing, development, and sales of diverse auto components in India as well as abroad. New automotive regulation of increasing safety standards will surely give benefits to Minda Industries. The target price given for Minda Industries is Rs.393.
Mold-Tek Packaging
Mold-Tek Packaging is a plastic product manufacturing company. A company has attained a leadership position in mold label packaging. This will surely help the company to increase revenue and earnings growth. A strong clientele and increasing presence in FMCG and food segment will surely help the company to grow further.
Reliance Industries
Reliance Industries is one of the best stock for investment in Diwali 2018. The rationale behind investing in RIL is growth from retail business and acquisition of Hathway & Den Network. This will surely help RIL to increase earnings and revenue.
Steel Strips Wheels
Steel Strips Wheels is a manufacturer of steel strips and wheel in the automobile sector. Axis Direct is recommending to invest in the stock based on its capacity expansion plan, improved utilization and increase in the margins.
Titan
Titan is one of the most favourite stocks of Rakesh Jhunjhunwala. Titan is on the growth trajectory for the jewellery segment. Apart from that watch business of Titan is doing well. One can invest in Titan with target price of Rs.929.
Trident
Trident is well diversified group dealing in multiple products such as textile, paper, yarn, chemical and energy. A strong financial performance and improvement in margins due to operating leverage will surely boost the stock. The target price for Trident is Rs.86.
Diwali Stocks 2018 by Motilal Oswal
Motilal Oswal has recommended 10 best Diwali stocks for investment. Diwali Stocks 2018 by Motilal Oswal are Hindalco, Maruti Suzuki, LIC Housing Finance, PVR, Oberoi Realty, Infosys, Indraprastha Gas, Britannia Industries, Exide Industries, Asian Paints, Cummins India, Godrej Consumer Products & Voltas.
Diwali Stock Picks 2018 – HDFC Securities
HDFC Securities has recommended 10 Diwali stocks for investment in Diwali 2018. Diwali 2018 stocks by HDFC Securities are Apollo Hospitals, Cummins India, Dr.Reddy Lab, Cyient Limited, Sun Pharma, Parag Milk Foods, Everest Industries and Hindustan Oil Exploration.
(The views content and recommendations expressed in this post are of Leading Brokerage house and do not represent those of Moneyexcel.com. Please consult your financial advisor before taking any position in the stocks mentioned)