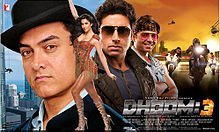 Dhoom3 movie featuring Amir Khan in negative role is making dhoom with record box office collection of 200 Cr in just 4 days. Bollywood's Mr Perfectionist Aamir Khan has certainly regained his top position by dhoom 3. Major attraction of dhoom 3 is bike and robbery.
Dhoom 3 broke several records on its opening days in India and abroad, Box office India declared Dhoom 3 "the biggest hit of 2013" after two days of release. It's always fun in watching movie of Amir Khan. Apart from fun this movie gives very good message on personal finance.
Dhoom 3 Story:-
The film starts in the year 1990 when Iqbal Haroon Khan (Jackie Shroff) runs a circus – The Great Indian Circus in Chicago, which has fallen on bad times. Anderson's (Andrew Bicknell) bank, Western Bank of Chicago, which has lent money to Iqbal Khan, decides to close down the circus when he is unable to repay the loan. Young Sahir (master Siddharth Nigam), the little son of Iqbal Khan, pleads with Anderson not to shut down his father's circus as he and his father would soon be able to turn the corner. But Iqbal Khan's presentation before the bankers and Sahir's please don't help. Iqbal Khan commits suicide in front of the heartless Anderson, leaving Sahir devastated.
Years later, Sahir (Aamir Khan) has still not forgotten the high-handedness of the bank and swears revenge. He loots various branches of Western Bank of Chicago, leaving behind a message in Hindi & a clown mask. He uses his acrobatic circus skills to escape. Unable to catch him, Chicago Police calls in ACP Jai Dixit (Abhishek Bachchan) and his partner, Ali (Uday Chopra), for help in solving the case. Jai baits Sahir into robbing again by making it known he's on the case and he believes the thief is an amateur. Sahir poses as an informant for Jai, and manages to gather information on the bank while giving Jai a lead to follow. Eventually, Sahir robs the bank and escapes, but Jai & Ali follow him. During the pursuit, Jai manages to shoot Sahir in the shoulder before he disappears again. Sahir has the big premiere of The Great Indian Circus with his female lead acrobat, Aaliya (Katrina Kaif), involving a trick with him disappearing in one place and showing up in another. The show is a success, but afterwards, Jai, Ali, and the police surround him, knowing he's the thief. Jai says the proof is the gunshot wound Jai inflicted in Sahir, but when Sahir is examined, there is no evidence of a gunshot wound anywhere in his body. Jai & Ali leave while Sahir retires to his dressing room. It's then revealed that Sahir has a twin brother, Samar, who helps him pull off his trick and rob the banks, and it was Samar who sustained the gunshot wound.
They robed bank several times. Finally Due to fear of robberies, Bank of Chicago closes its operations & movie ends with
Personal Finance lesson from Dhoom 3 –
Dhoom 3 Teach us following lessons on personal finance.
Never take excessive loan. Consider your financial position & ability to repay before taking any loan.
Iqbal Haroon Khan (Jackie Shroff) has taken excessive loan for running Great Indian Circus.
If you take any loan make sure to pay that loan in time. Never default.
Iqbal Khan (Jackie Shroff) defaulted & commits suicide.
Don't believe on unknown person blindly while taking important financial decision in life.
ACP Jai Dixit (Abhishek Bacchan) blindly believes in Sahir (Amir Khan) and disclosed new security system of bank to him.
Don't forget to watch Dhoom 3 movie and yes remember personal finance lessons given here from movie dhoom 3.
Do share it with your friends on facebook and twitter!
Watch Dhoom 3 Trailar on youtube.