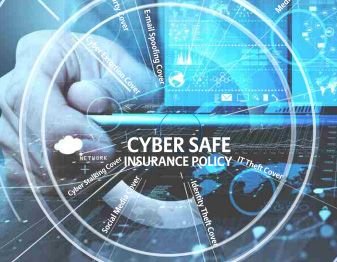 Cyber-attack cybercrime and cyber insurance are most popular words nowadays. All of us live in a digital era where the safety of credit card, internet banking password, and debit card PIN is more important compared to cash in the wallet. Most of the banking transaction is conducted online and a lot of personal information is freely available on the social networking website. A misuse of this information by a hacker can lead to financial disaster. Imagine what happens if someone hacks your debit card information and make illegal truncations from it. It's scary right. Let me share one incident with you.
My relative bank account was hacked few months back, the hacker made illegal transaction worth 60,000 Rs online. He got SMS – "Dear Customer, you have made a Debit Card purchase of INR 32,500 on 04 Jan. Info. IIN*www.ebay Your Net Available Balance is INR XXXX ". While getting this SMS, he was surprised and he immediately contacted bank authority. He made a complaint at the bank, that it is illegal transaction and it is not made by him. Before any action is taken another SMS received with transaction value worth 27,500 Rs and he was stunned. He is fighting with bank authority to get a refund but a chance of getting a refund is very low.
As per information available on the internet, India ranks 3rd among nation facing most cyber threats. One of the solutions is fighting against cybercrime and hacking is to opt for Cyber Insurance. In this post, we will discuss Cyber Insurance in India. We will also take a look at why an individual should have cyber insurance cover.
Also Read – Tips to prevent credit card frauds
Cyber Insurance in India
Cyber Insurance is an insurance product that covers individual and business from loss or damage to data due to identity theft, malware attack, phishing, e-mail spoofing, privacy & data breach by third party etc. There are multiple insurance companies that provide cyber insurance policy such as Bajaj Allianz, HDFC Argo, and Tata AIG.
Bajaj Allianz Cyber Security Policy
A name of policy offered by Bajaj Allianz is named as "Individual Cyber Safe Insurance Policy". The aim of this policy is to improve the comfort level of e-commerce and individual internet users.
What is covered under Bajaj Allianz Cyber Insurance?
Covers phishing, cyberstalking, malware attacks and other cyber risks.
It provides defense costs as a result of any claim by an affected party.
Financial Loss due to IT theft.
Cost of prosecuting a criminal case.
Restoration costs of the Insured's computer system due to damage caused by Malware.
Cyber extortion loss that the insured incurs due to a result of Cyber Extortion Threat
Legal fees incurred by Insured for claiming damages against a Third party for Privacy Breach and or Data Breach
IT consultancy costs incurred due to cyber-attack.
Eligibility
Any individual person above 18 years of age who use the internet can buy this policy. It is annual policy. The sum assured under this policy can be anywhere between 1 Lakh to 1 Cr.
This plan can be purchased online with a click of a button. You need to provide detail about your risk profile while purchasing the policy.
The premium rate of this policy is very low. You can get coverage of 10 Lakh with an annual premium of Rs.2848.
Also Read – How to safeguard Internet Banking?
HDFC ERGO Cyber Security
A name of policy offered by HDFC ERGO cyber insurance policy is "Cyber Security". This policy is offered to commercial business against a wide range of first party and third party liability occurring due to exposure to the internet.
What is covered under HDFC ERGO Cyber Security Insurance?
Covers loss due to e-theft via network or computer system.
E-Threat Loss and any type of extortion payment.
E-Vandalism Loss
E-business interruption including extra expenses.
Crisis expense
Defense costs cover available for costs incurred in defending any claim.
Eligibility
HDFC ERGO Cyber Security insurance is only for the business/company. A company need to provide security incident, loss history, prior insurance detail and security information while applying for this insurance policy.
Tata AIG Personal Identity Protection
Tata AIG offers various cyber related insurance policies.  Two of them are personal credit card protection and personal identity protection.
What is covered under Tata AIG Personal Identity Protection?
Cover against loss or liability that may arise due to misuse of your identity or payment cards.
ATM Assault & Robbery Cover
Lost Wallet Cover
Legal Expense
How to File Claim for Cyber Insurance Policy?
The method of filing claim for cyber insurance policy is almost similar. Once you discover an event of a loss you need to inform insurer within 7 days along with claim form. Along with fully completed signed claim form you need to attach a copy of FIR logged with a cyber cell or Police authorities. You also need to include copies of correspondence with a financial institution with regard to IT theft loss.
When you should consider Cyber Insurance Coverage?
Well, cyber insurance policy is provided in two different category (1) individual (2) business.
If you are high net worth individual, dealing with multiple internet enabled devices, dealing with multiple credit cards, bank accounts and online transactions. You can opt for cyber insurance policy. The chances of fraud and hacking under above situation is very high so insurance policy like this act as a protection.
If you are small company running a business with low budget, you should avoid these types of insurance. You should try using cyber protection and IT security mechanism to fight against cyber-crime.
If you are big company dealing electronically with customer's data or sensitive information where compliance is challenge you can opt for cyber insurance.
Remember cyber insurance is not a replacement of cyber security. It just give additional coverage against cyberattack so that your business can withstand against big expense due to cybercrime. Ideally as a big company you should have complete set of information security tools in place, including antivirus, data leak protection, two factor authentication, bit locker encryption, fire wall, Anti APT device, ransomware protection, event log analyser and Security Operation Centre.