Making a fixed deposit in SBI is one of the safe investment option compared to mutual funds and shares. If you have invested in a fixed deposit at SBI this post if for you. In this post, I will share information about how to close SBI Fixed deposit online?
It is advisable to close fixed deposit in SBI only at the time of Maturity to avoid the extra charges. However, if you are in need of money and you want to go for closure of  fixed deposit follow the method given below.
Steps Close Fixed Deposit in SBI Online through Internet Banking 
Click on "Close account prematurely" option under ETDR / STDR (FD) section.
Select fixed deposit you want to close and click on "proceed"
Verify fixed deposit detail. Write reasons for closing and click on 'confirm'
You will receive "High-Security Password" on your registered mobile. Type it and click on 'Confirm'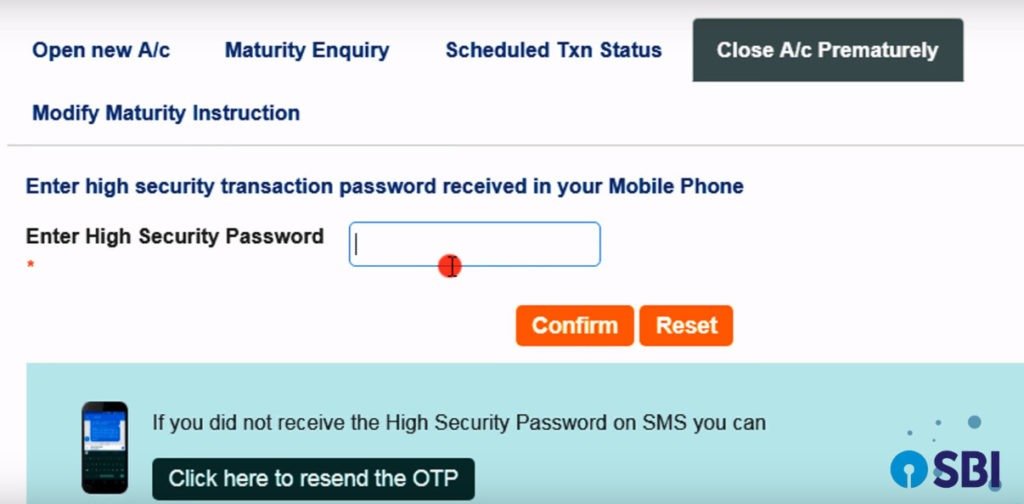 On the screen, you will be able to see that your FD has been closed.
Check your bank account it will be credited with FD amount.
This facility is available between 08:00 AM IST to 08:00 PM IST.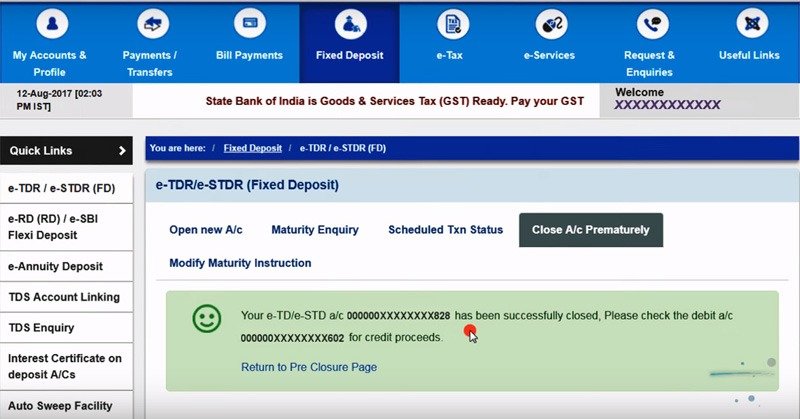 Steps Close Fixed Deposit in SBI by Branch Visit
Second way for closure of fixed deposit in SBI is by personally visiting SBI Branch.
Visit SBI branch to close your fixed deposit account.
You need to visit branch from where you have taken a fixed deposit.
Don't forget to carry fixed deposit receipt with you.
Mention your account number and sign at the backside of FD receipt.
Submit the fixed deposit receipt to the executive.
Executive will calculate exact maturity amount and close your fixed deposit.
The FD amount will be credited to the account mentioned by you.
This is the complete process to close FD of SBI bank.
It is very easy to close FD at SBI bank. You can adopt any method online or offline based on your comfort. If you have net banking account I recommend the use of online method.  You can close fixed deposit online with a click of the button. However, you may also visit a branch to close your Fixed deposit.
Should you opt for fixed deposit closure before maturity?
You have option to close fixed deposit before maturity or on maturity. Both these options are available online as well as offline. However, you should close fixed deposit only at the time of maturity. If you are in need of money due to financial issues you can go for premature closure of fixed deposit.
If you close FD prematurely, you will end up losing compound interest you could have earned. You also need to pay penalty on interest. The penalty varies and applicable as per bank rules. SBI Charges a penalty of 0.5% for premature withdrawal of FD up to 5 Lakh. The applicable penalty is 1% for premature withdrawal of FD up above 5 Lakh.