CIF Number or CIF Code is a widely used terminology in banking. So what is CIF Number and what is the use of CIF Number? In this post, we will discuss CIF number in detail. We will also look at the process to find CIF number in SBI Passbook and Chequebook.
What is CIF Number?
CIF number is a unique number given to the customer for Banking Purpose. The full form of CIF is Customer Information File.
CIF number is a digital file which contains all important banking details of the customer.
CIF number is 11 digit number which is unique for every customer/account holder.
If you have multiple accounts with a bank, your all account information is linked with CIF number.
CIF number is retrieved by a bank to get all personal and financial information about account holder.
CIF also contains information about the loan, debit card and demat account.
Your KYC details like identity, address and photo ID is also linked to your Customer Information File.
So, from bank perspective CIF is very important. That is the reason bank ask CIF number in most of the forms.
How to Find CIF Number of SBI Bank Account?
There are multiple ways to find out CIF number of SBI bank account. For better understanding, we will divide it into two parts online and offline.
Online method to find CIF number SBI
1. Internet Banking
Login to Internet Banking using your SBI Login Id and Password.
Now from left navigation menu go to Account Statement (E-Statement) for a particular period.
The Account Statement Summary page will display your CIF number and other details.
2. Mobile App
You can also find out your CIF number from the SBI mobile app.
Offline Methods to find CIF number SBI
1. CIF number – SBI Cheque Book
Open the first page of your SBI Cheque Book.
You will find the CIF number printed on the first page.
2. CIF number – SBI Passbook
The CIF number is also printed on the first page of your bank passbook. You can refer to the screenshot given below.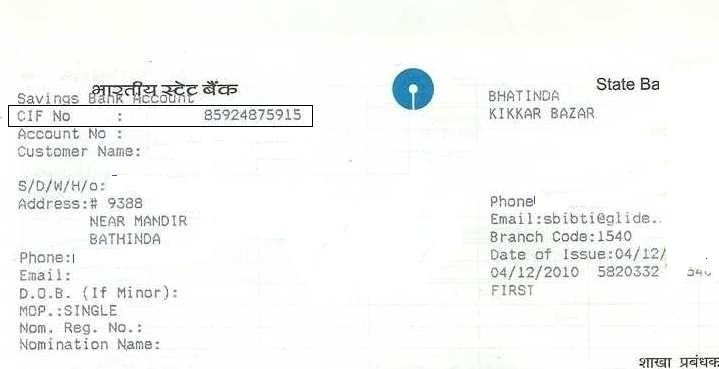 3. CIF number SBI – Customer Care Number
You can call customer care number of the bank, after verification of your details you can and ask for your CIF number. The toll-free numbers for SBI are 1800 11 2211, 1800 425 3800 and 080-26599990.
4. Bank Branch
Last option to find out CIF number of your SBI bank account is visiting a bank branch and asking customer care executive at a branch to tell you your CIF number.
I hope you like information given above. You can also use this process to find out CIF number at other banks.