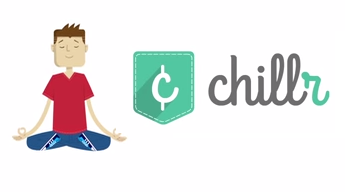 HDFC Bank has recently launched mobile app Chillr. Chillr will allow you to send money instantly to anyone in your phonebook. Chillr is multi banking mobile platform it is first launched for HDFC customers. Let's talk about Chillr in detail.
What is Chillr?
Chillr is mobile app for smart phone users this app allows immediate fund transfer to anyone in your phone book in an easy & secure manner. This app does not even require any information like IFSC code, Bank account number etc.
What Chillr can offer you?
Easy Fund Transfer
Sending money through Chillr is very easy. Select your friend from list enter the amount and remark. Authorize transaction using MPIN and you are done. Money will be transferred to your friend's account.
Splitting Bill with Friends
Many time we fall in awkward situation when it comes to splitting bill with friends. This feature will help you to come out from this situation. Select friends to divide funds with, enter the amount and remark, hit next button and your request will reach to your friends.
Utility Bill payment
This app will soon allow recharging of mobile, DTH, Data card etc. on the move.
Near Me Feature
Consider situation where you forgot your wallet at home and you need to pay money to someone. You can use Near Me feature of Chillr to transfer funds to someone near you. This feature will find Chillr user near you. Select Near Me, enable Proximity payments, select individual and transfer payments.
Transaction Logs
Chillr allows you to keep track of money transfer. It can keep unlimited number of logs. You can see all your transaction at single place. 
Security
Every transaction of Chillr needs MPIN which is known to you only. This brings additional security to fund transfer. Communication channel between bank and this app is also secured using HTTPS.
How to get Started with Chillr?
Step-1 Download
You can download Chillr from Google play store
Step 2:  This app requires MPIN, in order to get MPIN, first you need to generate Mobile money identifier MMID. You can generate it thorough MobileBanking or NetBanking
Process for MobileBanking:
Log on to MobileBanking > Click on 'Third Party Funds Transfer' > Click on 'Generate MMID' > Select Bank A/c No. > Confirm
Process for NetBanking:
Log on to NetBanking > Click on 'Requests' > Click on 'Generate MMID' > Select Bank A/c No. > Confirm
Step 3: Call 1800 2666 262 (Toll free) to generate your M-PIN. Once you receive your M-PIN, you will have to change it to a 4 digit M-PIN of your choice. To do this:
Dial * 9 9 # from your phone (Available only form GSM Phones)
2. Enter 'HDFC' as the first four letters of your bank
3. Select option – 'Change M-PIN'
4. Follow the instructions to change your HDFC bank generated M-PIN and set a new M-PIN of your choice
Watch Chillr App in Action:-
Do share your views & experience with us!
Note – HDFC Bank has discontinued Chillr app.For more information please visit HDFC bank website.