Business insurance is becoming extremely important to protect your business.
Recently I have come across a fire incident in my client's factory. Complete machinery and property got burned due to the fire incident. Fortunately, he had taken a fire insurance policy for his business. He could claim the insurance and re-establish his business quickly.
The key learning here is you must purchase a business insurance policy to protect your business.
What is business insurance?
Business insurance is an insurance policy. This policy protects your business against unfrozen incidents like natural disasters, theft, destruction, litigation, loss of income, employee illness, injury, and death. In this insurance policy, you pay a premium for the coverage amount and, in return, you can avoid financial losses arising due to accidents or mistakes.
Business insurance is also known as commercial insurance.  
Business insurance gives you peace of mind to run your business confidently. You can stay protected focus on the growth of your business with a commercial insurance policy. 
The policy types depend upon industry, location, number of employees, size, and coverage required.
Different types of business insurance policies are as follows –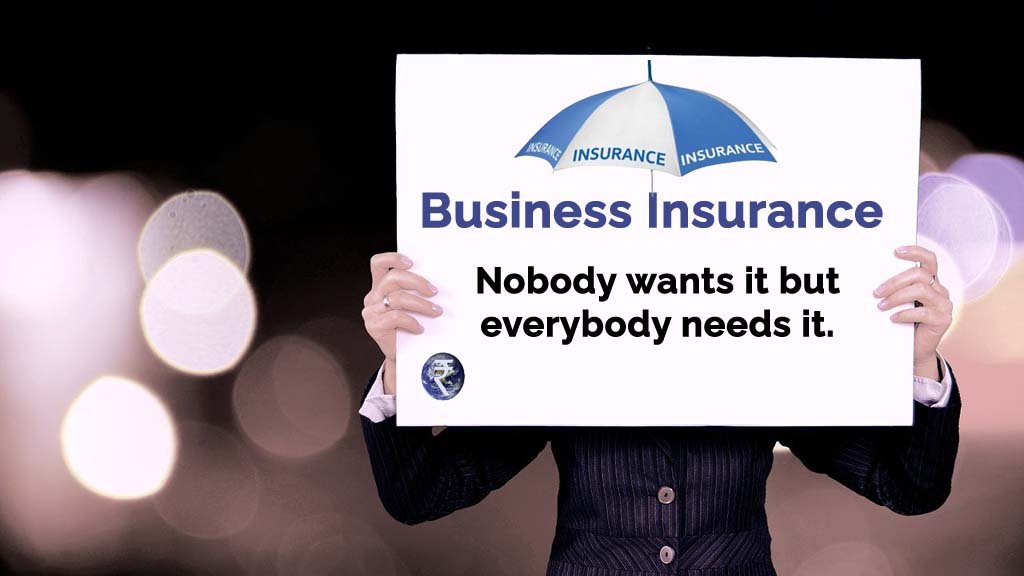 20 Types of Business Insurance Policies 
#1 Liability Insurance Policies 
Liability insurance policies provide coverage against a claim arising from a third party such as injury, property damage, litigation. In absence of such a policy, you need to pay expenses from your pocket. Lability insurance cover includes general liability, professional liability, and public liability.
#2 Employee Insurance Policies
Employee insurance policies are also known as worker's compensation plans. This type of policy provides coverage against expenses arising from injuries or illness to employees. This policy also covers legal cost against business, in incase a deceased family member file a case against the business.
#3 Property Policy
Property policy is a type of commercial insurance that pays compensation against damage to the property. The amount payable is for the repair or replacement of property. This amount is payable in case of a natural disaster such as an earth quack or damage caused by vandalism.
#4 Loss of Income Coverage
A loss of income coverage policy helps business owners to pay the fixed cost in case the business is unable to recover fully after the disaster.
#5 Product liability coverage
Product liability coverage is important in case you are in the manufacturing business. This type of insurance provides coverage against litigation arising due to damages caused by your products.
#6 Vehicle insurance
Any vehicle used for running the business should be insured as per policy. In India, it is mandatory to take third-party insurance for private and commercial vehicles. This type of insurance provides coverage against the third-party claim.
#7 Commercial Vehicle Insurance 
Any commercial vehicle used for running your business should be covered by a commercial vehicle insurance policy. This policy provides protection against any damage caused to the vehicle or driver or to the third party in case of an accident.
#8 Business interruption policy 
Business interruption policy offers coverage against any business interruption and loss of income due to unavoidable circumstances such as natural calamity, riots, etc.
#9 Fire Insurance
A fire insurance policy is an exclusive policy that provides protection against fire-related incidents and burglary. You will be paid with repair cost and cost of the machine in case of damage due to fire.
#10 Marine Insurance
Marine insurance is a special type of insurance policy that is designed to cover the damage or loss of cargo ships in transit or loss arising due to third-party liability.  
#11 Crop Insurance
Crop insurance policy is purchased by farmers. This type of policy is subsidized by the Indian government. Farmers get protection against the loss of crops due to natural disasters such as floods or drought.
#12 Kidnap or Ransom Insurance 
Kidnap or ransom is a special type of insurance. This insurance provides coverage against kidnapping. This policy covers ransom payment and medical and travel-related expenses due to kidnapping.
#13 Cyber Risk Insurance
Cyber risk insurance is a special type of policy mainly designed for online businesses. This policy covers data loss, e-business interruption, hacking attempts, reputation liability, and information security costs.
#14 Export & Import Insurance
Export and import insurance policies are designed keeping in mind different trade requirements. Some common types of export and import policies are open policy, traditional international insurance, precise loss evaluation, etc.
#15 Factory or Warehouse Insurance
Factory and warehouse insurance is designed to cover factory premises and warehouse stocks against risks such as fire, theft, explosion, natural calamities, etc. This policy covers any damage of goods, machinery, or building in and outside the premise.
#16 Error and Omission Insurance
Error and Omission insurance is one type of professional liability cover. This policy provides protection to the business and employees against claims made by clients for inadequate work or errors in the services offered by the business.
#17 Construction all-risk insurance
A construction site is operating full of risk. This involves damage due to pilferage, theft, legal claims, and many others. This policy provides coverage against physical damage as well as the life of construction site workers and laborers. 
#18 Office Insurance
An office insurance policy provides complete coverage to business offices it covers all corporate offices and staff. This policy provides protection against injury and office place damage.
#19 Burglary Insurance
A burglary insurance policy is a specially designed policy that covers the losses arising due to theft. The burglary insurance covers theft of the property from within the household or within an automobile.
#20 Group Medical Insurance 
Group medical insurance policy provides complete health insurance coverage to all office staff, workers, and their family members against illness and medical emergencies. 
Features of Business Insurance
The common features of business insurance policies offered in India are given below.
Coverage of third party liability on business 

Loss due to theft 

Damage to property and stock against fire and natural disaster

Injury or death coverage during working hours

Liability cover due to negligence and error

Emergency Medical coverage  
How to purchase business insurance in India?
You can purchase a business insurance policy either online or offline.
Online Option
Prepare the list of insurance providers & their websites. 

Now visit the official website and check out policy detail.

Get a complete understanding of the plan and features.

Know the exact coverage details and make sure it meets mandatory and business protection requirements.

Compare the premium amount and coverage offered by the insurers.

You can make use of an insurance aggregator website. 

Once you make up your mind you can make premium payment online and purchase the policy.
Offline Option
Prepare the list of the insurance provider and find out their branch address.

Alternatively, you can reach out to a general insurance policy agent.

Get product information and compare it with other similar policies.

Once you make up your mind submit the insurance policy form and premium cheque to purchase the policy. 
Things to consider before buying a business insurance
Risk 
Firstly, you need to decide the risk coverage profile of your business. The main reason for buying business insurance is to get risk coverage. You need to determine the level of risk your business is exposed to. You can take the help of a professional for assessing risk. This is required to decide which policies are required for your business.
Insurance Coverage
Secondly, decide the coverage amount. Your premium amount is decided based on the coverage amount. An insurance broker can give you a fair idea about insurance coverage and premium charges.
Comparison
Make sure to carry out feature comparisons before finalizing a policy. You can make use of an online website in order to make a comparison of the policies.
Go for a reputed agent or online portal
The selection of an agent or online portal is extremely important while buying a policy. You should go for the reputed agent or online portal while purchasing a policy.
Final Words
Finally, I would say that insurance for your business is extremely important and you should buy an adequate policy for the same. 
Makes sure to reevaluate your insurance need at a specific interval to find out additional coverage requirement.
Remember – Nobody wants business insurance, but everybody needs it.