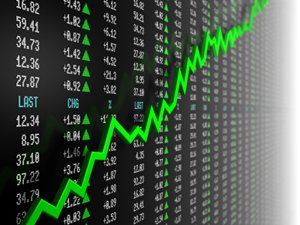 A true multibagger stock can multiply your money many times over the long run. You can become crorepati by making an investment in the multibagger stocks. However, it is difficult to identify best multibagger stocks for investment. In order to help you, I have identified Top 10 Best Multibagger Stocks of India, not only that I will be giving you tips about how to identify multibagger stocks in India.
You should invest in these multibagger stocks as and when you are buying products from these companies. Small amounts that you spend on your favorite products would have grown multifold if you had invested the same money in buying the stocks of the Company.
Here's how much you would have made if you had bought the multibagger shares of some such reputed companies several years ago.
Top 10 Best multibagger stocks India 
Sun Pharmaceuticals
Sun Pharmaceutical is leading in the race of multibagger stock. This stock has given an incredible return over the long term. The stock price was 3.27 Rs in 1996 and today stock is trading at the price of 906 Rs.
Besides spending Rs 300 a month for medication from this leading pharma company, if you had invested in its shares, your money would have grown 277 times.
Rs 300 worth of pills in 1996 = Rs 83100 today
Lupin
Second Multibagger stock is also from Pharma sector-Lupin. Lupin is favorite stock of Rakesh Jhunjhunwala. The stock price was 9.51 Rs in 2002 and today it is trading at a price of 2056 Rs.
If you have purchased stock of Lupin in 2002 along with medicine of 500 Rs your money would have grown by 216 times.
Rs 500 medicine in 2002 = Rs 108000 today.
Hero MotoCorp
Hero Motocorp is another multibagger stock for investment. This stock has grown 150 times since 1995.
You might have purchased Hero Honda CD-100 motorbike years ago? If you had made the stock investment in the same company, your money would have grown by 150 times by now.
Rs 30,000 motorbike in 1995 = 45 lakh today
Crompton Greves
Crompton Greves stock has grown by 122 times from 2001. So, if you have purchased stock of Crompton Greves along with electrical fitting in 2001, you could have grown your money by 122 times.
Rs 2,500 Electrical Fitting in 2001 = 3.05 lakh today
Mahindra and Mahindra
Mahindra and Mahindra is one of the best multibagger stocks. Mahindra and Mahindra Stock has grown 100 times since 2001.
If you had bought a multi-utility vehicle from M&M back in 2001 worth 3 lakh, and had also purchased the stock of the same amount, your investment would be worth Rs 5.6 crore today.
Rs 3 lakh utility vehicle in 2001 = Rs 3 crore today
Colgate Pamolive
Colgate Pamolive stock has grown 10 times since 2004. Every year you spent Rs 1000 to buy Colgate toothpaste. If you have invested the same amount in stock of colgate your investment would have grown 10 times.
Rs 1,000 toothpaste in 2004 = Rs 10,000 today
BPCL
BPCL is next in the list of multibagger stocks. The stock of BPCL has grown by 25 times since 1999.
Suppose you spend Rs 6,000 on petrol 1999 on BPLC petrol pump, if you had also placed an order for an equivalent value of BPCL shares, you would have nearly Rs 1.5 lakh today.
Rs 6,000 petrol in 1999 = Rs 1.5 lakh today
Indian Hotels
Indian Hotel stock has grown by 9 times since 2001. So, if you have invested Rs 3000 in Indian Hotels stock it would have grown to Rs 27,000.
Rs 3,000 per night hotel stay in 2001= Rs 27,000 today
Maruti
Maruti is one of the best and my favorite multibagger stock. The stock of Maruti has grown by 27 times since 2003.
If you had bought a Car from Maruti in 2003 worth 3 lakh, and had also purchased the stock of the same amount, your investment would be worth Rs 84 Lakh today.
Rs 3 lakh Car in 2003 = Rs 84 Lakh today
Titan
Titan is Rakesh Jhunjhunwala multibagger stock. Titan has given magnificent returns since last few years. The stock of Titan has grown by 46 times since 2005.
If you have purchased jewllery of Rs 10,000 in 2005 along with the stock of Titan, it would have grown to 4.6 Lakh.
Rs 10,000 Jewllery in 2005 = Rs 4.6 Lakh today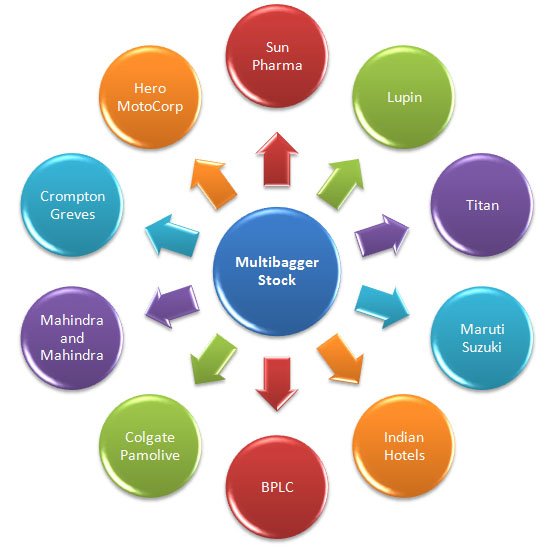 After going through best multibagger stocks let's check out how to identify multibagger stocks in India.
How to Identify Multibagger Stocks in India?
Identify Stock Potential – You should look for future prospective and potential for the identification of multibagger stock. You should do this exercise at an early stage when the value of the stock is less. There is no point in finding and investing in overvalued stock. E.g If you are planning to invest in Hero Motor Corp right now, It is not advisable because the share price has run up sharply and business activity is at peak.
Equity Level – Companies with high equity (more shares in the market) may not be best multibagger stocks. You should look for a company with low equity level. Low equity means return on equity will be higher. Examples are MRF, Kaveri Seed etc.
Study Debt levels – Company with huge debt will never fall in this category. The company should be debt free or with minimum debt to become multibagger stock.
Future Expansion Plan – You should look for future expansion plan of the company. Sun Pharama and Lupin have become multibagger stock because they have been able to keep launching new products and grow their market share.
Company Performance – In order to identify multibagger stock you should study company performance. See if the net profit of the company is increasing by other income like the sale of an asset, currency fluctuation or any other one-time income. If the value of a share is not growing with the increase in net profit share is not mature for investment. You should also look at dividend track record. Dividend payment should be consistent.
Over to You
Have you invested in any of the stocks mentioned above? What are your views on multibagger stocks mentioned above?
Do you think these stocks are worth for making the investment? Do share your views in the comment section.