Multi-Cap Funds – Where to invest in this market scenario? Shall I invest in a Large-cap fund or I should go for mid-cap and small-cap funds? Well, as per me you should go for Multi-Cap Funds in this market scenario. I did the same. I invested money in DSP Equity Fund in May 2020 (before six months). This fund has given 30% returns to me in six months. You can get benefits of different market capitalization from multi-cap funds.
Multi-cap funds are equity-based mutual funds that invest in companies of different market capitalization, sectors, themes, and segments. The fund manager of a multi-cap fund has the flexibility to make changes in the market portfolio based on market conditions.
SEBI has recently made changes in the rules for the multi-cap funds. The details are given below.
Also Read – 20 Best Mutual Funds for Investment in 2020-21
#1 Minimum allocation to equity increased from 65% to 75%
As per earlier rule fund manager of multi-cap has to do a minimum 65% allocation of the fund in the equity market. Now, this rule is modified by SEBI. Now the minimum 75% allocation is required in the equity market by the fund manager of the multi-cap fund.
#2 Minimum Allocation in each market capitalization
The second rule says that funds should be allocated in each market capitalization equally 25% each.
25% in Large-cap companies
25% in mid-cap companies
25% in small-cap companies
Earlier the fund managers were free to allocate funds and invest in the companies without any restriction of mid-cap, small-cap or large-cap.
The new restriction of 25:25:25 allocations in each capitalization category helps in building a well-diversified equity portfolio.
Why you should invest in Multi Cap Funds?
#Well Diversification
Multi-cap funds are truly diversified funds. Once you invest your money in the multi-cap fund your fund is by default invested across large-cap, mid-cap, and small-cap in equal proportion. This means you will get the stability benefit of large-cap companies and the growth benefits of small-cap and mid-cap companies.
#Moderate Risk
The risk associated with multi-cap funds would be moderate. Investment in large-cap companies offers more stability in the fund during the stock market crisis. If your objective is long-term wealth creation and you have a moderate risk appetite you can invest in this fund.
#Returns
The fund is expected to give very good returns to the investor over the long term. You can expect two-digit returns slightly higher compared to large-cap funds.
Things to consider before investing in the Multi-Cap Fund
You should consider the following points before investing in multi-cap funds.
Fund Manager
The fund manager plays a crucial role in the Multi cap fund. It is a well-diversified fund and investment needs to be made across capitalization equally. The fund manager should be capable enough to find out the right investment opportunity. You should check the past performance of the fund manager across various schemes.
Risk
These types of funds are more suitable for moderate risk investors. The risk of these funds is more than large-cap funds but less than small-cap and mid-cap funds. These funds are suitable for medium to long term investment.
Fund Performance
You should look at the fund performance. It is advisable to look at annually generated returns by the funds in the last few years before investing. I recommend checking at least the last five years' fund performance.
Cost
It is highly recommended to check the cost incurred by these funds. You can get an idea about cost from the expense ratio. Choose the fund with a lower expense ratio. You should also check the exit load and entry load charged by these funds.
Tax implication
Taxes are applicable to these funds. When you redeem your mutual funds you need to pay tax on the capital gain made. Long term capital gain tax or short term capital gain tax. The dividend distribution tax is also applicable to the dividend received by the unitholder.
Best Multi-Cap Funds 2020-21                                   
The best multi-cap funds for investment in 2020 – 21 are given below.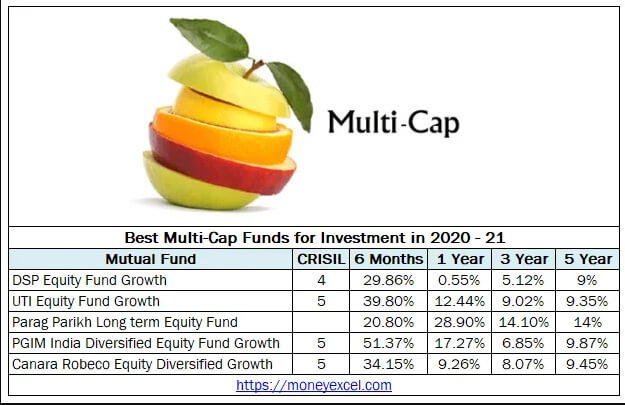 * Note – The returns are as on 3rd Oct, 2020.
Over to you
A Multi-cap fund is a very good investment option for the moderate risk taking investor. It is an excellent investment option that offers a well-diversified portfolio and best in the current market scenario.
The selection of mutual funds given above is based on my research. Please do proper analysis and compare both quantitative and qualitative parameters before investing in any of the funds given above.