Digital Marketing is a new and upcoming career option. The usage of the Internet is growing exponentially. Print media, News Paper, Radio, and Normal television are outdated. People use the Internet, Mobile, and Smart TV with YouTube, Netflix, and Amazon Prime. This transition and increase in Internet usage have given birth to a new career "Digital Marketing".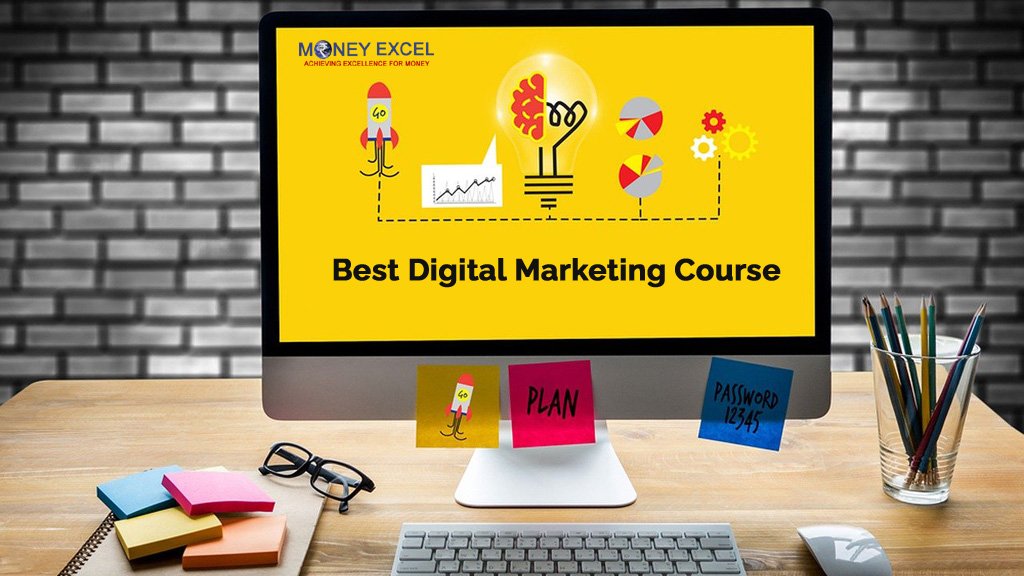 Digital marketing means the marketing of products by using digital media mainly the internet. It is a hot and happening career option where product advertisement or promo is delivered via digital channels such as search engines, websites, social media, e-mail, mobile apps, etc. The person involved in doing digital marketing is called a Digital Marketer. As a digital marketer, you need to learn the following things.
Also Read – Top 10 Highest Paying Jobs and Career Options
Search Engine Optimization (SEO)
Search Engine Marketing (SEM)
Social Media Marketing (SMM)
Facebook Marketing
Email Marketing
Inbound Marketing
Content Marketing
Affiliate Marketing
Mobile Marketing
Internet Marketing
Many institutes offer Digital Marketing courses in India. If you are confused that which institute is best to join, here is the Best Certification Digital Marking Course in India. These courses are shortlisted based on course content, duration, and fees.
10 Best Digital Marketing Courses in India
IIDE
'IIDE – The Digital School' is one of the leading digital marketing institutes today in Asia, with its campuses located in Mumbai, Delhi, and Nepal. Established in 2016, it has continuously focused on improving the digital skills of its learners. Till now, IIDE has successfully trained over 60,000 students using a combination of online, offline, and on-demand mediums. It is also Awarded "Best Digital Marketing Institute" by the Indian Education Congress 2022, and now it is raising the bar of digital education all over the world.
In this post-pandemic era, where people are spending more time online than before, IIDE offers a comprehensive Online Digital Marketing Course with 2 outcome-oriented certifications. The course consists of high-quality and self-paced videos, live lectures, live brand projects, case studies, simulation, and much more. With its comprehensive and immersive learning experience, it equips students with the essential skills needed to excel in today's ever-evolving digital marketing domain.
Digital Vidya
Digital Vidya is one of the oldest digital marketing institutes. It is the leading digital institute in India. Digital Vidya offers a Certified Digital marketing master course (CDMM) which is an online course for 3 or 6 months. Digital Vidya is an official training partner for Google India. The cost of a marketing course at this institute is Rs. 49,900 + 18% GST. The course content includes search engine optimization, social media marketing, email marketing, and web analytics.
Digital Vidya also offers specialized marketing courses in digital like Facebook Marketing, Mobile Marketing, Affiliate marketing, etc. All these courses are offered with a 100% money-back guarantee.
Digital Academy India
Digital Academy India is powered by Digital Vidya. Digital Academy India offers a course for 5 months. A complete course is online and offered with Rs.34900 + 18% GST. Most of the trainers offering this course are Google Certified. The training course material provided by Institute is very good. This academy also offers a course in Corporate digital marketing.
UpGrad Digital Marketing
UpGrad is next on the list of the best digital marketing course provider. UpGrad provides a high-quality course on digital marketing. Apart from this course UpGrad also provides other programs. UpGrad's program is in association with MICA. UpGrad provides two certificate programs in the Digital market namely PG Certification in Digital Marketing and Executive program in the strategic marketing digital. The course is online and the duration is 6.5 months. This course is slightly expensive. You need to pay Rs.79500 Plus Taxes.
Edukart
Edukart is the leading education marketplace. Edukart offers various courses where few courses are related to digital marketing and advanced digital marketing. You can avail very good discount using the Edukart portal. The course is in the range of Rs.5000 to Rs.50000. The courses are offered by Internet & mobile association and Digital Vidya.
Institute of Digital Marketing
Institute of Digital Marketing is famous as an IDM. IDM offers 15 different types of marketing courses such as certificates in search engine marketing, social media marketing, content marketing, e-mail marketing, mobile marketing, etc. Experienced trainers, free course material, and free courses are major advantages of IDM.
Operating Media
Operating Media is a leading digital marketing institute in Mumbai. The online digital marketing course offered by Operating Media are SEO, SMO, Analytics, WordPress etc. Operating Media provides personalized training in flexible batches. The course price is in the range of Rs.12000 to Rs.30000.
Delhi School of Internet Marketing
Delhi School of Internet Marketing is famous as DSIM. DSIM offers Masters in Digital Marketing. DSIM is also involved in doing corporate training, campus learning, and in-class training. Prior to joining the actual course, you can also take a demo course. It is one of the costliest courses. The fee for this course is Rs.70,644.
Digital Marketing Colleges
There are numbers of colleges in India that offers an MBA or PGDM in Digital Marketing. The course duration is 2 years and is approved by AICTE. It is a complete classroom-type course where fees are very high. You need to complete the course and appear for the exam to become MBA in digital marketing. Some colleges keep conditions to clear the CAT exam before joining this course.
NIIT
NIIT also offers a digital marketing program. You can become a certified digital marketing professional by attending this program. It is one of the best courses. The course content includes SEO, Digital display advertising, email marketing, mobile marketing, and analytics. It is 33 hours course. The cost of this course is Rs.37500 + 18% GST.
Manipal Global Education
Manipal Global Education also offers a Digital Marketing program. It is called as Manipal Prolearn. The knowledge partner of this program is Google. The course content includes the creation of a website, fundamentals of AdWords, search advertising, video advertising using Youtube, Advertising on mobile, etc. In short course content more or less deals with the Google advertisement program. The plus point of this course is it is available as an online as well as offline model. The cost of the online module is Rs.30000 while for the classroom module you need to pay Rs.39000. If you want to be a google certified professional you should try this course.
Over to you
Digital Marketing Course is recommended course for everyone like students, entrepreneurs, marketing professionals, bloggers, startups, web designers, housewives, and IT professionals.
Hope you have got complete information about the 10 Best Digital Marketing Courses in India. 
Do share your views and experience in the comment section.