Debt Funds are ideal choice for the conservative investors. Debt fund adds stability to your portfolio. It is a relatively safer investment option compared to equity. If you invest your money in the debt funds, your investments are not affected by equity market volatility.
Debt Fund is a very good investment option that offers multiple benefits to the investor. However, very few people know about debt fund in detail. In this post, I will share complete information about debt funds. In the end, I will also share Top 5 Best Debt Funds for Investment in 2019.
Also Read – Top 20 Best Mutual Funds SIP to invest in India for 2019
What is Debt Fund?
A debt mutual fund is an investment option that invests your money in fixed or variable return investment schemes like a government bond, treasury bills, commercial papers, and other money market instruments. The investment objective of a debt mutual fund is usually the safety of capital and generation of income.
How Debt Fund Works?
A debt fund invests money in various debt instruments, based on credit ratings. The fund manager of a debt fund checks for the credit rating of the instrument before investing money. This is to ensure that invested capital will be safe and agreed interest will be paid by the entity from time to time. The credit rating of the instrument should be higher. The time period for the selection of instrument is based on the overall interest rate regime in the economy.  If the interest rate is falling fund manager invest in long-term securities. If the interest rate is increasing fund manager invest in short-term securities.
Types of Debt Funds
There are multiple types of debt funds suiting to various investors requirements. The types are based on investment instruments and time period.
Dynamic Bond Funds – Dynamic bond funds change fund allocation between long-term and short-term bonds to take advantage of changing interest rates.
Income Funds – Income funds invest in securities that have long maturities. The average maturity of income funds is around 5-6 years.
Short Term and Ultra Short Term Debt Funds – These funds invest in short term securities ranging from 1-3 years. These types of funds are not affected by interest rate moves.
Liquid Funds – Liquid funds invest in the debt instruments with a maturity of not more than 91 days. These funds are risk-free in nature.
Gilt Funds – Gilt Funds invest in only government securities which are highly-rated with very low credit risk.
Credit Opportunities fund – Credit opportunities funds are risky in nature. These funds try to earn higher returns by taking a call on credit risks.
Also Read – Top 5 Best Large Cap Mutual Funds for Investment 2019
How to Identify Good Debt Funds for Investment?
To identify best debt fund for investment, answer following questions first.
What is my investment objective?
What is my risk capacity?
What is my investment horizon?
Once you have an answer to these questions access your current asset allocation and identify a type of debt fund suitable for your requirement. Once you zero down with a type of debt fund select best debt fund based on following parameters.
The fund objective should match with your investment objective.
The past performance of funds (3 to 5 years).
The rating by CRISIL.
A reputation of Fund House in the market.
Asset under management.
Top 5 Best Debt Funds for Investment -2019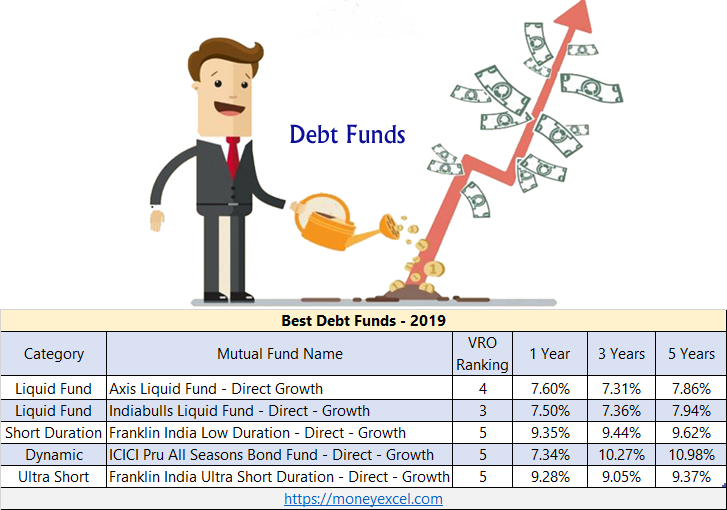 Who should Invest in Debt Funds?
As debt fund invests in debt instrument it is considered as safe investment option for the conservative investors. In addition to that debt fund offer diversification, predictable returns, and higher liquidity. If you are risk-averse investor and planning to invest for short term 3 months to 1 year or medium range up to 3 to 5 years and happy with moderate returns you can go for debt funds.
Do you keep debt fund in your portfolio?
Don't forget to share these Top 5 Debt funds with your friends on Facebook and Twitter.