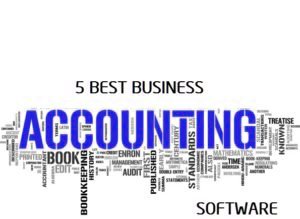 A business accounting software is mandatory need of every business owners. A business accounting software help you to organize your financial data so that you can take an informed decision as and when required. One of the most popular software used for accounting in India is tally. However, apart from tally, there are multiple accounting software available in the market. Let's evaluate and find out best business accounting software available in India.
In order to evaluate these software first, you need to prepare the features you are looking for. I have evaluated software based on general features which is required for all types of businesses.
Key Features of an Accounting Software:
Sales and purchase management
Billing & Invoicing
Taxation
Inventory & asset management
HR & Payroll
Accounts payable and receivable
Payment & Expense handling
Based on above feature set best business accounting software in India for small and medium enterprises are given below. 
Also Read – 5 Best Current Account for Small Business in India
5 Best business accounting software India
Tally ERP 9
Tally ERP 9 is one of the most popular and widely used business accounting software in India. Tally ERP 9 provides powerful features such as accounting & finance, sales and purchase management, inventory, payroll, branch management and remote access. It is one of the oldest software developed two decades ago. Tally is available in two version (1) Standalone client (2) Client-server model.
Tally is user friendly software and suitable for small, medium and large enterprise. You can download evaluation version of Tally from Tally website.
Quick books
Quick books is business accounting software for small business. Quick book provides features such as book keeping, billing, invoicing, payroll, online banking etc. Quick books is developed by Intuit Inc and it is widely used accounting software in USA and other countries. Quick books is also available as a mobile app for mobile users.  Quick book is easy to operate and economical business accounting software.
For more information please visit Quick books website.
Also Read – 10 Best Salary Accounts in India
BUSY
BUSY is best business accounting software for Micro, Small and Medium businesses. BUSY provides features such as financial accounting, Inventory, Sales, Taxation, MIS reporting etc. BUSY also provides support for multi-currency and multi locations. You can download 30 days evaluation version of BUSY from the website.
Profit Books
Profit Books is cloud-based business accounting software. Profit Books provides features such as bookkeeping, sales, inventory, taxation, payroll etc. Profit books is easy to operate and provide almost everything for small business enterprise. You can download free evaluation version from profit book website.
MARG ERP 9
MARG ERP is software developed for small business organizations. MARG provides features such as payroll, accounting, sales and purchase management, barcode bill printing etc. MARG is also available as an app on mobile. You can get more information about MARG from MARG website.
Over to you –
It is recommended to evaluate the accounting software based on features requirement, after sales support, future version development plans and pricing. I hope this article Top 5 Best business accounting software in India will help you while selecting the software.
Which business accounting software is used by you for your business?
Do share your feedback in the comment section.