Aadhaar Reprint – Aadhaar is now an integral part of our life. Aadhaar is mandatory for doing most of the financial transactions. What happens if you lost your Aadhaar and your mobile number is not registered? Well, UIDAI now provides a facility to reprint Aadhaar online. The new service of Aadhaar Reprint is available only for Aadhaar printing. Ordering reprinting of Aadhaar using this facility does not mean that the new mobile number you give will get registered in your Aadhaar.
So, if your Aadhaar is lost and your mobile number is not registered with it follow the steps given below for reordering.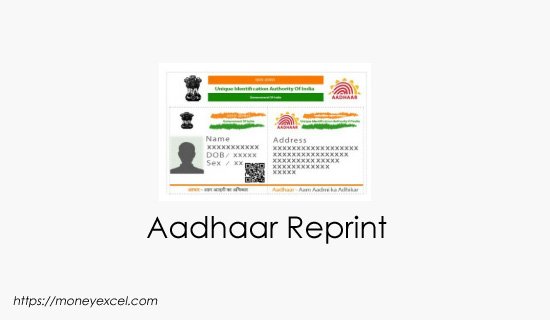 Aadhaar Reprint in case of Mobile Number is not Registered 
#1 Visit UIDAI Aadhaar Portal – http://www.uidai.gov.in or https://resident.uidai.gov.in
#2 Click on the Aadhaar Reprint link. This link is available under the Get Aadhaar option.
#3 In the next step, you need to enter UID number or Aadhaar number allocated to you. If you don't have your Aadhaar number you can enter EID or enrollment ID -16 digit virtual ID number.
#4 Now you need to enter validation captcha text – given security code. The code will be alphanumeric and it is case sensitive. Once you are through with entering this code you need to click on the checkbox – A mobile number not registered.
#5 The system will ask the mobile number on which he or she wants to receive the OTP (One time password). It is a non-registered alternate mobile number.
Once OTP is sent, you will see a message on the screen saying OTP is sent to your registered mobile number. Check your mobile.
#6 Enter the OTP received on the new mobile number and click on the checkbox to agree with terms and conditions.
#7 On the next page, you will see a preview of the Aadhaar details for verification before placing the order for reprint.
Also Read – How to Download Aadhaar Update History from UIDAI website?
The next step is making payment. You need to pay Rs.50 inclusive of GST and speed post rate for the Aadhaar reprint. You are allowed to select the payment mode. The available payment modes are net-banking, UPI, debit card, and credit card payment.
#8 You need to make the payment and note down the transaction ID. This id will be useful at the time of payment disputes.
#9 The system will generate acknowledgment slip affix with a digital signature. You need to download the acknowledgment slip.
You will also get SRN – Service Request number via SMS.
#10 Now the Aadhaar reprint process will begin. Your Aadhaar will be printed and sent to your registered address via speed post.
You can track the status of SRN till dispatch of Aadhaar Letter on Check Aadhaar Reprint Request Status
You can also track delivery status by visiting the Department of Post website.
FAQ for Aadhaar Reprint on UIDAI Portal 
Can I raise Aadhaar reprint request on diffrent address? 
No, Aadhaar reprint request cannot be generated on other address. You need to change/update your address in the Aadhaar by visiting nearest Enrollment center. Another alternative is to update it online.
How many days it will take to deliver Aadhaar card?
Once you make payment for Aadhaar, UIDAI will handover printed Aadhaar card along with letter to Department of Post within 5 working days. Department of Post will deliver Aadhaar card using speed post. It generally takes 15 days to deliver the Aadhaar card after making successful request on online portal. You can track the request online till the delivery.
Which modes are available to make the payment? 
Following payment modes are available for "Order Aadhaar Reprint"
Credit Card
Debit Card
Net Banking
UPI
How much money do I need to pay for Aadhaar Reprinting?
You need to pay Rs.50 inclusive of GST and speed post charges for Aadhaar Reprinting.