Aadhaar PVC smart card can be ordered online on the UIDAI portal. Aadhaar PVC card comes with a photograph, QR Code, and hologram.
As we know that the normal Aadhaar card is issued in paper format. Many people carry Aadhaar card letter or they cut issued card by scissors. The letter format & cut Aadhaar card is difficult to carry in the wallet like a credit card or debit card. Most of the paper format card develop a crease or become dirty over a period of time.
To improve the quality of the Aadhaar card, UIDAI has launched a PVC based smart card. It is of credit card size which can be easily carried in the wallet. Aadhaar PVC is not free. You need to pay Rs.50 to get smart card Aadhaar PVC. Step by step process to order Aadhaar PVC card is given below.
How to order online Aadhaar PVC card?
Step 1 – Visit UIDAI portal. Click on My Aadhaar and go to sub menu – Order Aadhaar PVC Card.
Step 2 – Enter 12 Digit Aadhaar Number or 16 Digit Virtual ID or 28 Digit EID. Enter the security code and click on the Send OTP. You will receive OTP on the registered mobile number. Enter the OTP and click on Submit.
Step 3 – On the next page, you will be able to see your Aadhaar data – Name, Date of Birth, Gender, Address, and your photograph.
Step 4 – In case you find data given on the screen is incorrect/missing/out-dated you need to get your Aaddhar Updated.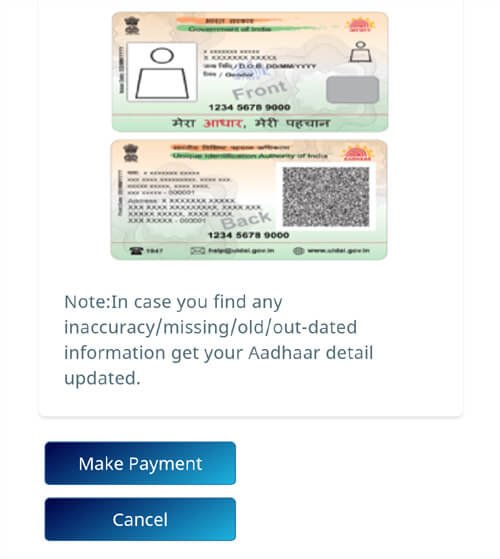 Step 5 – Click on the Make Payment button. You will be taken to the payment page. Here you need to make a payment of Rs.50. There are multiple payment options such as credit card/debit card, net banking, UPI, etc.
Step 6 – Select the payment option and make a payment of Rs.50. Once you make a payment your application for the Smart card is submitted. You can download the payment Receipt for reference.  System generated SRN (Service Request Number) will be displayed on the screen.
Step -7 – The time required to deliver Aadhaar is 15 days. You can track your Smart Card Aadhaar application by SRN. You need to go to My Aadhaar >> Check Aadhaar PVC Card Status in order to know application status.
Also Read – How to Update Address in Aadhaar Card Online?
Types of Aadhaar Cards
Four types of Aadhaar Cards are issued by UIDAI.
#1 Aadhaar Letter
Paper-based laminated letter with secure QR Code with Issue Date and Print Date. This letter is sent to resident free of cost by ordinary post. In case this letter is lost you can order it again by paying Rs.50 for reprinting.
#2 eAadhaar
eAadhaar is the electronic form of Aadhaar, digitally signed by UIDAI, having QR code for offline verification with Issue Date and Download Date. Resident can easily download eAadhaar/masked eAadhaar from UIDAI's official website using registered mobile number.
#3 mAadhaar
mAadhaar is digital form of Aadhaar which can be installed on mobile device. You need mAadhaar app. This app is available on Google Play as well as iOS store for downloading.
#4 Aadhaar PVC Card
Aadhaar PVC is newly issued credit card size PVC card. This card is digitally signed and contains demographic details, photograph, hallmark and multiple security features. You need to pay Rs.50 in order to get PVC card of Aadhaar.
Security Features of Aadhaar PVC Card
This card contains security features like:
Secure QR Code
Hologram
Micro text
Ghost image
Issue Date & Print Date
Guilloche Pattern
Embossed Aadhaar Logo
FAQ about PVC Aadhaar Card
How much money I need to pay to get Smart Aadhaar Card?
You need to pay Rs.50 in order to get Smart Aadhaar card. This card can be ordered online as well as offline at enrollment center.
Which modes are available for the payment?
As of now Credit Card, Debit Card, UPI and Net Banking options are available as the payment mode.
How many days it will take to deliver the PVC Aadahar card after raising request?
The PVC based Aadhaar card is delivered roughly in the 15 days from the date of ordering.
Why I should opt for PVC Aadhaar Smart Card?
You should opt for PVC Aadhaar Smart Card because this card contains lot of security features. It is credit card size card which is easy to carry in wallet. As this card is made up from PVC material life span of this card is long.
Over to you
Have you ordered PVC Aadhaar Smart Card? Do you think it is worth to order this card?
Share your experience in the comment section.
Thanks for reading the post.
Please share this post with your friends on Facebook & WhatsApp Groups.