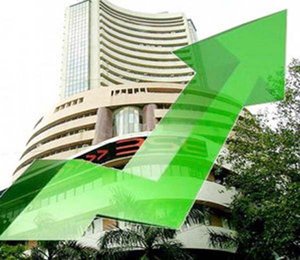 Wealth Creator – 2015-16 is wealth destructor year for many stock market investors. Many blue chip stocks have lost its value by 50%.An investor has become more cautious in making a stock market investment. Although a majority of stocks has destroyed the wealth of investors few stocks were acted as a wealth creator.So, here are 7 wealth creator stocks of 2015-16.
7 wealth creator stocks of 2015-16
Gayatri Projects
Gayatri Projects is first in the list of wealth creator.Gayatri Project is infrastructure company.Strong order inflow and fundamentals are making this stock attractive.Gayatri Projects was able to generate 296% return for investors in 2015-16.
Essar Oil
Essar Oil is next wealth creator of 2015-16. The stock of Essar Oil has given 134% return in 2015-16.A stock of Essar oil was 110 Rs and now it is 263 Rs.The main reason for the increase in Essar oil is news that Rosnet is expected to buy 49% stake in Essar Oil.
Rajesh Exports
Rajesh Exports is next wealth creator stock.Rajesh Export has given 335% return in past one year. Rajesh Export stock was trading at 170 Rs at the beginning of the year and today it is trading at 700 Rs. The main reason behind the increase in stock price is increasing profit margin and strong order flow.
Also Read – Multibagger Wealth Creator Stocks by Raamdeo Agrawal
Eicher Motors
Eicher Motors is leader in motor cycle segment. Eicher Motors is very good stock pick providing consistent returns.Eicher Motors has generated 16% returns in past one year.
Lupin
Lupin is next in the list of wealth generator stocks. Lupin has given 13% returns in past one year.The main reason behind upside of the stock is increasing revenue and profit margin due to new product launches.
Britannia
Britannia is very good wealth generator for 2015-16. The stock of Britannia has given 37% return in past one year. A strong fundamentals and growth are the main reason behind the increase in stock price.
Maruti
Maruti Suzuki is evergreen stock giving consistent returns to the investor.Maruti was able to give 5% return to the investor. However during the year stock has touch all-time high level of 4171 Rs in the middle of the year.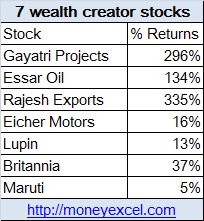 All these stocks were able to generate very good returns due to strong fundamental and expected positive future growth.
Also Read – Best Stocks to buy in India for long term Investment
What investor should do now?
Stock Market is directionless and expected to remain range bound for few months. As an investor, you should not panic, stay invested in stock with good fundamentals.If blue chip stock is available at a lower price you should capture the opportunity to invest.Invest in stock with good future potential and invest for long term at least 3-5 years to nullify the effect of market volatility.
What are your views on these wealth creator stocks? Do you think these wealth creator stocks will give good returns in future?