GST Software – GST – Goods and Service Tax was implemented by the Government of India in 2017. Maintaining GST Compliance, proper accounting, billing, and inventory are major challenges that MSMEs (Micro, Small & Medium Enterprises) and small business owners are facing every day. 
Small business owners are always looking for complete accounting & billing GST Software. There are many popular GST Software available in the market that offers multiple benefits such as automated return filing and unifying accounting process. The majority of them are combinations of free and paid. I have done some research and here is detailed information about 7 Popular GST Software for accounting and Billing.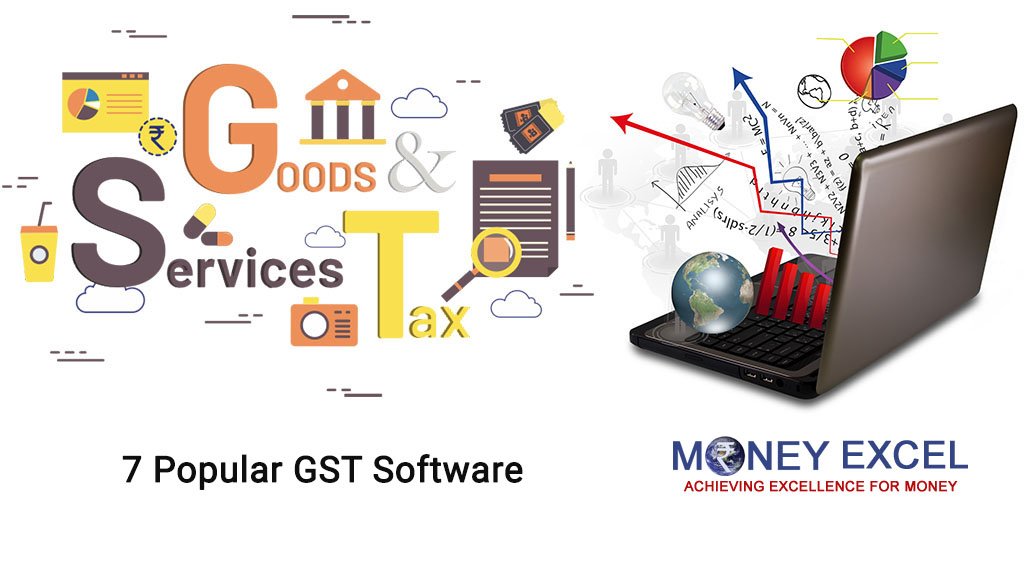 7 Popular GST Software – Accounting & Billing  
#1 Zoho Books
You can manage your business finance with Zoho Books, a cloud accounting platform. Keeping your business GST-compliant, as well as handling core accounting, stock tracking, bank reconciliation, and managing projects can be done on Zoho Books. Key features and prices of this GST software are given below.
Key Features Zoho Books
Create Retail Invoices 

Create and send purchase orders

Keep track of inventory levels at all times

Import your bank statements to Zoho Books and skip data entry

Project Timesheet management

Client Contact Management 

GST Portal Integration for Return Filing 
Price – FREE up to revenue less than 25 Lakhs.
Paid version comes with extra features such as application integration. The rate is starting from ₹ 749 per month. 
#2 uBooks
uBooks is the next popular GST Software. uBooks provide complete accounting, billing, and inventory. uBooks is a hybrid app that comes with offline as well as online versions. Key features of uBooks are given below.
Key Features uBooks
Advanced Accounting with Reporting

Billing & PoS

Inventory Management

Order Management

Offline and Online Billing

Mobile App-Based E-invoice

Standard GSTR File Generation

Auto Tax Calculation

Bank Reconciliation

GST Compliance 
Price – Free for a single-user license. A multi-user license is paid.
#3 Cygnet FACE
Cygnet FACE is item-driven accounting software. The Face software is a modular product approved by GSTN due to its promising features and ease of use. Face software is scalable and customizable based on your business requirements and it can handle the diverse business requirement. Key features of FACE are given below.
Key Features Cygnet FACE
Multi-user and multi-company accounting

Invoicing with logo and e-sign

Purchase order and sales order capture/creation

Reporting & P/L Generation

Error Free GST return genration 

E-way Bill Generation 

GST returns preparation and downloadable JSON and excel files
Price – Premium version Subscription – ₹9750 / Year, One-time License ₹17750.
#4 Saral Accounts 
Saral is an accounting and billing software that is GST compliant and covers all accounting and billing needs of the business. Key features and price detail of Saral is given below.
Key Features of Saral
Complete accounting including financial statements

Sales purchase and inventory management

Invoice, AMC and Warranty MIS

GST Return filing facility

E-way Bill creation facility

Dashboard and Report Generation 
Price – Saral is paid software. For Saral Bronze single-user mode you need to pay ₹7500 / Year 
#5 GenieBooks
GenieBooks provide basic to advance all types of accounting-related features. It is a cloud-based application that can be accessed from anytime anywhere in a secure manner. Key features of GennieBooks are given below.
Key Features of GenieBooks
Invoicing and accounting management 

Inventory management and tracking

Payable and receivable tracking

Bank reconciliation & Reporting

Payroll management

Automation
Price – GenieBooks basic version price is ₹6,999/year
#6 FocusLyte
FocusLyte is easy-to-use online accounting software. It is a cloud-based software. FocusLyte is an accounting solution that not only helps in filing GST but also helps in dealing with accounting. Key Features and price details of FocusLyte are given below.
Key Features of FocusLyte
Sales order and purchase order tracking

Accounting and Billing facility

Tracing receivable and payables 

GST Return Filing 

Eway Bill Generation 

Inventory Management 
Price – FocusLyte basic version price is ₹9000/year
# 7 CaptainBiz
CaptainBiz is GST software that helps with billing, business accounting, and inventory management software solution for small businesses in India. CaptainBiz is endorsed by the Goods & Services Tax Network (GSTN) of India. Key Features of CaptianBiz are given below.
Key Features CaptainBiz
Billing & Invoicing

Real-Time Inventory Tracking

Purchase management

Cash & Bank Reconciliation

GSTR Reports facility
Price – CaptainBiz two years silver plan cost is ₹7,999.
Over to you
Which GST software you are using for your business? Do you think the information about GST software given above is useful to you? Please share your feedback at sk@moneyexcel.com.