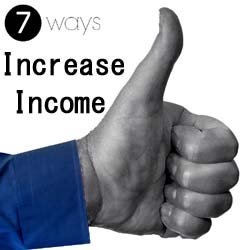 Today biggest worry of common man is inflation. Inflation effect adversely to common man by killing his/her purchasing power. To fight with inflation it is extremely important to increase your income.
7 easy ways to increase your income.
Simplest way to increase your income is to develop second source of income. If you are good at teaching refresh your memory and start tutoring students in your society/ area. If you are good, word will spread and in no time will you have many students.
If you have extra money lying idle in bank or at your home reutilize that money for investing in good investment avenues to increase your income.  This is called as making money by money.
Try to become sleeping partner in small business to earn extra money. For example fast food chain and coffee shops always looks for such partner to expand their business.
Invest your money in buying residential or commercial property. Once you get possession let out this property to get good return. Good source of passive income.
Associate yourself in good network marketing or multilevel marketing company like Tupperware, Amway. If you are very good at marketing your income will touch the sky. This business does not even need big investments and can be started quickly.
Today every business require social and web presence. You can help professionals and small businesses create Facebook pages. You can charge a fee for your services.
 If you are very good at writing think of making online blog. Today blogger earns in thousands and lakhs.
Remember following Basic rules to increase your income:-