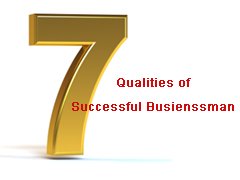 In previous article we have discussed about step by step process for starting business in India. Today we will discuss about most common qualities required for businessman to be successful.
In list of successful businessman we have many people starting from Birla, Tata, Ambani, Mittal, but do we really know what quality make them so successful.  We are herewith 7 common qualities of successful business man these qualities are being drive from careful research and analysis.
7 Qualities for Successful Businessman
(1) Passion for Excellence:-
Passion for excellence this is inherent quality of successful people, we don't know if someone can teach this quality.  But we are sure that passion of excellence is one of the qualities which make businessman successful.
Passion of excellence means whatever work you do small or big you must strive for excellence, starting from way you write or the way you sign there should be touch of excellence.
This thing is rightly explained in hindi movie "3 Idiot" Dont run behind success, try to achieve excellence, success will come looking for you.
Example:-
"One artist was making one sculpture &  he was giving finishing touch to that sculpture's eyes at the same time other artiest told him that sculpture is already looking magnificent  please come down don't waste your time.
Answer given by artist was that sculpture  may be looking magnificent but I know that eyes of sculpture requires finishing touch and without completing it I will not come, whatever sculpture I make must be perfect in every sense. At the end I should able to give pat on my back that excellent work done.
If we develop same approach in whatever work we do we will be defiantly become successful.
 (2) Ability to develop Team:-
Only having passion for excellence will not give you success you need to have team of people with this quality. Team means "Together everyone achieves more" successful people always work in team and they have capability to develop team.
Example:-
Every grand slam has come to defeat team of Mahesh bhupathi and Leander paes  but they could not able to do that as Mahesh bhupathi and Leander paes was playing as team.
At later stage both of them has ego involved with each other and they decided to separate out now sa they play individually anyone can defeat them.
Moral you need team to be successful in business & you should be capable of developing team.
(3) Master in Communication:-
In order to develop team you should be master in communication because whatever ideas you have in you're mind you should be able to transform your idea in your team.
 Example:-
Mahatama Gandhi as leader was successful because he was master in communication his communication use to influence masses in India to get Independence.
Second example is leader like Manmohan singh cannot win election alone as he is not good communicator he need spokes person like Sonia Gandhi to win election.
Third example is of Sachin Tendulkar, sachin failed as captain of Indian cricket team because he is not good communicator, while Dhoni is successful because he is good communicator and able to manage team.
Today everything works on communication better you are in communication and presentation skill, your chance of becoming successful is higher.
(4) High Energy level:-
Successful people maintain high energy level. They start their day with same energy level and exhibit same energy level at end of the day. They always surprise you with their energy level, nothing tires them.
Example:-
Chairman of L&T Mr. A M Naik is the person who exhibit high energy level. For the first 21 years of his career, he never took leave – not even a weekly day off. That shows his energy level and dedication.
As their body and mind function at high energy level they are able to study more, work more. This increases their chance to become successful.
 (5) Value based decision making:-
Hallmark of leadership is value based decision making. You have to be consistent is making right decision.
Your decision should not be mood based it should be value based. You should arrive to fair decision considering all facts and figures in mind.
If your decision is mood based people try to manipulate you for their benefits.
So it is very important for you to be value based decision maker if you want to be successful businessman.
 (6) Methodology:-
 Methodology is another important quality requires for success. What is your methodology it is nice to have goal it is nice to have ambition & big thinking that you are going to do this or do that but how? What is the method you adopt?
Example:-
Dying cricket was revived with methodology called T20. Its methodology same game but with some innovation and creativity brought in.
Cinema was dying but multiplex is innovation or method to revive the same. Provision store is now old concept new method now adopted is big shopping mall or online shopping.
Door delivery is other example Pizaa Hut use to deliver pizza in fix time. This is the method to increase the sale.
Design and new innovation is Steve Jobs Methodology. Style Rajnikant's methodology, Exploration kamal hasan methodology, dance hritik roshan's methodology, Entertainment in sport which is boring Lalit modi's methodology, what is your methodology? Keep Thinking keep innovating.
So methodology is another skill required for successful businessman.
(7)  Eternal Faith
Another common quality is all successful businessmen's has faith, Faith in god, faith in system, faith in principal.
All of them have faith in what they are doing. They always carry self belief. Question was asked to industrialist Dhirubhai ambani about secrete of his success  many people has thought that Dhirubhai will talk about engineering or reverse engineering but surprisingly answer was "I am successful because I have my mother blessing with me." So, mother blessing was faith for Dhirubhai Ambani to be successful. Try to find out what is your faith?
Believe me if you develop above seven common quality among you, you will defiantly aspire to become successful businessman.