Today I find many young entrepreneurs who run after raising startup funding. They have very good startup idea but they need a support to raise the capital at an early stage of a startup. Lack of funding is a preliminary reason why some of the startups do not take off. If you are an entrepreneur and looking for ways to raise startup funding I am here with 15 different ways to raise funding for your startup. These startup funding ideas will help you to understand and formulate your startup fundraising strategy at an early stage.
15 ways of startup funding
Bootstrapping
A bootstrapping means providing initial funds to startup with your own savings and investment. At bootstrapping startup is at the idea stage. So it is very difficult to raise a fund for startup, as everything is on paper. Bootstrapping is an easy and fast solution at the initial stage as no paperwork or legal formality required.
Co-founder
A second stage of startup funding could be co-founder stage. In this stage, you need to find out co-founder. You can approach your friend or relatives who can become a co-founder and does half of the work. In addition to that co-founder is also responsible for providing funding for your startup. It is like offering 50% partnership of your business.
Also Read – 5 Innovative Startup Business Ideas
Family and Friend
Seeking funds from family and friend is another easy way of startup funding. Family and friends have two options they can either offers fund on behalf of equity holding in the startup or they can provide funding as a loan.
Angel Investment
A third stage/round of your startup funding is Angle Investment. This round is popularly known as a seed round. Under this round, Angle investor makes an investment in your startup with the exchange of ownership or equity rights. There are multiple websites to find out angel investor for your startup funding.
Venture Capital
This type of startup funding is said as "Series A funding". It is given by Venture capitalist. Venture capitalists are professional who selects the companies for investment based on growth and returns. They invest money and take equity. They usually exit the business at IPO stage. They also mentor the project and provide an expert guideline for the growth of the startup.
Early Employees
Your first few employees might be interested in gambling on your company by accepting a low salary package along with stock option. You can take funding from your early employees on behalf of the stock option.
Loans from NBFCs
After A Series of funding, a startup can even go for a loan from NBFC (NonBanking Financial company). NBFC offers loan which you need to repay along with interest amount in decided time frame. If you don't have access to NBFC you can contact Microfinance Institute also.
Also Read – Startup Success – Most Important Factors for success of Startup
Startup India
Startup India campaign is launched by Narendra Modi led government. This program is launched to support new entrepreneur for launching an own startup.  In order to get benefit of startup India your startup needs to fulfill certain criterion such as providing innovative products, turnover should not exceed 25 Cr etc. You need to register at startup India website in order to get a benefit of startup funding.
Crowdfunding
Crowdfunding as name indicate it is a way to raise fund from a crowd (multiple people). The crowdfunding happens online via social media and crowdfunding platforms. Crowdfunding can be debt base, equity base or donation based.
Incubators
Incubator is the name given to enclosed apparatus used for keeping a premature baby. Similarly in startup Incubator is institutions that provide space and other equipment required for the success of a startup. They provide funding and guidance to the startup project.
Accelerators
Accelerators are responsible for the growth of a startup. They provide mentorship, guidance, funding and office space to the startup. They are similar to incubators sometimes term accelerator and incubators are used interchangeably.
Credit Card
You can use your credit card to purchase initial equipment and other office setup for the startup. You can use a credit card for a  business that gives additional cashback and reward benefit to you. Make sure that you repay the amount in the time to avoid interest burden.
Mortgage Assets
One of the least preferred ways by the startup for raise funding is mortgage assets such as property, equity, fixed deposit to get the loan for a startup. You need to repay the debt in order to release your asset placed for a mortgage.
IPO
IPO is an advanced stage of raising startup funding. If you go for IPO, anyone in the world can become your investor. You need Investor bankers to do paperwork and sell equity stock on behalf of your company.
Loans by Bank
If you need a loan for the business expansion you can approach the bank. You need to submit a formal application at bank applying for a loan. Based on credit history and eligibility of income proof document bank will offer you a loan for the business.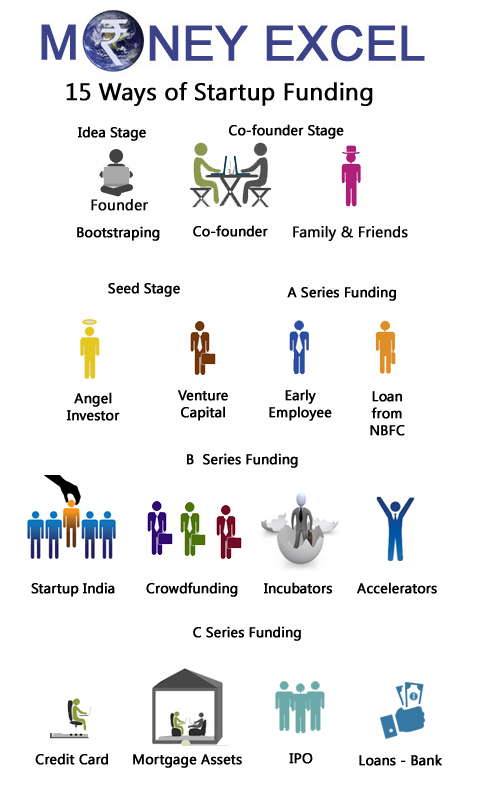 Over to you –
If you are planning to launch a startup and looking for money the 15 ideas of startup funding mentioned above will surely help you.
If you have any queries in raising fund for your startup, feel free to post it in the comment section. I will be happy to answer those in detail.