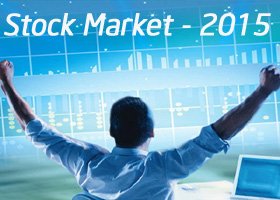 Are you wondering that stock market will give you profit or loss in 2015?  Do you want to earn more money in stock market? Today I will share 15 Financial Resolution that will bloom your stock market investment in 2015.
15 Resolutions for Stock Market 2015
Invest for long-term
Always invest in stock market with long-term prospective. Investment for short-term in stock market could be dangerous. If any one of you is investing money in stocks for several hours or days, it is speculative and not good option. Invest in stock market for long-term at least 3 years.
Buy Low Sell High
Only way to earn more money in stock market is Invest in stock at lower price and sell it at higher price. Try to sense heart beat of stock by doing continues tracking. Invest only at lower price.
Don't Invest in Penny stocks
You will get thousands of penny stocks in the stock market today. But it is better to stay away from these penny stocks. At first instance these stocks looks attractive due to low price but remember fundamental of these stocks are very weak.
Invest in Fundamentally Strong stocks
To reduce your risk appetites always invest in fundamentally strong stocks. Following parameters are important to find out fundamentally strong stocks.
Market Capitalization
Profit History & Dividend Records
Management & Governance
Future Business and Product Portfolio
 Don't put all your money in single stock
Don't put all your money in single stock. Diversify your portfolio by investing in good stocks from different sectors.
Understand Future & option before taking any chance
You might have heard from friends and relatives that they have earned lot of money by investing in F&O (future & option). You must be thinking that you can also earn lot of money by investing in F&O, but my advice here is understand F&O (future & option) first before making any investment.
Stop Loss is very Important
For trading in future and options stop loss & profit limit is very important. Bind every contract with stop loss and deal based on availability of money. Remember market is supreme, identify and track market movements closely.
Identify and mitigate risk
One common law of business is you should identify your risk acceptance capacity. Evaluate your equity portfolio based on your risk tolerance limit and make changes as per requirement.
Precise Planning is key of success in stock market
You should carry out proper planning before investing in stock market. Decide target price, amount of investment and time period before purchasing any stock.
Adopt Systematic way of investing
Instead of investing lump sum money in stock market it is better to adopt systematic investment planning strategy for stock market investment.
Review your portfolio regularly
You should review your equity portfolio regularly. I am not telling you to track it every day, but at least you should review it quarterly.
Scrap under performer stocks
By reviewing your portfolio regularly you will able to identify stocks which are not performing. You should scrap your investment from these under performer stocks.
Never use stock market prediction or Tips for investment
Stock market investment is risky investment you should never invest in stock market based on tips or investment advice.  Carry out independent analysis of stock before investing. Remember self study is best study.
Start your investment with Mutual Funds
If you don't Understand Stock market you can start your investment with Mutual Funds. Identify and invest in good equity based mutual funds based on ranking and past performance.
Update your knowledge about stock market
Always update yourself by gaining knowledge about stock market. You can subscribe to good investment magazine or you can follow good blog website like moneyexcel.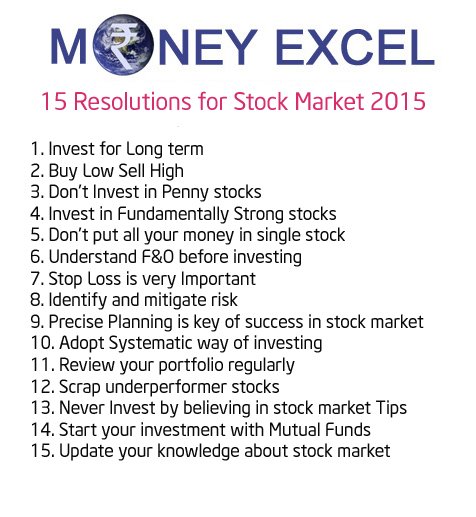 Hope your investment in stock market will grow multifold in 2015 – Happy Investing