Best Startup Ideas – A success of any startup ideas depends upon a unique and innovative business idea. Everyone dreams of starting own startup and becoming successful. But most of the people face a challenge in making the selection of a good startup idea. If you are one of them and looking for good startup ideas with low investment, you are at the right place.
Here is 11 Best Unique Startup Ideas with low investment. These business ideas are highly suitable for young and dynamic individuals who are ready to explore an unknown world full of challenges.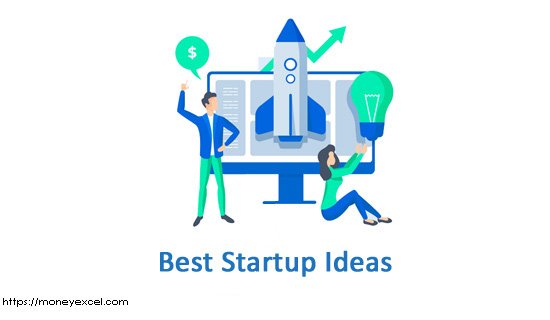 11 Best Startup Ideas with low investment  
#1 Custom Cloths
Starting a customize clothes business is a wonderful business idea. A demand of customize cloth is increasing. People prefer customized cloth with printed name or content. If you have expertise in making customized cloth you can start a business of customized cloth. You require a team of creative people for designing cloths. Along with cloth you can sell other customized items. The investment required for custom cloth business is moderate.
#2 Fidget Toys
Fidget toys are toys designed to increase self-regulation and focus. Stating a fidget toys business is a very good startup idea. The world is crazy about fidget toys such as spinner. There are two ways of starting fidget toys business. First is buying and selling of fidget toys and second is developing such toys. You can make cubes, magnets, pen or any other items which help people to increase their concentration.
#3 Food in Container
Food in a container is one of the unique startup ideas. Food container attracts everyone's attention and it is becoming popular in western countries and in India. It is a low investment business idea. Make sure to make container attractive with full of color. Make sure to place a container in the area nearby office or crowded place. You need to take a food safety license to start this business.
#4 Organic Food
People are becoming health conscious they are ready to spend money for good food. Thus starting an organic food startup is a very good business option. Organic Food business can be started either by producing organic food in farm or by purchasing organic food from a farmer and selling it in the market.
Also Read – 11 Innovative & Unique Business Ideas in India
#5 Online Education Courses
Everything is getting online and digitized, you can also take advantage of this by starting own online education business. You need to design various videos based courses based on various topics. You can take help from an expert to make a video and upload it online. You can either use a YouTube channel or you can buy your own website to upload online video tutorial.
#6 Online Advertisement management
Next startup idea is online advertisement management. The demand for people managing digital media and advertisement is increasing. Thus starting Online Advertisement management is another very good startup business option. You can either develop your own software or website to manage advertisements.
#7 Social Media Management
Another startup business is social media management. As a social media manager, you need to create interesting content that engages the audience and increase fan followers. If you have management and marketing skill along with technical skill you can become a social media manager. You may need to undergo proper training before starting.
#8 Seasonal Decoration
Seasonal Decoration is among very good startup business ideas. People are looking for unique decoration during festival season or during special events such as birthday party, anniversary party etc. If you have competent manpower and expertise you can start your own seasonal decoration business.
#9 STEM Toys
STEM toys are toys related to science, technology, engineering, and maths. These types of toys are used for enhancing the educational knowledge of kids. It is also used for doing project work. If you have an interest in this field you can start STEM toys business.
#10 Vacation Rental Business
Vacation Rental Business is a comparatively new concept. In this business, you are involved in renting properties in the tourist area. You require contact of people who are planning to rent their property. It is a new concept and requires some time to get success.
#11 Waste Management
Waste management is among one of the very good business ideas. There is a massive scope of waste management in a developing country. A waste can be used for making a useful item such as fertilizer also. If you have expertise in this area you can earn a lot of money.
11 Best Startup Ideas with low investment