Online Business Ideas – Today we live in the era of the Internet where everything happens online including business. Online business is easy to start and does not require much investment. If you are fed up with your 9 to 5 job planning start an online business, here is something interesting for you. I am herewith 10 Online Business ideas for beginners.
These online business ideas are easy to start. You can start right away with a click of a button. You just need technical skills and internet connection. You can start this business even from home.
For better understanding, I have categorized these business ideas into two types.
Product based
Service based
In the product based online business, you need to sell products for your customer and earn money out of it. You can make use of readymade online e-commerce platforms such as Flipkart or Amazon. The chance of getting success is very high.
The second category is service based online business. In a service-based business, you need to sell your services to the customer. Few examples are SEO, Social media marketing, website designing etc.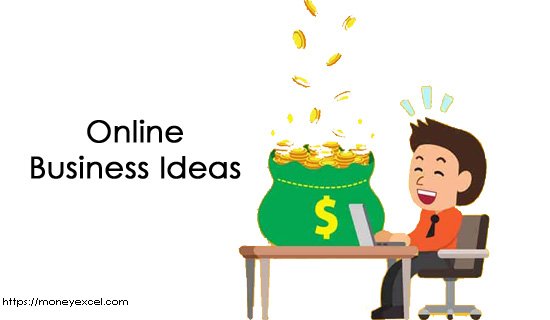 Why Online Business?
Online business is easy to start and require less investment. Apart from these online business has multiple other benefits. Few benefits of online business are given below.
Easy to showcase your product and services
Flexible Timing
Working from Anywhere
Long Term Income
Started from in part time
Increase earning potential due to global reach
Also Read – 10 Best Online Courses & Learning Platforms to explore during lockdown
10 Online Business Ideas for Beginner 
#Product Based Online Business Ideas 
#1 Sell your own product
One of the easiest ways to start an online business is selling your product online on the social networking platform. Facebook, Twitter, and other social networking sites offer the readymade facility of an e-commerce store. Make sure to arrange for low cost and trusted logistics for the product delivery.
#2 E-commerce Store
Opening an E-commerce store is one of the best online business ideas. You can start your own e-commerce store easily. However, you need to make an investment in order to start your own online e-commerce store. You can use Shopify to create an online store. Alternatively, you can use free e-commerce toolkit woocommerce for building WordPress based e-commerce website.
#3 Build Apps
The next business idea is building an app. In order to build the app, you should have technical knowledge about android programming. Once your app is ready you can place it online or on google play store. You can earn money by making it paid product.
#4 Buy and Sell Domains
A Flipping domain is one of the best online business ideas. You can earn a handsome return by flipping domain online. However, you need to do research before buying a domain name. There are many websites that provide domain auction facility.  Flippa and Godaddy auction is a very good marketplace for buying and selling domains.
#5 Product sell on Facebook
The next online business idea is selling product on Facebook. Facebook provides facility to make your own store or group online. Other like-minded people can become a member of this store or group and you can carry out marketing for product sell.
 Service Based Online Business Ideas
#6 Start Online Blog
Starting a blog is one of the best online business ideas. It is very easy to start an online blog. You can purchase a domain name and hosting space by investing a few dollars. Making money from the blog is tough task initially. You have to publish quality content to gain popularity. Blogging can help you to earn money via direct advertisement or by google adsense.
#7 Online Affiliate marketing
Affiliate marketing is one of my favorite online business ideas. Affiliate marketing helps you to earn a lot of money. In this business, you need to become an affiliate of various online stores like Flipkart, Snapdeal, Amazon etc. You need to ask people to purchase a product online via you via email marketing or via a website. You will be paid a decent commission on every sell via you.
#8 Social Media Consultant
If you have very good social presence and you can influence product sell or increase Facebook likes you can become social media consultant. You will be paid based on projects or assignments. Your prime task is to increase social presence for the business owner.
#9 Paid writer
If you are good at generating quality content (writing) you can make a lot of money. You need to tie up with bloggers or websites looking for content. However, in order to become successful in this field, you have to be extremely good.
#10 Teach Online
Next online business ideas is from the education field. If you have the skillset to teach students you can start your own online business or online teaching. You can do this either by making a video or conducting one to one training. This is a unique way of generating online income.