Vauld Review – I have recently come across an advertisement of Vauld that says "build wealth automatically with crypto". I decided to dig down further and came to know that Vauld is a growing crypto exchange in India, that provides a unique facility of crypto fixed deposit.
Vauld works on the concept of earn, borrow and trade. You can buy and sell cryptocurrencies on Vauld. Additionally, you can also earn interest of up to 11.57% (APY) on your cryptocurrencies by doing a fixed deposit. Vauld also provides the facility of low-interest loans against your crypto assets.
Vauld has a neat and easy-to-use app with a fast fund transfer facility and a couple of options for making money.
Let's try to understand further by reviewing Vauld in Detail.
How Vauld offers higher interest on Crypto?
Normal crypto exchanges target commission income. They allow you to buy and sell cryptocurrencies and charge commission. Your unused money and crypto sit idle in the exchange, similar to cash lying at home or at a locker.
However, Vauld has created centralized pool of funds. As soon as you deposit your fund in the Vauld wallet it goes to a centralized pool and is offered for lending to institutional borrowers and Vauld customers who want to trade with higher liquidity.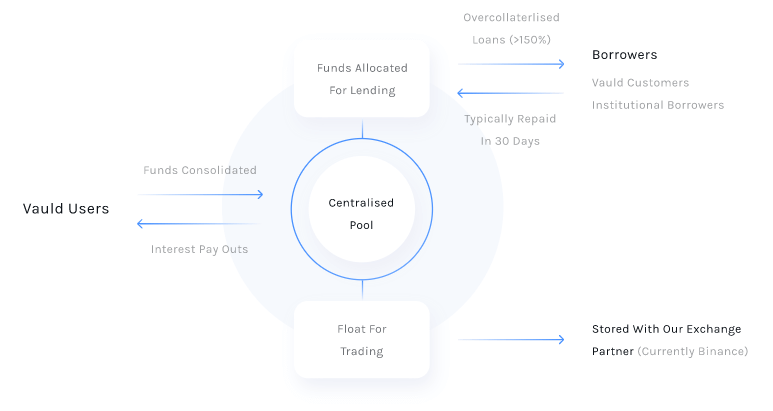 The interest earned from this lending is passed on to fixed deposit holders. This unique concept of crypto fixed deposit act as game-changer for Valud against competitors such as Zebpay, WaxirX etc.
Also Read – Top 5 Cryptocurrency to Invest in 2022
Vauld Features and Crypto Services
Vauld Signup
The first step for getting started with Vauld is signing up. It is very easy to sign up at Vauld you can create your login using your Gmail, Facebook, Twitter, Apple or Coinbase id. You can also use your e-mail id for signing up at Vauld. You need to provide the following while signing up.
Name, E-mail Address, Mobile Number
PAN card number
Address proof (Aadhaar, Voter Id, Passport)
It hardly takes a minute to open an account at Vauld.
Vauld KYC
You need to undergo KYC process to buy, sell or trade using INR tokens. It generally takes 30 minutes to get your KYC approved.
You need to take selfie while opening your account. You also need to upload your PAN card and address proof documents.
Once your account is opened you will be able to see Dashboard. On the dashboard, you will be able to see Wallet, Fixed Deposit, Exchange, History, and referral menu.
Wallet 
A Wallet is a place where you can deposit your INR money and check all purchased crypto currencies balance. You can perform the following action by visiting the wallet tab.
Transfer of Funds from a User's Vauld Wallet into its Linked Banked Account and vice versa
Depositing or sending Crypto
Taking Loan on Crypto in BTH, ETH, XRP and other coins.
Fixed Deposit
Under the fixed deposit menu you can apply for a Fixed Deposit (FD) of the crypto assets owned by you. You need to select the following while creating a fixed deposit.
Principal Cryptocurrency for making a fixed deposit
Minimum deposit amount
Deposit duration (in days)
You can close the deposit and withdraw the principal cryptocurrency deposit amount any time without any penalties. You can also renew a fixed deposit from this menu.
All major cryptocurrencies are allowed for creating fixed deposit like BTC, ETH, USDT, XRP, UNI, LINK, AAVE, COMP etc.
Minimum Crypto Deposit – $1 worth of crypto
Maximum Deposit – No Limit
Fixed deposit interest rate (APY)
The interest rate varies based on cryptocurrency and is declared on the Vauld website from time to time. The interest rate is declared in APY. APY means Annual Percentage Yield, and it is the total amount you can make in a year on specific crypto.
Details of cryptocurrency and applicable interest rates are given below.
USDT, DAI, BUSD- 12.68%
ETH, BTC, XRP – 6.7%
BAT, COMP, UNI, SUSHI – 3.04%
Interest payout – Interest payout is calculated daily and paid out weekly on all tokens.
Savings Interest Rates
You can also earn interest on idle crypto lying in your account. This saving rate is applicable as soon as you deposit crypto into your account or buy from the marketplace. Applicable Saving interest rates are given below.
| | |
| --- | --- |
| Crypto  | Interest Rates (APY) |
| Bitcoin (BTC) | 4.60% |
| Ethereum (ETH) | 4.60% |
| Tether (USDT) | 9.41% |
| Ripple (XRP) | 4.60% |
| Uniswap (UNI) | 1.00% |
| Binance USD (BUSD) | 9.41% |
Exchange
Under the exchange menu, you can visit market place for cryptocurrency where you can buy and sell and trade in cryptocurrencies. In short, you can participate in trading using this menu.
All major currency pairs are allowed for trading some examples are BTC/INR, ETH/INR, BTC/USDT, ETH/USDT, XRP/USDT, SHIB/USDT, etc.
Vauld INR Deposit & Withdrawal 
Once your KYC is approved you can deposit INR in your wallet for transactions. You can use cards, UPI, net banking, IMPS, RTGS and NEFT for depositing and withdrawal of money.
You can link your bank account by providing your bank account number and IFSC code for the transaction. Vauld will verify by depositing 1 Rupee in your bank account.
UPI, net banking and card deposit are processed instantly. For IMPS, RTGS and NEFT it will take 1 business day. Withdrawals take 1 business day.
Minimum INR Deposit – 1 INR
Maximum Deposit – No Limit
Fees and Charges
#1 INR Deposit and Withdrawal Fees
| | | |
| --- | --- | --- |
| Mode | Fees | Minimum Amount |
| Deposit RTGS | 0% | 2 Lacs |
| Deposit IMPS & NEFT | 0% | Re. 1 |
| Deposit UPI – Mobikwik | 1.77% | Re. 1 |
| Withdrawal RTGS/IMPS/UPI | 0% | Re. 1 |
 Trading Fees
| | | | |
| --- | --- | --- | --- |
| Crypto Pair | Maker Fees | Taker Fees  | Min Trade Amount |
| USDT/INR | 0% | 0.05% | 0.01USDT |
| BTC/INR | 0.1% | 0.1% | 0.00001BTC |
| ETH/INR | 0.1% | 0.1% | 0.0001ETH |
| ETH/BTC | 0.1% | 0.1% | 0.0001ETH |
| XRP/INR | 0.1% | 0.1% | 1XRP |
| USDC/ INR | 0.1% | 0.1% | 1USDC |
| BAT/INR | 0.1% | 0.1% | 1BAT |
| ETH/DAI | 0.1% | 0.1% | 0.0001ETH |
| MATIC/INR | 0.1% | 0.1% | 0.1MATIC |
Vauld Review
As per me, Vauld is a very good platform that offers a unique facility of offering interest on cryptocurrency along with trading. The trading and wallet facility offered on Vauld is very good.
You can use Vauld on mobile app (android and iOS) as well as desktop and laptop using a browser.
Apart from rich features security is of utmost importance for any crypto exchange. Vauld provides the facility of multifactor authentication in association with Google Authenticator. You can also use fix device for doing transactions. You can also adapt dynamically changing passcode for critical transactions.
Vauld's custody partner is BitGo and Vauld has also taken $100 million insurance coverage from Lloyds London against hacking attacks.
Pros
Crypto Fixed Deposit for earning interest and Interest Facility on Crypto
Secure Platform backed with insurance
Fast and intuitive interface accessible on mobile and desktop
Instant money deposit at 0% fees on IMPS, NEFT and RTGS
Automatic investment plan for cryptocurrency
Enterprise API to create and manage multiple wallets
Cons
You cannot see INR/Crypto order book
FD is allowed only in 30 Crypto
Final Words
Overall Vauld is a very good platform for trading and investing in cryptocurrency. You can earn additional interest (up to 12.68%) income on the cryptocurrency.
If you are dealing in cryptocurrency and not using Vauld you are surely missing many rich features. You should open an account at Vauld.
If you are already using the Vauld facility share your views in the comment section given below.