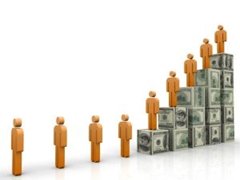 Investment Guru Warrant Buffet Said that "(Great companies to invest are like) Wonderful castles, surrounded by deep, dangerous moats where the leader inside is an honest and decent person. Preferably, the castle gets its strength from the genius inside; the moat is permanent and acts as a powerful deterrent to those considering an attack; and inside, the leader makes gold but doesn't keep it all for himself. Roughly translated, we like great companies with dominant positions, whose franchise are hard to duplicate and has tremendous staying power or some permanence to it."
Keeping this view in mind Motilal Oswal Securities has identified and analyzed the top 100 wealth creators in the Indian stock market for the period 2007-2012. We are herewith key findings of Wealth Creation Study (2007-12) report.
Key Finding of Motilal Oswal 17th Wealth Creation Study
– ITC Ltd., TTK Prestige Ltd. & Kotak Mahindra Bank Ltd – Biggest, Fastest & Most Consistent Wealth Creators respectively.
– Consumer sector has bounced back into wealth creation – ITC is the largest wealth creator, TTK Prestige the fastest and Hindustan Unilever is back in the top 10.
– Financials has emerged the largest wealth creating sector for the second time in a row. Absence of new entrants is leading to widespread profitability and stock performance.
– Economic Moat protects profits and profitability of companies from competitive attack.
– Extended CAP (competitive advantage period) of Economic Moat Companies (EMCs) leads to superior levels of profits and stock returns.
– Over 2002-2012, EMCs in India have meaningfully outperformed benchmark indices.
– Breach of Economic Moat causes massive wealth destruction e.g. the Telecom sector has moved from a leading wealth creating sector 4 years ago to the top wealth destroyer in 2012.
– Markets seem poised to touch new highs in the next 12 months.
Following are the top 30 wealth creators shortlisted out of the 100 companies: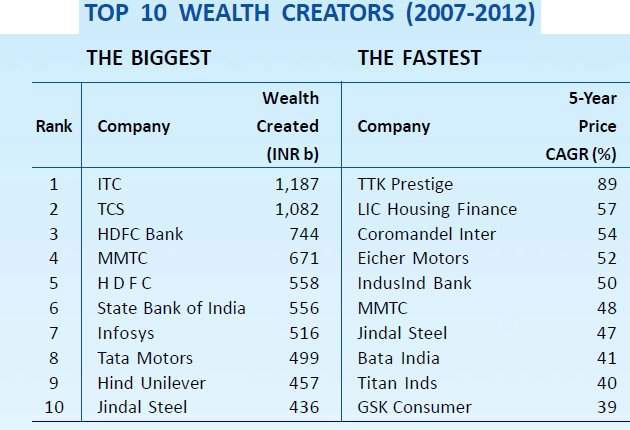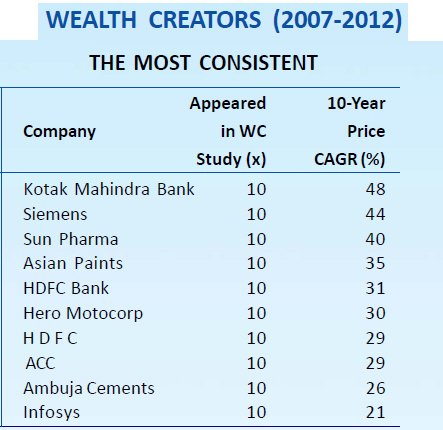 Download :- Motilal Oswal Wealth creation report 2012