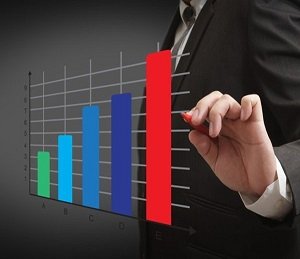 Financial year 2015-16 was bad year for the stock market. Sensex could not able to perform well and generated negative return of -7.8% in 2015-16. It seems that it will be difficult to generate good returns from stock market in 2016-17. However, some stock could turn out to be a real gem of 2016-17. Today I will be sharing information about Top Stock Investment Ideas for 2016-17 by brokerage house. Along with that I will also share information about stock that you should avoid keeping in your portfolio.
Top Stock Investment ideas for 2016-17 by brokerage houses 
Bajaj Finserv
Target -2380 Rs
Bajaj Finserv is recommended stock by ICICI Direct. Last one-month performance of Bajaj Finserv was very good and stock could generate 5.36% positive return. Bajaj Finserv is most profitable and efficient player in the sector. This stock is available at reasonable valuation and boost in life insurance sector may lead to further valuation upgrade. One can invest in this stock with target price of 2380 Rs.
Mahindra & Mahindra
Target -1470 Rs
M&M has launched nine new vehicles last financial year. In budget 2016-17 focus was made on agriculture industry and M&M will surely get advantage from its farm equipment business. ICICI Direct has advice to take bet on M&M with target price of 1470 Rs.
Also Read – Top 5 Best Stock Screener for Indian Stock Market
Tata Motors
Target- 495 Rs
Tata Motors is next in the list of top stock investment ideas. This stock is recommended by India Nivesh Securities. In last couple of month business of Tata Motors is growing.  Introduction of new vehicles is plus point for the growth of this stock. In last month stock could able to generate 29% return. One can invest in Tata Motors with target price of 495 Rs.
Amara Raja Batteries
Target – 1040 Rs
Amara Raja Batteries is recommended stock by Angle Broking. Amara Raja has strong presence in the industrial and automotive segment. The company is growing rapidly and investor can take benefit from it. Angle broking has advised to invest in this stock with target of 1040 Rs.
Finolex Industries
Target – 450 Rs
Finolex Industries is next in the list of top stock investment ideas for the next year. This stock is recommended for investment by IDBI capital. The company is having strong position in PVC piping segment.  Increasing margin and debt reduction is plus point for this stock. One can invest in this stock with target price of 450 Rs.
In addition to stock mentioned above for the investment, I would like to share detail about few risky stocks that you should avoid for investment. These stocks have generated constant negative returns since past five years and expected to continue this trend in future.
Also Read –Best Stocks to buy in India for long term Investment
Wealth Destroyer stocks – Stay Away
One should stay away from making investment in stocks like Unitech, J P Associates, Alok Industries, Jindal Steels, Hanung Toys and Textiles and Shree Ganesh Jewelers. These stock has given negative returns since past five years and destroyed investors wealth by nearly 100%.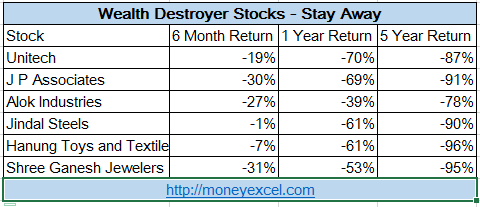 Over to You –
Do you think stock recommended by leading brokerage house will continue to shine in future?
Have you invested in any of the stock mentioned above?
What is your take on above stock recommendation? 
(The views content and recommendations expressed in this post are of brokerage house own and do not represent those of Moneyexcel.com. Please consult your financial adviser before taking any position in the stocks mentioned)