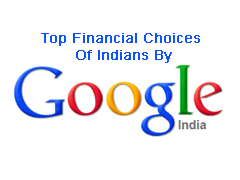 Recent report compiled by Google India on the financial service industry by combining the Google search trends in India and an independent research report conducted by TNS Australia, covering 2/3 of all internet users shows few of the interesting facts about Indian mindset in choosing financial products. It also reported what are the most searched keywords in terms of banking, insurance and investment sectors. Let us see those interesting facts.
Below is the list of top 5 searched financial institutions on internet. This data was taken during the period of April 2011 to March 2012.
One interesting thing we notice about banking sector is although SBI one of the largest bank of India it is standing second rank in Google search query while HDFC bank is on top with highest number of search query. On Third number we have ICICI bank. Which means customer is showing more interest in searching product related to HDFC bank compare to SBI or other.
If we take insurance sector LIC is on top & ICICI Prudential is on second. Surprisingly SBI life is missing in this list.
For Investment category ICICI direct is on TOP with maximum number of search followed by Sharekhan & HDFC securities.
Here are some interesting facts shown by this survey and report.
1)      Over 70 % of the Internet users who were in the market to buy financial products changed their mind about the product and brand after research.  This means people does research before purchasing product. As people change their mind it simply means financial advisor, agents or other mediator are not giving proper solution/advise to their client or people do enough research on internet before purchasing product.
2)      According to the report, the influence of Internet research in changing mind was the highest for loans 75 % for home loans & 73 % for personal loans.
3)      Again in Insurance sector this change of mind after search is quite high 69 % people change their mind for life insurance,   70% for motor insurance and 70% for health insurance. This clearly shows that how much wrong guidance our insurance advisor gives to end customers.
4)      While the final purchase of the product or service is still done offline – internet research influenced 2 out of 3 applications – with 24 % users buying/applying online, 70 % applying offline and 38 per cent buying offline influenced by online
5)      Total search volume for finance related queries are growing at over 43 % year-on-year on. This means users are getting more aware about financial related matters.
6)      Over 42 % respondents said they became aware of new products and brands. While 58 % said Internet helped in their initial research, over 62 % said they used Internet for intense research before deciding on their final purchase.
7)      The report also highlighted the increase in usage of mobile phones to surf the Internet for finance related information. Further 1 out 10 finance related queries in India, comes from mobile.
These report findings indicates that internet help users when it comes to decision making about purchasing financial product. Lot of mis-selling is prevented by Internet in financial arena. Thanks to Internet and some good informative sites in playing big role in terms of educating people and helping people for achieving excellence for money.
Reference:-
Times of India:- 70% Indians change mind on financial products post online research: Survey
[poll id="7″]